In businesses across a variety of industries, laptops, tablets and handheld mobile devices are now being replaced or supplemented by smartwatches, like the Samsung Galaxy Watch. Implementing these wrist-worn devices at places like Viceroy L' Ermitage Beverly Hills and HSBC has helped staff provide faster, more personalized guest service with less disruption to the customer experience.
With wearable devices, the staff doesn't have to lose eye contact with guests and stop what they're doing to open up a laptop or take out a phone from their pocket, find and read a message when alerts come in. Instead, a simple vibration lets them know they have a message and the staff member can quickly glance at the watch and read the short alert without breaking focus.
Similarly, other lines of business are also finding that wearables are an extremely useful tool for getting work done. From hospital staff to public safety personnel, having a hands-free communication device that is always accessible can greatly increase productivity and make it easier to manage work tasks.
However, as smartwatches become more prevalent, many businesses are also concerned about their security. Should they trust wearable devices to protect their business data? How can they manage the devices for better security?
1. Data Security
Often, the biggest security concern for a business is whether company data on a mobile device is secure or not. Of course, one of the biggest risks to data security is a lost or stolen device, which becomes much less likely to occur with smartwatches that are strapped onto employees' wrists at all times and therefore not as easy to lose or forget.
Secure and Manage Your Enterprise Wearables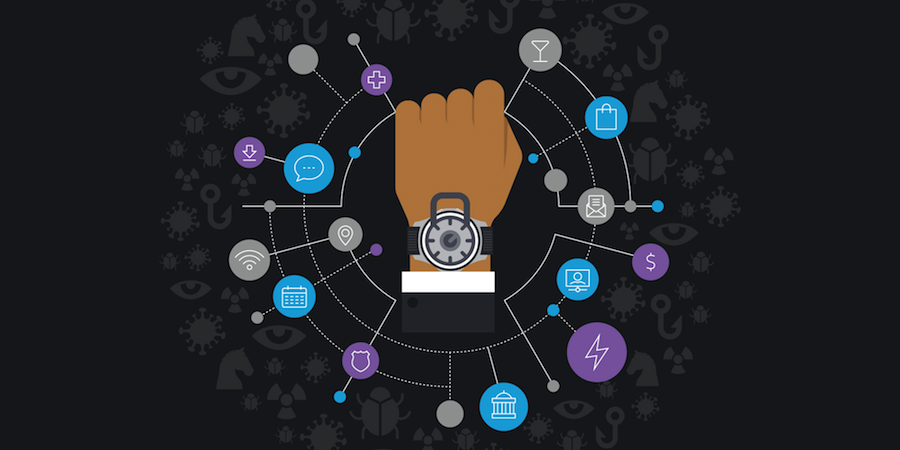 Get your free guide to the protocols that will keep your smartwatches — and company data — secure. Download Now
However, when it comes to sensitive business data, no level of risk is acceptable, so it's critical to understand the underlying security mechanisms of any wearable being deployed.
The Galaxy Watch, which runs on the Tizen operating system, offers additional data security thanks to Samsung Knox. Samsung Knox for Tizen Wearables protects personal and business data residing on the device, with features such as:
Root of trust, which securely stores keys, certificates and sensitive data related to users and their password-protected apps in the TrustZone
Trusted boot, which checks if booting components have been tampered with
Kernel protection, which provides real-time monitoring and protection of the OS kernel
Security enhancements for Tizen, which defines which apps can access particular files and resources to improve Tizen platform security
2. Device Manageability
As wearable devices become more prevalent, mobile device management (MDM) also becomes a primary concern. Though their form factor is different, smartwatches must be evaluated against the same essential checklist as other enterprise mobile devices.
Managing wearable devices means having access and policy controls deployed before the smartwatch powers on for the first time. That solution can come from the implementation of Knox Configure, which lets IT administrators customize and tailor settings for specific user needs out-of-the-box, including access management. Knox Configure also enables the ability to customize, configure and apply restrictions — all of which create the core MDM policies necessary to define a device's security posture.
With Knox Configure for wearables in place, IT administrators have the following core management capabilities:
Management of lock-screen settings
Management of connectivity settings such as Wi-Fi and Bluetooth
Application whitelisting and blacklisting
3. Advanced Configuration
Security for business wearables can be enhanced through advanced device configuration as well. Similar to "gold master" images developed to configure desktop and laptop PCs for an enterprise, Knox Configure allows the creation of granular smartwatch profiles that can be pushed through to an entire user group.
Here are the ways enterprises can take advantage of advanced configuration capabilities for smartwatches:
Automatically provision applications and settings: This allows IT to automatically provision, enroll and configure smartwatches during initial setup and after factory reset. This can be done based on user roles.
Remove preloaded applications: These apps can be disabled or removed altogether to streamline user experience.
Dedicated application mode: With "kiosk" mode, smartwatches can be locked down to only allow use of a single, dedicated application.
Hardware key remapping: Hardware keys can be remapped to perform a specific function within an application, allowing businesses to provide specialized user experiences.
Advanced security Wi-Fi profiles: Wi-Fi networks can be preconfigured so users don't need to put in passwords, eliminating security concerns for employees and IT alike.
Smartly Secure
As Viceroy quickly discovered, the investment in wearables is a smart one. Just days into the project, the hotel's results were already positive. "This is going to affect the department's speed, efficiency and operation. It helps the hotel employees and it helps the guest as well," said Darren Clark, vice president of technology at Viceroy Hotels and Resorts.
Knowing that the devices are also secure and easy to manage from an IT administrative standpoint adds an additional layer for peace of mind.
Has your enterprise been holding off from the use of wearables due to security concerns? Learn how to develop innovative — and secure — wearable apps with this free white paper, or watch a roundtable discussion about using Knox Configure to customize your devices.