First impressions matter, so when commercial space designers think about what will widen eyes and drop jaws in the welcoming areas of businesses, they now think about super-realistic direct-view LED technologies like Samsung's The Wall.
The old way of "imagineering" grand entrances and visual focal points involved designing on walls clad with natural stone, or oversized artworks, or even high maintenance features like water fountains or living, plant-filled environments. Those finished designs are often beautiful, but they're also decisions the clients have to live with for many years because of the high upfront costs.
With seamless direct-view microLED technology, a lobby or reception area's feature wall is endlessly and instantly changeable with a keystroke or preset schedule. In a corporate lobby, high-end auto dealership or luxury retailer, that feature wall can reflect whatever stunning HD visuals are suited to the place and moment. One scene can be a digital waterfall, and in another, a dynamic dashboard featuring the key numbers and visuals that tell the live story of a business.
LED is also now playing a role in luxury home design, with high net-worth owners using super fine-pitch LED technology for feature walls in grand living room and entertaining areas. They can function as living art canvases, or showstopper TVs that deliver space-filling experiences not possible with conventional televisions or projection.
Creating an LED Canvas
There are endless LED display options for putting together digital feature walls, but almost all of them come with qualifiers. Conventional direct-view LED technology is best seen at a distance, as the way these module-based displays are manufactured limits how tightly packed the LED lights can be. That means viewers can see the individual pixels up close, degrading their visual experience. Step back 15 feet, and the visuals pull together as the gaps disappear from view.
Find the Best Display for Your Videowall Project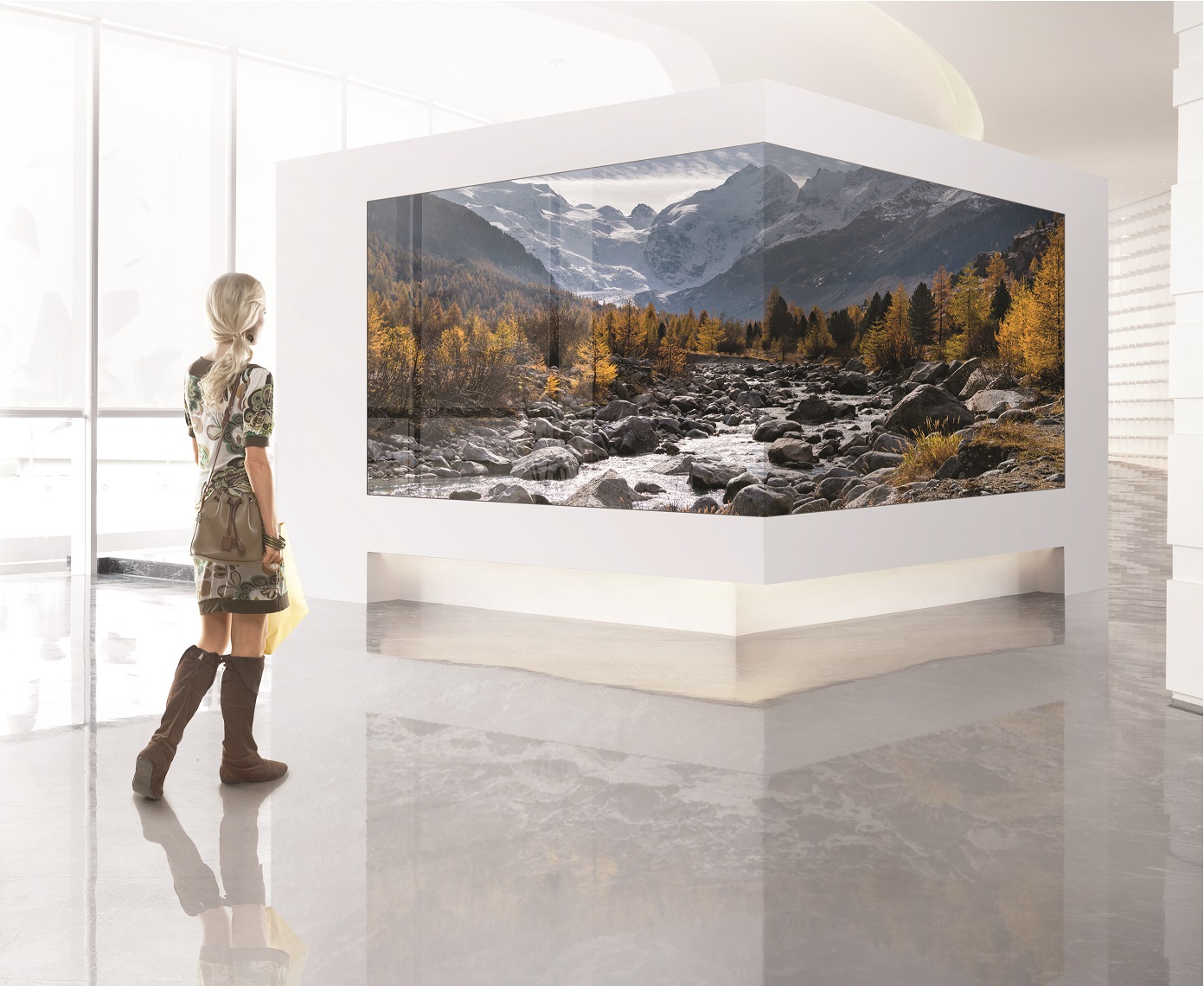 White Paper
Take this quick assessment to discover the right display tech for your space, style and budget. Download Now
Conventional LED also has a durability problem if the display is located in a public area within reach of viewers. The individual LED lights are soldered on, and therefore brittle and easily damaged. Look at the edges of a big LED display in a store entrance or elsewhere, and there's a decent chance you will see individual diodes knocked, bumped or scratched off — particularly on the edges. Repairs are possible, but time-consuming and therefore costly.
Those two scenarios become nonissues with Samsung's The Wall, which uses microLED technology to deliver crisp visuals even up close, and has shock, dust and water resistance built into its modular design.
The Tech Behind The Wall
The direct-view LED market is evolving rapidly, and with it the terms applied to different versions of that core technology. Most of what's now visible on billboards, digital posters, arena ribbon and replay boards is based around conventional surface-mounted device (SMD) LED technology. Those displays are comprised of thousands or millions of little LED light chips, mounted one by one on printed circuit boards. They are marketed these days on their pixel pitch — the distance between light pixels. The finer or narrower the pitch, the closer viewers can be and still see a crisp, uniform image. But more SMD chips per module means more cost, so the finest-pitch direct-view SMD LED displays are very costly.
In the last few years, mini LED and microLED have emerged — technologies that use micrometer-scale LEDs and a different manufacturing process that mass-transfers clusters of almost microscopic lights to create modular tiles. When those tiles are mounted together, they create a uniform, seamless canvas with the quality of today's premium QLED displays at any size.
That last bit — the size — is one of the most compelling aspects of microLED. Because a large display will consist of scores, hundreds or thousands of smaller, tiled modules, a version of The Wall can be whatever dimension it needs to be to fill a designed space. It's also not confined to the familiar 16:9 aspect ratio of LCD displays. A video display built using The Wall's modular technology could be a slim vertical column, or an irregular, jagged mosaic.
The modular tiles are also super slim, flush-mounting to walls with a minimal physical footprint.
No Viewing Compromises
LED displays are known for their brightness, but the secret to great visuals is, ironically, with the black surface between those lights. The Wall's modules have deep black base colors and ultra-low reflections. Combined with the microscopic LED lights creating more black space in the gap or pitch, The Wall enables super-high contrast levels.
The Wall's microLED technology also offers twice the average color purity measure, and a wider color gamut, than conventional LED displays. That means it's richer and more vibrant than competing LED display technologies. The Wall also supports HDR10+, display technology that amplifies detail in everything from the brightest whites to all the shades of gray.
The Wall at Work and Play
Wherever there's a big surface — in business or residential — there's a potential application for The Wall.
Interior space designers are using big direct-view LED canvases to create fully malleable feature walls in office tower lobbies. Imagine the design flexibility of a wall that can look like granite or fine woodwork, or be a virtual window to anything from an HD nature scene to a city skyline, and then to switch to a different view or theme in an instant.
Premium direct-view LED is being used for feature walls in use cases as diverse as check-out counters at luxury retailers, hotel lounges, casino sports books, museums and airport concourses. There are applications for everything from operations center control rooms to virtual windows in high-end restaurants.
At home, The Wall can support changeable artwork during the day and a massive TV at night. For the home market, it ships in sizes as small as 75-in. diagonal to a gargantuan 292-in. For business, The Wall can be shaped to whatever size the job requires.
Powering Up
Much of supporting technology decisions will hinge on the type, resolution, volume and nature of the content being pushed to The Wall, but Samsung makes the core job easy with what it calls a total solution.
Samsung's support software and hardware makes it easy to manage everything from scheduling and publishing content to controlling screens within one technology set.
That means the biggest question to answer comes down to imagination and the creative process: What do you want people to see on The Wall?
Learn how to leverage digital signage in any corporate space in this free white paper. Not sure how a video wall fits into your office? Read why modern displays are must-haves for business communicators.