Display technology has advanced and matured over the years. Architects, engineers and other designers no longer have to find wall space to host one or several screens. Now, the display can be the wall itself.
It can also be the digital cladding on support columns or even the false, full-motion digital ceiling, displaying a virtual sky.
Direct-view LED technology allows for seamless digital display canvases that can be scaled and shaped with few constraints. Building and audio-visual (AV) designers are using the possibilities of large-format LED display tech to reimagine everything from building lobbies and grand public spaces to operations control centers and briefing rooms. These displays can add an engaging visual element to press conferences, lectures, sales and marketing presentations and more.
Absolute flexibility
LED display technology is not new, but it has undergone a massive evolution since the old days of the low-resolution scoreboards and digital billboards seen on highways. Those use cases are still valid, but miniaturization and manufacturing advances have made it possible to produce LED-based displays that rival the crispness and color reproduction of flat-panel commercial displays and consumer televisions.
AV and physical space designers have embraced direct-view LED as an option for projects because of its modular, highly flexible nature and the absence of visible seams.
Your ultimate video wall guide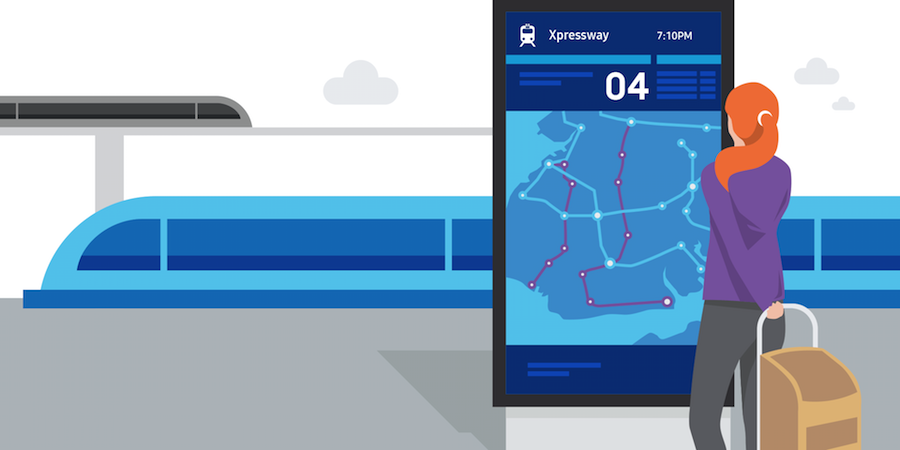 Learn how to build the optimal video wall for your business. Download Now
Flat-panel LCD displays require narrow frames, called bezels, around the four edges of each unit. When those displays are grouped in arrays to create larger video walls, the bezels cause visible grid lines that segment the images or video. While today's premium LCD video wall products have bezels so thin the resulting lines are barely evident, designers are typically attracted to LED technology that has no evident seams.
Direct-view LED displays are made up of square or rectangular modules that join at largely invisible edges and are contained in larger display units called cabinets, which host some of the electronics and offer a structure for mounting and connecting. Cabinets are then tiled and stacked to meet whatever dimension a project requires — a giant rectangle or square, a wide ribbon or tall column, and even irregular mosaic shapes. Entire corridors in public spaces, such as shopping malls and airport concourses, have been made digital and active using LED.
Aligning with needs
Most direct-view LED displays available for indoor applications now use surface-mounted (SMD) LED chips — tiny lights robotically placed and soldered to the display module surface. They're manufactured and marketed based on a number of variables, such as whether they're intended for temporary use (rental) or permanent installation.
The main distinction, though, even within a manufacturer's own product series, is something called pixel pitch. That's the measurement, in millimeters, between the center of each LED light pixel on a display module. The lower the number, the finer the pixel pitch. LED displays with a pitch of 2.5 millimeters or under are considered to have a fine pitch.
The finer the pitch, the more closely the display can be viewed. As an example, the new home of the NBA's Golden State Warriors has LED displays throughout the building at a variety of pitches. The giant, multidimensional, center-hung scoreboard has a coarser pitch than the promotional LED video walls in the concourse area. This is because the fans may view the center display from 60 to 70 feet away, while they may view the concourse screens from only 15 feet away.
If the LED modules on the scoreboard were used on the concourse, fans would see the individual LED light pixels and the gaps between them — diminishing the viewing experience.
Samsung has a diverse set of LED displays and pixel pitches that enable designers and their end users to tune the pitch to the viewing dynamics of the site. For example, a transport authority might use 6-millimeter-pitch LED displays in the main hall of its central rail terminal to relay destinations, gates and departure times, as rail passengers are looking up at the screen from about 60 feet away. In the operations hub of the rail system, the control room video wall might use a 1.5-millimeter-pitch display, since the team that's monitoring and running the transport network is viewing the screen from just 15 feet away.
Premium visuals
Samsung recently debuted and is continuing to build out a series of next-generation seamless displays aimed at use cases that demand premium visuals. The Wall uses microLED technology, including micron-level light pixels set in high-contrast black backgrounds. All that black, coupled with viewing optimization technologies like HDR10+, result in screens of any dimension that deliver viewing experiences rivaling premium consumer LCD and QLED TVs.
Like other direct-view LED technology, The Wall is modular and ready to build to the scale and dimension the job demands. However, versions also ship in preconfigured and framed shapes as large as 583 inches.
LED display costs are tied in many respects to the number of light pixels per square meter, making the microLED "Wall" a premium product. Visual designers are attracted to the experience it delivers, while technical designers are motivated by the clarity and color accuracy. This can be important for everything from brand messaging to operational settings, where critical decision making can hinge on the color or aerial, radar and seismic imaging available.
Direct-view LED's flexibility in dimension, viewing options and cost remove the constraints older technologies placed on integrating large-format display technology in both public and private spaces. Making an entire wall digital is now possible.
Discover how a mall in the heart of Seoul modernized its image with the largest LED displays on Earth. Then, get your free guide to enhancing your guests' experience with digital signage.