Mobile connectivity has never been more important to first responders. Emergency medical services (EMS), fire and police personnel need to be fully connected to dispatch and records management at all times to maximize their situational awareness, decision making capabilities and personal safety. To achieve this goal, they need access to the most modern, capable and integrated technology available, whether in their vehicles or in the field.
Island Tech Services (ITS) of Ronkonkoma, New York, has been pioneering in-vehicle and mobile technology integration for the past 15 years. Serving a diverse group of industries that range from first responders to field service technicians to utilities, ITS provides them all with mobile communications and work solutions. These include wearable computing systems, high-speed wireless connection systems for mobile and in-vehicle use, and rugged in-vehicle computing systems.
Solutions for Law Enforcement
ITS' mission is to give their customers the power of their offices delivered to a mobile environment, be that through in-vehicle computing or smartphones and smartwatches that officers take into the field.
"Our goal is to provide all-inclusive solutions to our customers, going from mobile equipment selection and vehicular installation to device management and support," said Robert Gronenthal, ITS' CEO and partner. "That's what separates us from most other vehicular installers."
Enhance Response Capabilities With Smartwatches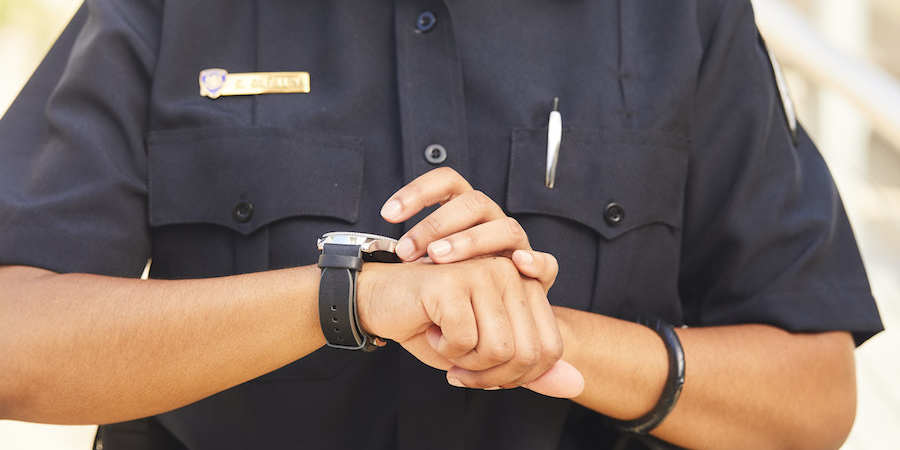 Learn how a wearable form factor and advanced sensors offer unprecedented capabilities for first responders. Download Now
ITS provides a full range of mobile consulting services to its law enforcement clients. This includes designing and building their mobile connectivity networks (including secure virtual private networks, or VPNs), helping police departments select the mobile equipment that best suits their needs (including mobile computing, body cams and in-car video systems), and installing and integrating this equipment so that it works as specified.
Samsung DeX in Vehicle
Working closely with Samsung, ITS now offers customers a comprehensive set of installation and support services for the Samsung DeX in-vehicle computing system. Samsung DeX allows police departments to power an in-vehicle computing terminal from their Samsung Galaxy smartphones. When docked into a touchscreen and rugged keyboard, Samsung DeX provides users with PC-like experience to access key applications such as computer-aided dispatch (CAD), records management and interactive maps for situational awareness. And unlike a laptop, the smartphone that powers DeX can be quickly undocked by first responders when leaving the vehicle to take photos, record interviews and operate with full connectivity.
Gronenthal says customer interest for the DeX in-vehicle solution has been strong and spans a diverse range of use cases. ITS has built a prototype DeX-equipped vehicle for a U.S. Army police department in Maryland, and supplied mounting equipment, cases and installation services for DeX-equipped vehicles used by the Jacksonville Electric Authority in Florida.
"When designing a DeX in-vehicle integration for a customer, we want it to be very easy to dock and undock their Galaxy smartphones," said Gronenthal. "We work closely with hardware companies who have developed in-vehicle docking solutions for DeX so we can deliver an ergonomic, connected experience."
"The latest Galaxy smartphones' processing power is superior to many mobile computers in use today," he added. "Factor in their mobility and the power of DeX, and it's no wonder that law enforcement software providers are now developing apps for the Galaxy platform."
Pushing the Envelope
Today, ITS is pushing the limits of first responder mobile performance through its partnership with Samsung. The two companies have combined ITS' integration expertise and knowledge support with Samsung Galaxy smartphones, Galaxy Watch smartwatches and Samsung DeX to create a truly mobile system that combines alerting, communications and document management.
"ITS provides equipment, accessories, installation, deployment and mobile device management support for the Samsung DeX solution," said Gronenthal. "Additionally, post-implementation support and services are offered through our Managed Services Client Platform."
The Smartphone as Personal Data Hub
ITS has seen the future for first responders, and it is mobile, with smartphones serving as each user's personal data hub. Not only do smartphones connect first responders to dispatch, command and colleagues, they support data collection and sharing. Smartwatches optimize communication further by enabling discreet communications and transmitting an officer's vital signs.
"When it comes to law enforcement, the personal smartphone has the potential to be their greatest tool and their greatest weapon in the fight against crime," Gronenthal said. "This is why ITS is using mobile solutions like Samsung DeX to realize the full potential of smartphones and smartwatches, so that we can provide police officers with the full range of mobile services they need."
Discover the various mobile solutions that improve situational awareness and communication for first responders. See how much your agency can save by going mobile-first with this free assessment.