Situational awareness is a top priority for firefighters at all stages of incident response — from the moment a call for service is issued, while in transit and on the scene as they work to contain a fire or evacuate residents. Ensuring that all first responders know the specific details of each incident, where everyone is located and what they're doing is vital to operational success and keeping firefighters and citizens safe.
Tyler Technologies of Plano, Texas is the largest U.S. software company dedicated to providing software and services for the public sector. To meet the mobile situational awareness needs of firefighters and their departments, Tyler Technologies has created the New World CrewForce® app. Designed to run on smartphones and tablets, CrewForce connects mobile firefighters to the full suite of features offered by Tyler Technologies' New World computer-aided dispatch (CAD) software. CrewForce also provides firefighters with real-time information tailored to their specific mission roles and locations, whether they're driving to the incident, arriving or working alongside other first responders.
"CrewForce collects all of the information that the fire department has available pertaining to a specific incident and makes it available to firefighters on their smartphones and tablets," said Duane Kietzman, Tyler Technologies' mobility product owner. "The app helps the person driving the apparatus find the quickest way to the scene using on-screen maps. It provides relevant information about the incident to the other firefighters in the rig, based on their individual assignments, so they know what to expect when they arrive."
Comprehensive Situational Awareness
The goal of the New World CrewForce app is to provide each firefighter with the specific information they need when they need it, throughout all stages of each assignment. This is why CrewForce uses Esri-powered maps to provide drivers with clear turn-by-turn routes to fire calls. It also tells users which other units are responding to the scene and their estimated times of arrival.
Migrating to FirstNet®: The Definitive Guide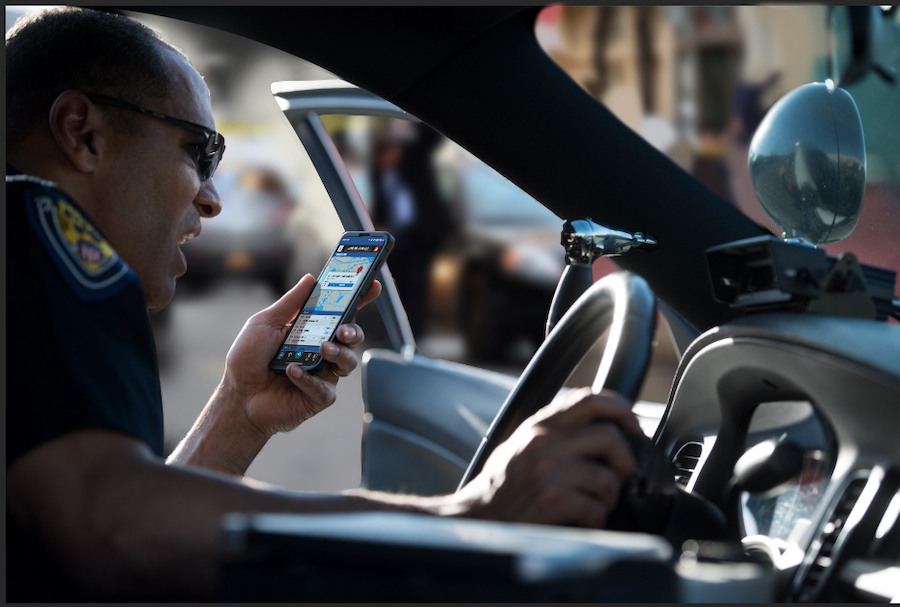 Get a comprehensive guide to migrating to FirstNet®, the network dedicated to public safety. Download Now
To help responding firefighters know what they're getting into, CrewForce provides on-screen access to building maps, any available response preplans, hydrant locations and any lists of known on-site chemicals or other alerts about the location. The app also provides the names and phone numbers of the building owner's contacts.
Once at the scene, CrewForce provides firefighters with real-time access to information about the incident as it evolves, and supports secure communications with dispatch and other first responders using New World software. Users also have immediate access to incident details in real time — all on their smartphones and tablets. This is especially beneficial for command staff as they provide incident information to the press or community officials.
Samsung DeX Adds Full Computing Experience
To further enhance the power of CrewForce, Tyler Technologies has optimized the application for Samsung's DeX.
DeX allows first responders to power a desktop experience — in the vehicle or at the fire station — from a compatible Galaxy smartphone or tablet. They simply dock their smartphone or tablet into a monitor and keyboard setup for desktop-like functionality. The first responder can then undock when they go into the field — retaining access to apps like CrewForce as well as their device's onboard camera, microphone and other capabilities.
"Having public safety technology on a smartphone or tablet just makes sense in today's world," Kietzman said. "With Tyler's applications available on these devices and even on a smartwatch, fire crews have access to powerful technology on their person. This is truly a game-changer for the mobile first responder."
Add Robustness With the Galaxy Tab Active Pro
To meet the needs of firefighters and other first responders working in tough environments, Samsung has just released the Galaxy Tab Active Pro tablet. This is a ruggedized 10.1-in. Android tablet that has been tested against MIL-STD-810G standards and is IP68 dust- and water-resistant. The Tab Active Pro comes with a 13MP forward-facing camera and 8MP front-facing camera for video calls, 4GB of RAM, 64GB of onboard storage and a microSD card slot that can take a 512GB memory card.
Mindful that first responders can't wait for batteries to recharge, the Tab Active Pro has a removable 7600mAh battery (which will run up to 15 hours on a full charge). Its touchscreen will work when wet or when the user is wearing gloves. This tablet supports CrewForce and Samsung DeX, and is protected by Samsung's Knox defense-grade security system. The Tab Active Pro even comes with an S Pen for first responders who need to write, annotate, sketch a scene or just like the accuracy it provides in using the device.
"Tyler has a strong working relationship with Samsung," said Kietzman. "Firefighters don't want to spend time thinking about the software and technological tools they're using when responding to a life-or-death situation. What's great about the partnership between Tyler and Samsung is that there is a seamless connection between the two so that first responders can be better prepared and save lives in critical situations."
Learn more about how Samsung technology supports the mobile first responder. Find out how much you can save by leveraging Samsung DeX in your agency with this free assessment.