When you're working in the field, the demands placed on your technology can be tough. They can include blowing rain, freezing temperatures, dust, salt spray and more. To withstand these demands, field workers need mobile devices that are as tough as the conditions they operate in.
Rugged tablets have emerged as the best option to meet these challenges — but not all rugged devices are built to the same specification or can meet the unique working conditions for frontline workers across a variety of environmental conditions.
Samsung's Galaxy Tab Active series is a new breed of rugged tablet, combining both the durability and the smarts to support seamless workflows. Put through a series of MIL-STD-810G and MIL-STD-810H* environmental tests in an independent testing lab, the 10.1-inch Galaxy Tab Active Pro and 8-inch Tab Active3 showed their resilience and durability in the face of some of the toughest environmental conditions.
Want to know just how tough? Here's a quick look at the 22 tests they survived.
*Note that real-world usage will vary from the specific environmental conditions used in the MIL-STD-810H testing lab and Samsung does not guarantee device performance in all extreme conditions.
Tests 1–8: Salt spray, settling dust, blowing dust, icing, blowing rain, dripping rain, immersion and humidity
Open water, desert landscapes and nearshore environments can all create challenges for mobile devices left exposed to the elements. If you're working in these types of conditions, you need to know that your device can withstand the rain, sand or ice. In the tests conducted in the MIL-STD-810 testing lab, both the Tab Active Pro and the Tab Active3 resisted water and dust intrusion with exposure of three days for settling dust and 24 hours for salt spray fog. Devices were also immersed in water for 30 minutes at a depth of 5 feet/1.5m (for IP68 certification), exposed to 4 inches of blowing rain per hour for 30 minutes along the device's two faces and covered with 6mm ice accretion — but still managed to emerge with no water intrusion.
Shop special offers
Find out about offers on the latest Samsung technology.
see deals
Speak to a solutions expert
Get expert advice from a solutions consultant.
Talk to an expert
Tests 9–12: Vibration, ballistic shock and drops
In industries like transportation and logistics, defense, and construction, rugged tablets are frequently exposed to vibration, ballistic shocks or transit drops. To ensure that the Galaxy Tab Active Pro and Tab Active3 are strong enough to endure these kinds of bumps and bruises, the devices were dropped distances of 1.2m (without standard protective case) and 1.5m (with protective case) onto a plywood surface 26 times in each test, received three pulses of SRS shock (10-100Hz at 178g max in each axis), and underwent hours of vibration testing. In all tests, the devices showed no signs of damage beyond normal scuffing, proving that even when the going gets tough, the Samsung rugged tablet lineup keeps going.
Tests 13–20: Temperature and humidity conditions
Another risk in tough work environments is temperature and humidity. However, in the eight different tests conducted in the MIL-STD-810 testing lab, both Samsung rugged tablets not only endured the rigorous environmental conditions but came through with no signs of damage, deformation, discoloration or any other anomalies. Temperature tests included being exposed to a temperature shock of −4 degrees Fahrenheit to 140 F, operating for several hours at −4 F and being stored at −40 F, while also being exposed to temperatures up to 160 F for more than two hours.
Tests 21–22: Nonoperating and operating altitude testing
The final two tests that the devices were put through included operating at 15,000-foot altitude pressure and being stored at 15,000-foot altitude conditions. The devices returned from such dizzying heights in perfect functioning condition, proving once again that they were up to extreme environmental conditions.
What's the best tablet for your business needs?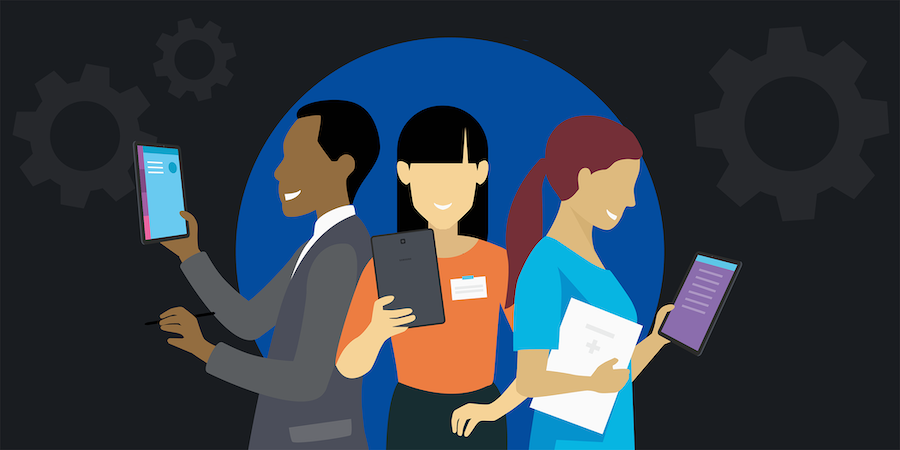 Take this quick assessment to see which Samsung tablet would best support your business needs. Download Now
In the long run, though, choosing a rugged device like the Samsung Galaxy Tab Active Pro or Tab Active3 isn't only about performance in extreme conditions — it's also about achieving cost savings and greater productivity in the factory or the field. Rugged devices last longer, lowering replacement costs and limiting worker downtime. Other features such as the S Pen, which allows gloved workers to use the device; a long-lasting, replaceable battery; and Samsung Knox's defense-grade security and easy device customization and management capabilities, make the Samsung Galaxy Tab Active Pro and Tab Active3 well-suited for any business or industry use case.
When it comes to toughness, the Samsung rugged tablet lineup has been put to the test and proven it's more than ready for the job.
Learn how Samsung's rugged device lineup can help solve your toughest business challenges. You can also upgrade your technology purchase with Enterprise Edition, which includes a one-year license of Samsung's Knox Suite of device management solutions, plus life cycle assurance and other advantages.