The way we shop is steadily being redefined through new and different kinds of stores and experiences, and the use of digital signage technology in retail is also evolving and finding interesting and effective new applications.
There's a shift from predesigned stores adding screens as a new means of sales promotion, to displays that are being thoughtfully schemed into a store's design, with specific objectives and success measures in mind.
Here's one way to think of it: The first wave of retail digital signage was characterized by screens used to fill blank spaces on store walls. Now screens are the walls in some retail environments, used as the central design feature.
The steady change being seen in retail involves everything from payment technologies to new kinds of stores. The use of digital signage technology is also changing, with new ideas and uses emerging.
Here are five interesting ways retail will be impacted by screens and their underlying technologies in 2020.
1. Shape and Scale
Direct view LED display technology introduces maximum flexibility in shape and scale for store designers.
Conventional flat panel LCD technology is constrained by its rectangular shape and framed edges, which create visible gridlines when they're fitted together as video walls. LED technology, by comparison, comes in building block-like display cabinets that can be fitted together to fill entire walls, no matter how tall or wide. They also have no framed edges, meaning the visual surface is entirely seamless.
Enhance the Buyer's Journey With Digital Signage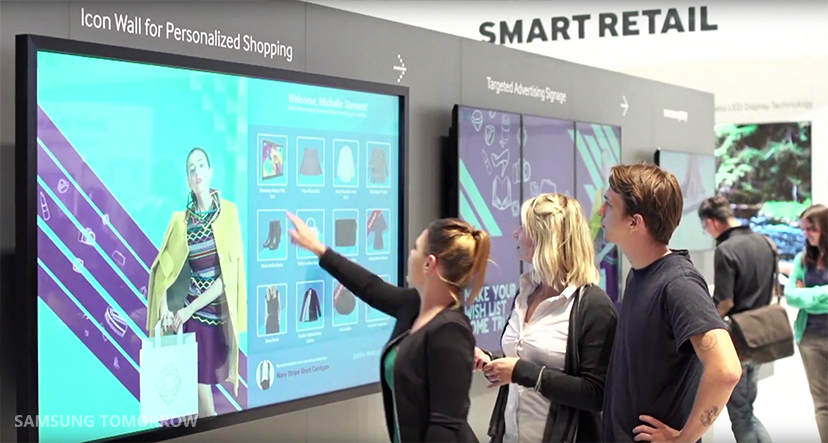 Get your free guide to the what, where and how of digital signage in retail environments. Download Now
LED can be installed in gentle curves, clad on all four sides of a store's support columns, and even installed facing down as part of a store's ceiling — creating visuals like a virtual sky in an otherwise closed room.
The flagship retail locations of major apparel, technology and auto brands have started using big direct view LED video walls as their signature design feature. In 2020, shoppers can expect to see much more of that — even extending into more types of retail and lower profile locations.
2. Crisp, Vivid Visuals
The size possibilities for screens are changing, and so are the pixel counts. Just in the past few years, consumers have experienced a shift from standard definition to high definition, and then to 4K. Now, 8K is emerging, as well as complementary visual technologies like Quantum Dots and High Dynamic Range (HDR).
A 4K display packs a huge amount of detail into images and videos — important for luxury brands whose marketing message is all about quality. Now 8K displays are emerging that quadruple the total number of pixels of a 4K display, providing incredible levels of crisp detail.
Today, relatively little content is produced in 8K, but Samsung has developed artificial intelligence (AI)-driven upscaling that uses machine learning to transform lower resolution visuals into vivid 8K. Normally, playing lower resolution content would result in pixelation and image blurring as the visuals are stretched across all the extra pixels of an 8K screen. Built-in AI technology intelligently compensates and sharpens visuals to optimize their appearance.
Separately, Quantum Dots are nanoparticles added as an enhancement layer to displays — notably Samsung's QLED series. The result are displays that can accurately produce more than a billion distinct colors, delivering true-to-life visuals.
HDR technology, meanwhile, amplifies contrast subtleties. On a normal display, much of the texture of dark scenes is lost. With HDR, viewers can see all the shades of black and gray in intricate detail.
Shoppers will also start to see displays that take the best aspects of LED — their seamlessness and scale — and deliver LCD-like levels of crisp resolution. Samsung's The Wall uses emerging microLED technology to deliver visuals that are not possible with more conventional LEDs, which are best viewed from at least a short distance away. With microLED, viewers can get up close and still not see individual light pixels.
3. Smart and Integrated
Stores are smarter than ever, with retail management systems harvesting data, and then sharing and acting on what all that information reveals.
Sensors now measure how people move around stores and malls, feeding into analytics systems that provide rich, actionable insights on everything from how to optimize store design and staffing, to the profile of shoppers by day and time windows.
What that means in practical terms is that messaging can now be tailored to current viewers in the store. If sensors and store systems produce analytics that reveal different demographics of shoppers during different time and date ranges, more relevant marketing messages will appear on screens, optimizing the opportunity to reach all customers.
Some systems are even pushing real-time messaging, using camera-based systems to anonymously recognize, for example, women aged 40 to 60 in front of a display, and then serving a message most likely to interest that demographic.
4. Street Beacons
Displays in windows have been around as long as retail, but using TVs and commercial displays in windows to market to passersby on sidewalks has always been a challenge.
Bright, midday sun overpowers conventional displays, washing out images and often making marketing in windows pointless until the sun sets. Sunlight, even in more northern climes, also generates so much heat it can cause displays to overheat and fail. Normal displays aren't engineered to handle that thermal load. High-brightness displays for shop windows, which counteract glare and reflection, are not entirely new to retail, but a few things will accelerate adoption in 2020.
First, they're now super-bright and fully engineered for the window application.
Second, they're designed with windows in mind. Old versions were bulky and industrial and didn't fit the aesthetics sought by store designers and window merchandisers. Today's outside-facing window displays are sleek, slim and look appropriate. Even better, to address concerns that a screen facing outside means shoppers inside see its blank rear, Samsung has developed a unique dual-sided display that has bright screens front and back — each running different messaging.
Third, while super-bright screens come at a premium to mainstream displays, they've been growing increasingly affordable.
5. Interactive and Personal
Interactive touch applications long characterized by bulky kiosks are now available in a variety of slim, attractive screen sizes and formats, and interactivity has expanded beyond touchscreens.
Retailers are using interactive displays for a variety of applications — everything from in-store location and navigation to product knowledge stations that enable shoppers to discover the specifications and features on products that help shape their buying decisions.
Interactive stations are also pairing screens with sensors at merchandising displays to provide expanded information about products. For example, a video about the features, benefits and unique attributes of an electric shaver located in front of a screen is triggered and played when a shopper lifts the unit.
Lighting Up Retail
Digital signage is now a mature technology, validated as an effective tool for selling and communication, and central to the ways innovative, growing retailers are delivering on the kinds of customer experiences that translate to boosted sales and loyal patrons.
The particularly good news for retailers and brands is that while there are many technology options, the digital signage ecosystem is set up to help and deliver. There are many companies offering start-to-finish services that take the planning, sourcing and operating burden off retailers, and companies like Samsung, with in-house expertise and business partners who understand retail, are positioned to help drive success.
Learn more about how digital signage is changing the way retailers engage their customers with this free white paper. Or, watch a webinar on how to unify an omnichannel marketing strategy from the storefront to the point of sale.