As field services grow, so does the need for synchronization between what's happening on-site and back at the office. Workflow management software like Oracle Field Service Cloud and BeeKeeper enable real-time communication so field service workers and the home office can work with updated and current information.
The field services industry might be booming — it's expected to reach $5.9 billion by 2024 — but it's also battling inefficiencies. Field service workers still use pen-and-paper solutions for basic work order management. Back office customer service representatives continue to track down technicians over the phone. Even those companies that might implement a field service solution might not fully realize its efficiencies.
Mobile devices help enterprises eliminate this piecemeal approach to workflow management by delivering processes that can adapt to enterprise needs. Agile mobile devices such as the Samsung Galaxy Tab Active Pro and Galaxy Tab Active2 enable field services companies to adopt a more phased solution to workflow management. Enterprises can check off low-hanging fruit first before gradually adding more automation and advanced technology capabilities.
How Workflow Management Software Can Help

Field services workflow management software can help in a number of ways. These include:
1. Work Order Management
A work order sets the field service operation in motion but too often relies on pen-and-paper solutions. A worker who uses pen and paper is likely to lose or damage the form on the field. Worse, manual entries before and after the service call increase the chance for errors. The employee also wastes valuable time entering the data from the paper back into the computer system at a later date.
Empower Your Field Services Team With Mobility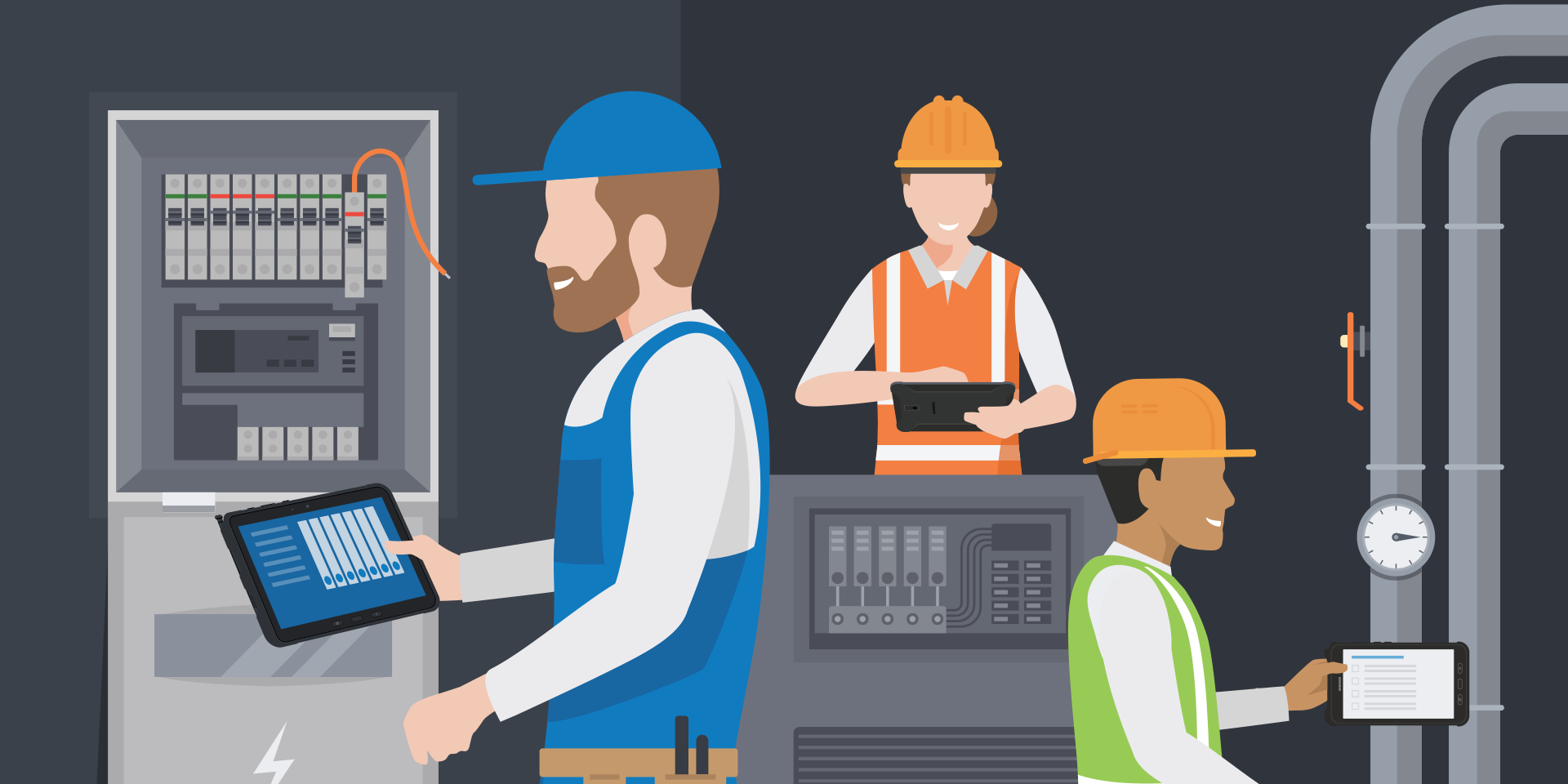 Exceed customer expectations with this free guide to improving connectivity in field services. Download Now
Workflow management software allows service reps and technicians to populate fields automatically after data entry so everybody works off the same information in real-time. Field workers can use a mobile tablet to log in to the software on the road and record updates and add notes. This preserves field service uptime and improves worker productivity.
2. Inventory and Parts Management
Field workers can scan barcodes of spare parts they use on the job and this information is immediately visible to all parties. A technician looking for a particular part can access the workflow management software to see where it is and find a faster way of getting it to the right place at the right time.
3. Efficient Labor Allocation
Companies that rely on pen and paper for workflow management can't always access field workers easily. When a new call comes in, the service rep must call each worker to figure out who's available when (and where) in order to route services. Workflow management software with dispatch and scheduling modules enables service reps to allocate labor more efficiently even without a phone call. The worker can simply receive a notification through the tablet or mobile phone about the next job to attend to.
4. Improve Access to Knowledge Base
With workflow management software, field workers need no longer rely on bulky outdated print manuals when they run into problems. A mobile device can house updated manuals and information about the repair history of machine parts. Such knowledge from experts can be stored in the enterprise knowledge system forever, negating the risk of valuable expertise leaving with a seasoned employee.
5. Increase Opportunities for Better Customer Service
More efficient allocation of labor, spare parts and timely access to knowledge help field workers complete service calls faster and more efficiently. Such efficiencies improve the customer experience. Workflow management software can also loop the customer in more directly by issuing alerts when the worker is just a few minutes away. Customers can choose to receive live notifications as the status of work orders change. Keeping customers in the loop helps enterprises improve customer service delivery.
Access to Workflow Management Software

Mobile tablets such as the Tab Active Pro and Galaxy Tab Active2 can house the necessary workflow management software that field services enterprises need. These tablets are ruggedized for use in harsh environments, have a long-lasting battery and high processing power.
Equally important, these devices enable automation of field services workflow management no matter where an enterprise is on the road to digitization. From basic work order management to more advanced augmented reality (AR) solutions, the mobile computing power that tablets deliver can drive solutions at any scale.
The field services industry needs to keep all employees on the same page, improve worker productivity and enhance the customer experience. Workflow management software accessed through a mobile device helps enterprises do just that.
Learn more about how the Samsung Galaxy Tab Active Pro and Galaxy Tab Active2 can help solve your toughest business challenges. Or, read a free white paper on improving connectivity in field services.