Every component matters, but the hub for any competitive gaming setup is the monitor. The capabilities and quality of that display can make or break a player's experience.
A powerful gaming PC with a fast graphics card, Samsung solid state drive (SSD) and plenty of RAM will still have a limited display if the monitor isn't ready and optimized for gaming experiences. But paired with the right monitor, world-class gamers can experience silky-smooth, instantly responsive visuals; deep, rich colors; and a user experience that's comfortable and easy on the eyes, which need to remain intently focused on the action.
Design aesthetics and price can influence purchasing decisions. But it's wiser to invest the time to learn about the key attributes and specifications that characterize a great gaming display.
Refresh rates
A monitor's refresh rate is the number of times that a screen refreshes an image per second. In simple terms, the higher a screen's refresh rate, the smoother the onscreen visuals.
The kind of desktop monitor found everywhere in workplaces most typically has a refresh rate of 60Hz — or 60 times per second — which is perfectly fine for reading and working with most office productivity tools and online sites. But a 60Hz display will struggle to keep up with the frenetic action of the most popular competitive games, like Fortnite and Overwatch.
Explore the Evolution of Desktop Monitors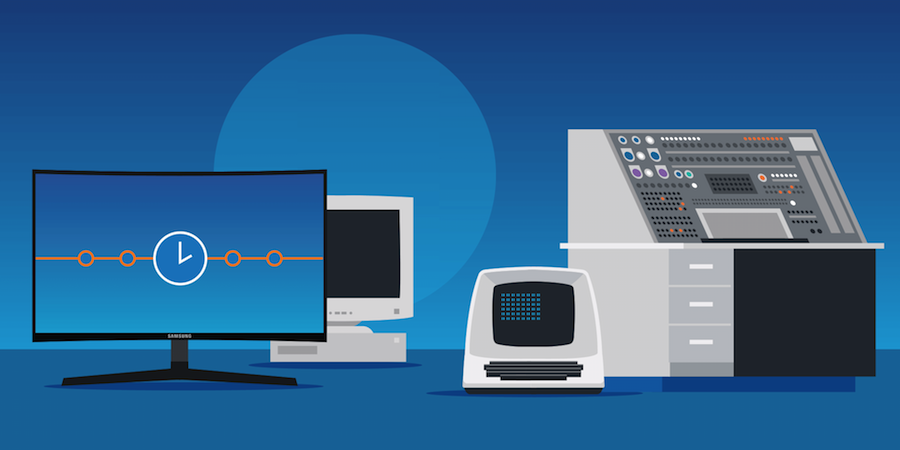 From blinking lights to quantum dots, discover the innovations that led to today's desktop monitors. Download Now
Monitors with 100Hz or 120Hz are thought to be the acceptable minimum for esports, and many gaming monitors in the marketplace deliver 144Hz.
The ultimate display experience — super smooth and future-proofed for any gaming advances in the near future — is a display that supports 240Hz. Samsung has started marketing its Odyssey series of monitors, tailored for gaming and ranging from 27-in. to 49-in., all featuring 240Hz refresh rates.
Response time is another feature similar to refresh rates; this is the time it takes a monitor to change colors. The fastest response time currently is 1ms, and while that speed is overkill for office work, it makes a difference when viewing and reacting to hyperkinetic FPS action.
Syncing up
The newest gaming-optimized monitors have adaptive syncing technologies that dynamically adjust the display's refresh rate to the frame rate of the game visuals sent from the PC's graphics card. Adaptive sync prevents visual flaws like tearing, stuttering and judder.
Samsung's Odyssey monitors support both the widely adopted Adaptive Sync on DP1.4 and NVIDIA's proprietary G-SYNC.
Screen size …
Monitors are available in a broad range of sizes, and the two key factors influencing selection are cost and available space. Most gamers are playing in at least 1080p Full HD resolution, and that means a 16:9 widescreen monitor. A larger widescreen running that resolution won't add more detail, but may enlarge things that were too small to notice on a smaller display canvas.
Moving to higher resolutions will provide more pixels and therefore more crisp, rich detail, but the gaming PC and its graphics card should be verified to support those higher resolutions. That can be particularly important to make the most of super wide resolutions. For example, Samsung's new 49-in. G9 display offers Dual Quad High-Definition (DQHD), which is 5120×1440 resolution. That's greater than 4K.
… And shape
Shape has rarely been a selling point of flat panel monitors, because for many years they all looked very similar. But recently, manufacturers led by Samsung have started producing and marketing curved widescreen displays. The pitch: Curved screens allow players to minimize distractions and immerse themselves in a game, and the curve reduces eyestrain.
Those curves were, at first, gentle or subtle. But technology advances have allowed for increasingly concave shapes, all the way to the 1000R curvature of the new Samsung Odyssey series. Those G series displays have a curvature that corresponds to the shape of the human eye. TÜV Rheinland, a leading international certification organization, has awarded Samsung the monitor industry's first high performance 1000R curved display and Eye Comfort certificate.
Color and clarity
While smooth, responsive screen visuals are absolute musts for serious and even casual gamers, they also want a great picture.
High Dynamic Range (HDR) technology that's increasingly common on high quality TVs is also available on better monitors. Its main attribute is the ability to reveal far more elements and detail in both the darkest and brightest scenes.
Vibrant color and a deep color gamut are also important. Samsung's Odyssey series are QLED displays. A QLED adds a Quantum Dots filter to the LCD, boosting the color space to rich, true-to-life levels not seen on standard monitors.
Making the choice
Gaming is a high-intensity pursuit to which players devote many hours of concentrated activity — all focused on a screen. It makes sense then to ensure their display not only delivers superior visuals, but is also immersive and easy on the eyes.
Discover more gaming monitor trends to watch in 2020. Then find the best monitor for your needs with this free assessment.