Like many other lines of work, fire and emergency medical services (EMS) have unique communications needs.
Firefighters work in fast-moving, life-and-death situations where communications must be just as fast and reliable. Voice communications are essential to protect the public and keep firefighters safe. At the same time, fire scene commanders need timely access to highly specific information such as floor plans. Meanwhile, EMTs need to record all the interventions they make during a rescue.
Mobile technology has a lot to offer fire department and EMS teams. Smartphones, tablets and smartwatches provide access to broadband communications via versatile devices that are rich in features and functionality, easy to learn and quick to deploy.
Mobile can provide fire/EMS personnel with routing maps and point out roadblocks and other obstacles. It can tell them the status of other responding agencies and where those agencies' vehicles are in real time. Dispatch can also relay vital information such as building maps, lists of on-site hazardous materials, hydrant layers and prepared emergency plans.
Mobile makes it easier for EMTs to coordinate patient transfers to hospitals, maintain incident records, access patient records while en route and consult with emergency physicians on complex treatments. If need be, an EMT can take a photo or video of a patient's injury and securely transmit it to the consulting physicians for their treatment direction.
Apps for fire and EMS are proliferating
Software companies across all industries are embracing smartphones and tablets as digital workflow devices to take advantage of their portable computing capability. Like organizations in healthcare, law enforcement, retail and transportation, fire services now have a rich ecosphere of mobile apps.
Transform fire and EMS with mobility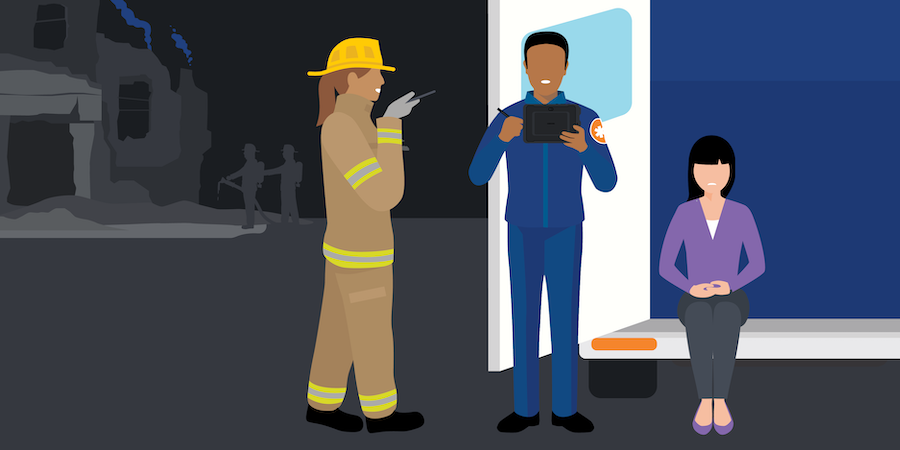 White Paper
Take advantage of mobile devices to improve first-responder capabilities with this free guide. Download Now
Case in point: Tyler Technologies' New World CrewForce® app connects firefighters to the company's computer-aided dispatch (CAD) software. All of the situational information, building records and incident updates previously confined to dispatch's computers can now be accessed by every firefighter with a mobile device. CrewForce even provides emergency medical services (EMS) crews with turn-by-turn driving instructions to the incident scene, data about other responding units and individually specific information designed to address each crew member's particular job needs.
The ImageTrend Elite mobile app allows EMTs and paramedics to record call information, vitals, treatments and call times on their ruggedized smartphones and tablets, capturing data while it's top of mind and most accurate.
In multiagency operations, Intrepid Networks' Intrepid Response app provides EMS and police a common platform for map information, emergency notifications, collaborative online workspaces and PTT communications — again using ruggedized smartphones. Agencies can also incorporate live drone views and enable incident mapping with Homeland Security's ATAK application.
For convenient voice communications, push-to-talk (PTT) applications from companies like Orion Labs allow users to set up talk groups that can support day-to-day routine operations or quickly configure a group to meet an evolving situation. Communications are protected by advanced encryption.
Rugged devices can take the heat
In the world of fire services, mobile devices are only as useful as they are tough. Firefighters and EMTs move quickly when public safety is at risk, and the devices they carry have to withstand their intense work environment.
Consumer-grade mobile devices can be protected with heavy duty cases that add a layer of shock resistance, but fire departments might prefer ruggedized devices that are specially designed for challenging environments. Samsung has developed ruggedized smartphones like the Galaxy XCover Pro that are designed to withstand drops, submersion in water and extreme temperatures.
For agencies focused on leveraging mobile devices for frontline voice communications, the Samsung Galaxy XCover FieldPro is a FirstNet-ready 4G/LTE smartphone with PTT buttons and military-grade toughness. One of the first devices that can operate on the new FirstNet Push-to-Talk service, it enables first responder communications on a reliable, high-performance national wireless network. Fire services can configure their XCover FieldPro for 1-to-1 group calling with up to 1,000 users per talk group. They can also declare an emergency on FirstNet and preempt other traffic.
The XCover FieldPro also meets MIL-STD-810 standards for toughness and durability. It has passed a series of environmental tests, including surviving a series of 26 5-ft. drops and functioning in temperatures from –40 to 176 F. The phone also meets the International Electrotechnical Commission's IP68 standard for dust and water resistance.
While the pocket-size smartphone is ideal for firefighters, incident commanders and fire inspectors may prefer larger screens, such as Samsung's Galaxy Tab Active2 or Tab Active Pro tablets, which come with an S Pen stylus. These mobile devices enable note-taking and support complex tasks like photo and video capture and electronic inspection forms. The tablets also offer LTE connectivity, so commanders and inspectors can access records and file reports from anywhere.
The time to go mobile is now
The time has come for fire and EMS agencies to go mobile. With the right ruggedized PTT smartphones and tablets, firefighters and EMTs can work more safely and effectively than ever. And thanks to enhanced situational awareness and improved incident-response capability, their commanders can also breathe easier.
Learn more about mobilizing your agency with The Ultimate Fire/EMS Guide to Going Mobile. To learn more about mobile technology in public safety, visit Samsung's Mobile First Responder page.