Great-looking, well-positioned displays are fundamental to any digital signage network, no matter the location or purpose. But the success or failure of those displays hangs on the software that organizes, distributes and monitors content.
A digital signage network can lose effectiveness — no matter how sleek and crisp the displays — if the content management system (CMS) is too complicated or unreliable.
Network operators need a toolset that enables screens to be steadily and easily updated with relevant messaging and information. If the software platform is an ongoing challenge, it will likely get used less, screen content will go stale, and the intended audience will stop looking.
From disparate kits to matched sets
Digital signage technology has been around since before flat-panel displays. For many of those years, a typical network was pulled together with components from disparate companies: displays from a display manufacturer, media players from PC makers and a CMS from an independent software company.
Modernize your workplace with digital signage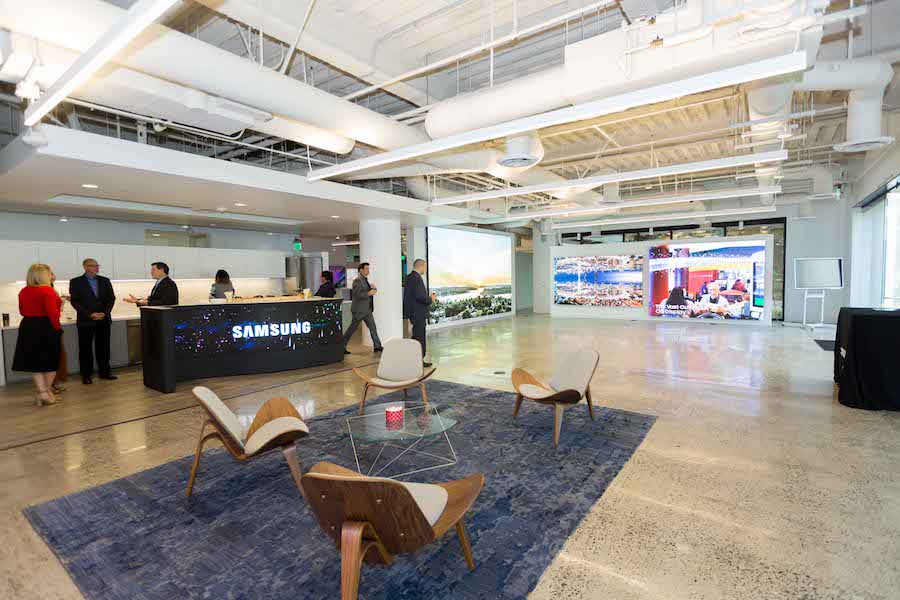 Explore how corporate offices are producing dynamic, engaging content for workers and clients alike. Download Now
Now, a network operator can single-source a solution from one vendor. The buying process is simpler, and an end user can work with a matched set. The media player, display and software are all specifically designed to work with one another, increasing reliability and reducing costs.
Streamlined total solution
A global market leader and innovator in digital signage solutions, Samsung upended and transformed the media player market by introducing smart signage — commercial displays that shipped with built-in media players that removed the need for external PCs.
Smart, system-on-chip (SoC) displays now dominate the digital signage marketplace, and most competing manufacturers have also added these all-in-one displays to their lineups.
Network operators, solutions providers and end users all prefer smart displays because they:
Reduce the overall capital costs (no PC needed)
Speed up installations (there's only one cable)
Cut down on field service calls for troubleshooting (often simple issues, including loosened cables), reducing operating costs
Samsung has worked for many years with a broad spectrum of pure-play CMS software companies who wanted to take advantage of these smart displays, as well as with other software and creative firms wanting to use its smart displays for visual projects.
Since the mid-2000s, Samsung has also been steadily evolving, refining and enhancing its own CMS platform, MagicINFO. Started as a simple tool for small-scale, low-demand display projects, MagicINFO is now a powerful, full-featured, multimodule platform used by everyone from small business operators to multinational corporations.
Along with having all of the capabilities and functionality of the top independent CMS software firms, MagicINFO is also expressly designed to work with Samsung's full smart display lineup — from LCDs and QLED flat-panel displays to highly scalable direct view LEDs. Most displays come with MagicINFO installed and ready to activate.
Typically, CMS software depends on upfront and ongoing software development to ensure it works consistently and reliably with a specific media player, operating system and display. But in a matched set approach, the media player is part of the display, and the software that comes installed with the screen is tuned and optimized for that setup. Everything works together, which minimizes the likelihood of technical issues and speeds up the return on investment (ROI).
Core elements of a digital signage CMS
There are three key elements to a Samsung MagicINFO solution:
MagicINFO Author is the visual front end of the software — what's used to create content. It comes with a large library of predesigned, business-ready templates, icons and images that make it easy for operators to develop material for screens without the cost or delays of outsourcing creative help. Author also has pre-scripted widgets that automate content, such as ZIP code-specific weather conditions and forecasts.
MagicINFO Server is the command and control software used to target, schedule and push out content to one, 100, 1,000 screens or more. Data tagging makes sophisticated scheduling fast and easy — even automated. Server also houses MagicINFO's robust device management tools, which give users a real-time overview of the status of each device deployed in a network, as well as dozens of software tools for remote troubleshooting and fixes. A good CMS toolset minimizes technicians' service calls to remote sites — saving hundreds of dollars for each call avoided.
MagicINFO Player is the playback software that drives media files to the screen. It also sends status and activity reports to Server.
MagicINFO also offers add-on modules for integrating other platforms' data, like business systems, audience and venue analytics and insights.
The right CMS
Specific digital signage needs, like a focus on hotels or healthcare, may lead end users to niche CMS software platforms. But for most use cases, the key considerations are reliability, scalability and costs — controlled upfront and for the long haul.
Take this quick assessment to discover the right display tech for your space, style and budget. Then discover how your digital signage project can be enhanced by Quantum Dot technology.