A laptop and cleared-out space on the dining room table might be a temporary solution for bringing work home from the office, but if your home is now your full-time place of work, you're going to need a more permanent setup — for better productivity, and for your body.
The hub of any work-from-home (WFH) setup is the monitor. Most busy professionals would relish widescreen and curved displays' large canvas, but large displays may require more desk and wall space than what's available, particularly in tight apartment and condo settings.
So the starting point for equipping a home-based workstation comes down to two simple questions:
Finding, fitting and furnishing
Some users are comfortable doing everything on a small laptop screen and keyboard — even hours and hours of software coding. But for most of us, a full-size keyboard, mouse and larger external monitor allows us to be more productive and to ease the neuromuscular issues that can arise from being hunched over a constrained laptop arrangement all day.
Ideally, a WFH setup is in a well-defined, segregated space, out of the way from the household's daily bustle and doesn't have to be regularly moved or rearranged. Fitting a workstation into a room that has other purposes may only allow for a small desk along a wall or corner.
Which monitor is best for your workstation?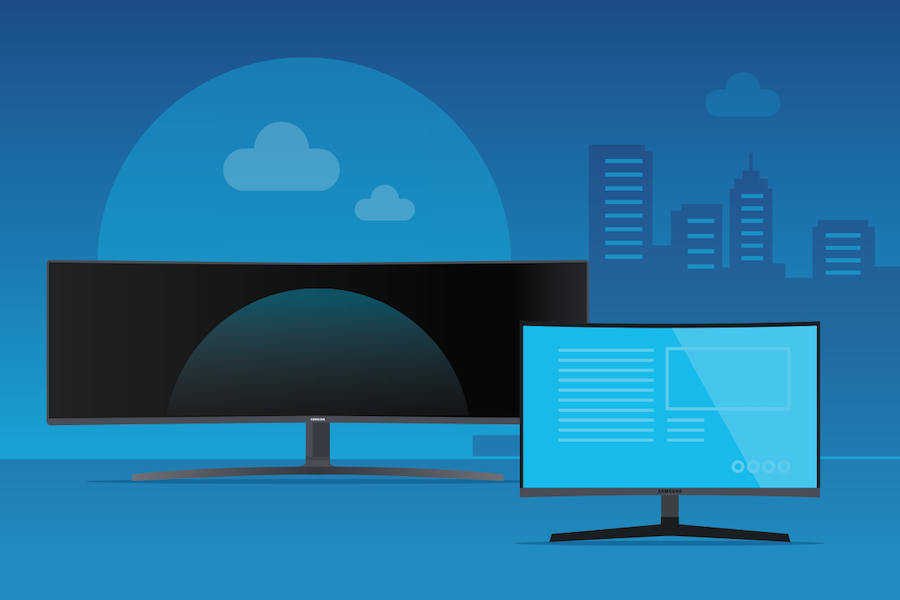 White Paper
Get personalized recommendations on the optimal monitor setup for your space. Download Now
As much as a home-based worker may want an ultra wide display for multitasking and maybe some after-hours gaming, it might not fit their desk, which needs to fit more than just the monitor. A desk also needs to fit the user's PC and its peripherals, like a keyboard, mouse, headset, cables and possibly a USB hub or docking stations.
All that gear can lead to clutter and reduced productivity, but new monitor technologies like USB-C offer better ways — turning displays into hubs and streamlining workstations. Displays with full USB-C support replace costly, trouble-prone hubs and docking stations with built-in connectors that can do everything from take the signal from a PC and power a laptop.
The right monitor for the job
Today's WFH monitors are super slim and lightweight and come in a huge range of dimensions, both flat and curved.
Samsung's SR650 series monitors include 24-in. and 27-in. varieties that come in a standard 16:9 aspect ratio, while the 34-in. brings a 21:9 aspect ratio. Once these monitors eclipse three feet, the ratios jump to 32:10 for the 43-in. and 32:9 for the super wide 49-in. screens.
Clearing the way for efficiencies in space and cost, the SR650 series packs plenty of punch for tighter work-at-home setups, while Samsung's 32-in., 34-in., 43-in., and 49-in. monitors accommodate those who have work demanding more screen real estate. All sizes come complete with USB-C and HDMI ports.
Why go wide?
Few jobs these days require people to work with a single application all day long. They may use a primary application — like a management or planning platform — but working in teams requires people to also check emails and be part of rolling discussions on collaboration software. Then there's social media, like Twitter, to monitor for work (or for distraction) as well.
That's a lot of windows and tabs to open and close on a small screen. A widescreen monitor allows for productive multitasking, with all your key applications open and visible on a larger canvas. Two screens could be tiled side by side, but that comes with a big vertical bar in the middle and yet more cables.
Widescreen is also important for a variety of specialized jobs — like detailed financial spreadsheets, weekly engineering project plans or frame-by-frame motion graphics timelines. And with a widescreen monitor, you spend less time using annoying scroll bars.
Why add curves?
A new breed of widescreen displays adds a graceful curve to normally flat surfaces. In practical terms, the curved shape may better fit a workstation set into a corner. But the more relevant argument for using curved displays is about ergonomics.
The newest curved widescreens from Samsung have a radius that matches the natural curve of your eyeballs, making the screens easier for prolonged viewing. U.S. and Korean research teams that did separate studies on the merits of curved displays both identified clear benefits. The curved monitor's surface helps viewers perceive the middle and side edges of a screen along a single horizontal line, which makes for easier viewing.
On curved displays, content at the left and right edges has the same focal distance as the content at the center of the screen, so users aren't focusing and refocusing their eyes as they dart around the display.
Wrapping the screen inward also allows you to see the edges in your peripheral vision, requiring less head movement, which is healthier for your neck and back muscles.
This curve's for you
A curved widescreen monitor is the optimal choice for most WFH setups — blending great looks with productivity and health benefits. They're big, but they've gained enough popularity that there's now a curved widescreen monitor to fit most WFH environments.
Find the desktop monitor that makes the most sense for your workstation setup with this free assessment. And discover the new display potential offered by Quantum Dot technology.