A handful of New York City taxis are causing busy travelers to think twice before Ubering to catch their flight. Instead of "Vacant" signs, these cabs are using small digital displays to show the estimated travel time to both JFK and Newark airports. Part of a Delta Airlines campaign, this simple heads-up may be convincing some travelers to skip the ride-share and hop in a cab instead.
This example points to a larger transportation trend: integrating technology to influence passenger behavior and enhance the overall experience. Although many of these innovations are designed specifically for use in airports, bus terminals and subway stations, the principles behind them could be applied to any industry.
For instance, what if an LED sign in front of your fitting rooms told shoppers their exact wait time for an available dressing room? Or how long before they could be seen by a sales associate? You'd probably be much more willing to stick around for an oil change at Jiffy Lube if you could confirm beforehand that you could make that 1:30 lunch.
In this article, we're going to share a few more insights retailers can learn from transportation, with the help of Rob Warfield, Southeast Channel Manager at Samsung.
Keep people in the know
We're in an age of impatience; nowhere is that more apparent than in transportation. Modern travelers want instant access to up-to-the-minute arrival and departure times, delays, terminal changes, baggage pickup and so on. "I travel a lot," says Warfield. "Just being able to look up and see a real-time update on when the plane will be there helps you overcome the anxiety you feel when you don't know what's going on."

For most people, shopping is considerably less tense than traveling. Still, digital signage can make relevant information readily available to shoppers, yielding powerful results. Nielson found that four out of five product brands experienced significant increases of up to 33 percent additional sales through the use of digital out-of-home media. Other studies corroborate these findings, showing that digital signage has caused people to change their minds on what they came in to buy.
Be a thoughtful guide
Beyond information, some transportation leaders are taking a more proactive approach to helping travelers (literally) navigate. For instance, New York's Metropolitan Transit Authority (MTA) recently added next-stop signs to certain busses. This way, travelers are aware of transfer options on their route—as well as anticipated arrival times.
The same challenge in transport is happening in big box stores like Ikea, Walmart and Costco. "People want to get into a store and see some digital directional signage so they can get to where they want to go quickly," says Warfield. "That's super important for turning visitors into actual shoppers."
Enhance the buyer's journey with digital signage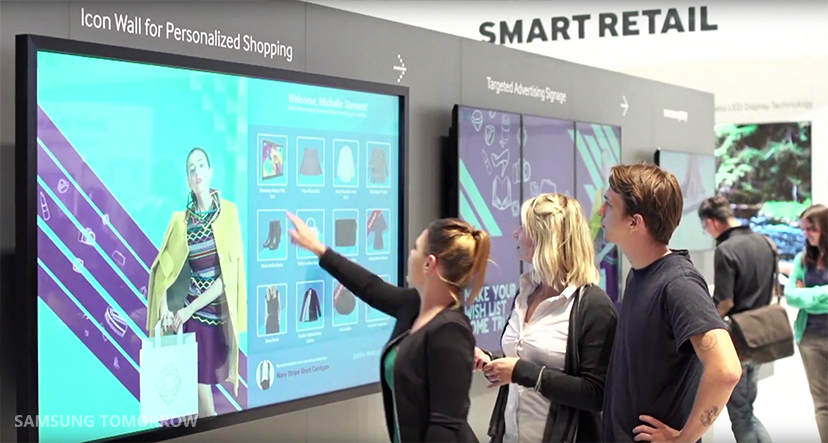 Get your free guide to the what, where and how of digital signage in retail environments. Download Now
Add entertainment value
Travel is often fraught with anxiety. As such, forward-thinking transportation players are always looking for new ways to entertain travelers. At the Charlotte-Douglas International Airport, for instance, there's a 2,000-square-foot LED display that runs along Terminal A. It features "Interconnected," a stunning visualization that displays a mesmerizing kaleidoscope of colors, shapes and textures, all dynamically driven by real-time airport data such as flight status and traffic. "I think the artistic element of what's being shown on the direct-view LED display helps to calm people's nerves and make travel less stressful," says Warfield.
Retail can do the same thing. "Some people don't like to be around a ton of people in a shopping center — they have anxiety in a busy place," continues Warfield. "Using direct-view LED displays can help people become more relaxed in a shopping environment, whether that's showing art or pictures or videos of oceans or a forest. Whatever makes the shopping environment more peaceful."
Always be innovating
Making travel faster, easier and more efficient is a never-ending process. Fortunately, new technology—sought by forward-thinking transportation hubs—can greatly speed the process. Take Hartsfield-Jackson Atlanta International Airport, home to the world's first fully biometric terminal. This uses facial recognition technology to save international travelers from having to show their passports every time they pass through. Travelers love it: According to one study, a whopping 72 percent of travelers prefer the new method to standard boarding.
Some forward-thinking retailers, including Amazon Go, are already exploring the possibilities of facial recognition technology. "If you're in a store with facial recognition, you can recognize, okay, this is an older male, this is a younger female," says Warfield. "Knowing that information, you can dynamically change signage to drive them to a section that they'd be most interested in."
With its time sensitivities and extreme focus on logistics, transportation is a natural industry to lead the way for integrating technology into the user experience. But the principles here are industry-agnostic. It's about people, and the behaviors and expectations they have in our modern, impatient, on-demand world.
Get your free guide to future-proofing your digital signage investment with the right LED display.