As workers' app portfolios expand, so do their workstations. But more screens, larger screens and other productivity tools are increasingly crowding desk space.
Desktop monitors equipped with daisy chaining capability, such as the Samsung SH850 Series, allow as many as four HD monitors to run off a single PC with just one cable in each monitor. Not only does this significantly reduce workers' number of cables, it also means they don't need docking stations or other cable management systems — decreasing overall clutter and creating a more productive workspace, with easier installation and maintenance.
How daisy chaining works
Daisy chaining allows a single output to run from the PC to the monitor. The monitor then effectively relays or extends the PC signal to the adjacent monitor — or to as many as three.
It may sound technical, but daisy chaining monitors is actually quite simple:
Ensure your monitor supports daisy chaining. The monitor should support DisplayPort version 1.2 or later, which allows you to link multiple monitors.
Connect the PC's main DisplayPort connector to the DisplayPort In connector on the primary monitor. Then connect a compatible DisplayPort cable from the primary monitor's DisplayPort Out to the secondary monitor's DisplayPort In.
For a third or even fourth monitor, repeat the links.
Which Monitor Is Best for Your Workstation?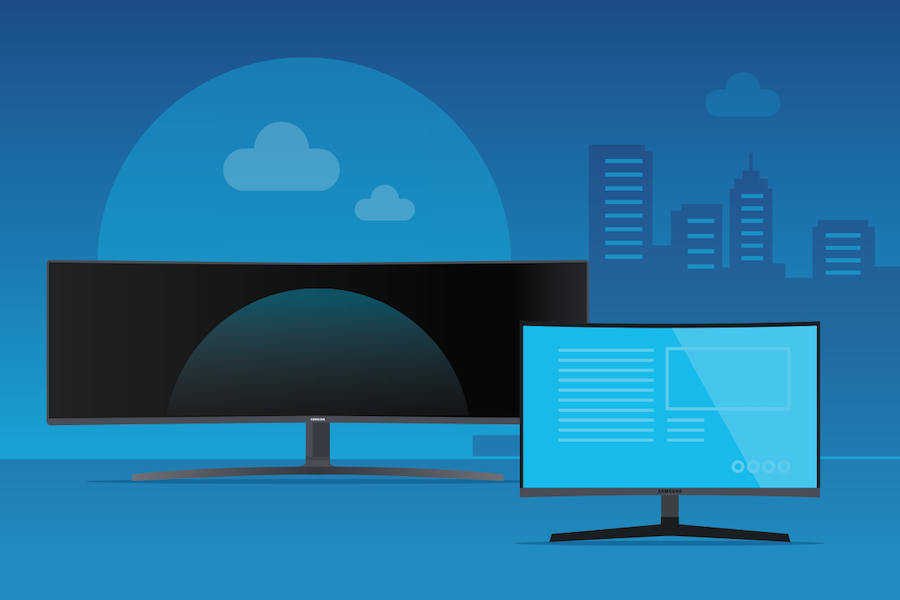 Get personalized recommendations on the optimal monitor setup for your space. Download Now
Resolution matters. Daisy chaining can support up to four 1080p Full HD screens or two Quad HD 2560p screens. While control rooms and financial traders may need four or more screens — two stacked atop two — most modern workspaces that embrace daisy chaining technology are using pairs of widescreen monitors set side by side.
Benefits of daisy chain
Using multiple monitors creates a far bigger, more uniform canvas, an advantage for people who work on everything from multimonth project management charts to detailed spreadsheets, as well as creative professionals who run multiple applications and media preview windows at once. But that productivity boost usually comes with a mess of cables. Daisy chaining lets you keep the screen space and the desk space too.
Running the primary DisplayPort signal cable from a PC to a daisy chain-ready monitor allows users to extend their desktop with multistream technology (MST) — great for single users looking to increase their canvas — or duplicate it with single-stream technology (SST), a handy tool for presenters.
Daisy chaining also reduces the need for higher-specification laptops with multiple signal output connectors, and for additional cables and peripherals. Needing fewer signal cables helps declutter your workstation. Many work monitors that support daisy chaining also support USB Type-C — a connector and protocol that provides a signal for monitors, power for a laptop (or other smart device) and connectivity for several peripherals that plug into and run off the monitor. That clears the clutter even more, removing the need for docking stations, port hubs and a tangle of AV cables.
Conventional productivity software for word processing and spreadsheets once dominated computing time in many workplaces. But these days, collaboration and customer relationship applications — which typically run on the cloud — are part of the workday mix, putting more demand on the limited screen real estate of a typical desktop.
There are two choices to deal with all those applications: either get really good at opening and minimizing applications from a taskbar, or daisy chain multiple monitors to realize a more visual workspace. The latter lets users view multiple windows simultaneously — saving time and boosting productivity.
Learn more about how to clear desk space and streamline workflow with USB-C connectors. Or, discover the rapid evolution of desktop monitors.