In home computing setups, webcams and microphones have always been practical add-ons, but the rapid shift toward remote and hybrid work environments made these devices part of our everyday needs.
Out-of-focus and grainy video quality, accompanied by tinny audio, revealed how many people needed to upgrade their home technology setup to communicate effectively from afar.
Cameras, microphones and speakers are typically cobbled together and paired with a desktop monitor. But Samsung has simplified that process by introducing the S40VA Webcam Monitor, a slim desktop monitor with a webcam, microphone and speakers built directly into the hardware. With all the key components in one package, the S40VA is bolstered by high-quality visual performance and added security features like Windows Hello support.
Besides video meetings, there are numerous other reasons to invest in a monitor built to make remote collaboration easier. Here are seven use cases where the S40VA monitor offers key benefits:
1. Videoconferencing
While some offices are slowly repopulating, much of the working world is now used to regular video meetings. The Samsung S40VA display's built-in camera offers Full HD resolution, and its high-quality microphone helps people hear you loud and clear. When you're not using the camera, you can push the unit down (on top of the monitor) so it's out of view — and so are you.
Desktop monitors are full production hubs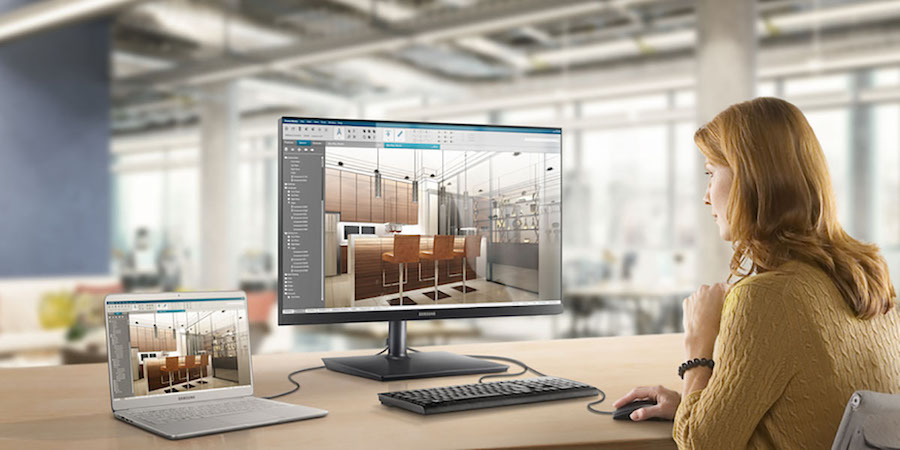 Monitors aren't just displays. Learn how USB-C, HDMI and Thunderbolt 3 enable complete workstations. Download Now
2. Virtual events
Trade shows and conferences are starting to come back. But many events, now and in the future, will encourage virtual attendees, so people can't attend in person are still able to enjoy the presentations and discussions. A 2020 survey revealed 31 percent of business travelers are traveling less because teleconferencing and remote working arrangements are just as effective. With a video-ready display, you can fully partake in sessions from a remote workstation.
3. Online learning
Home schooling rates doubled in the U.S. from March 2019 to March 2021, and there's been a similar rise in remote and distance learning at every level, from K-12 to graduate programs. Even prior to the pandemic, online learning and hybrid classrooms were evolving — from one-way lectures and on-demand prerecorded lessons, to two-way interactive learning sessions with actively engaged participants. It's critical that participants have a camera, audio and speaker setup that helps them be seen and heard clearly.
4. Group work
The S40VA monitor uses in-plane switching (IPS) technology, which creates a vast 178-degree viewing angle. So a group of people can view the screen at the same time, even if they're off to the side.
5. Clutter-free multitasking
Many people working or attending classes from home have improvised workstations, often confined to wherever they can make room. With a 24-inch display, the S40VA offers enough screen real estate for effective multitasking, while still being small enough to fit in a tight workspace. A USB hub is built into the monitor, removing the need for an external hub and its many associated cables, so connecting peripheral devices is simple.
6. Working all day
Laptops and tablets offer a lot of computing power in a small package, but they're best suited to short-term use and casual browsing, not full days of work or school. Heavy laptop use can also lead to neck and back problems. The S40VA monitor has multiple adjustments for height and viewing angle, as well as landscape or portrait mode.
7. After-hours play
Investing in a great monitor makes even more sense when you can use it after work. The S40VA Webcam Monitor is equipped with AMD FreeSync technology, which synchronizes the monitor with the computer's graphics card to ensure super-smooth visuals even during a rapid-fire video game or action-packed movie.
With cameras and video meetings now central to our day-to-day activities, your equipment should be fully up to the task. Samsung's S40VA monitor delivers an all-in-one solution for the visual performance you need — in a compact, convenient package that suits just about any remote workspace.
Learn more about how monitor color technology and refresh rates support your fast-paced, creative workplace. And if you're not sure the S40VA is right for you, explore the rest of Samsung's innovative desktop monitor lineup, built for diverse use cases that need top-tier performance.