This year's sudden, dramatic shift toward remote work caught many organizations off guard. As the COVID-19 outbreak intensified, what leadership once thought of as a distant reality quickly became an imperative.
Companies and government agencies acted fast to shift to a remote workforce by any means they could. Virtual private network (VPN) traffic spiked by 40 percent, and videoconferencing usage shot up by 283 percent, according to Gartner. While some organizations and employees have struggled to adjust, many companies have started to recognize the benefits that come with having a remote workforce, including lower overheads, improved productivity, lower absenteeism and reduced turnover.
This forced experiment in workplace dynamics has changed the business world forever. Gartner reports that about three out of four companies plan to permanently shift to more remote work.
Of course, this shift isn't without its challenges. Organizations have to develop strategies for ensuring company data remains secure and workers have the tools they need to stay engaged, collaborative and productive. Meeting these needs requires investing in long-term solutions for creating a connected remote workplace.

How Samsung and partners are creating a connected remote workplace
To support companies and government agencies in their adjustment to the new normal, we're working with our partners to provide innovative technology that's intelligently connected for an unrestricted work experience.
This starts with our powerful mobile devices, like the Galaxy Note20 series, that allow workers to take their desktop anywhere. With the Note20, workers can wirelessly connect with Samsung DeX to use a Smart TV as an external display for a larger screen experience. They can simultaneously use their Note20, which acts as a second screen even while broadcasting through DeX.
Shop special offers
Find out about offers on the latest Samsung technology.
see deals
Speak to a solutions expert
Get expert advice from a solutions consultant.
Talk to an expert
For team members who need to access proprietary applications not available on mobile, we've optimized DeX to run the leading VDI clients – including Amazon WorkSpaces, Citrix Receiver and VMware Horizon. Remote workers can quickly launch a virtual desktop session on a monitor and work naturally with a paired keyboard and mouse. The experience is all powered by their smartphone.
Through our collaboration with Microsoft, users have native access to Office, Outlook and OneDrive on the latest Samsung smartphones. They can also sync their Galaxy smartphone to their Windows PC using Link to Windows. Once linked, they can interact with all their mobile apps and files right from their PC for a seamless, productive work experience.
Chromebooks are built for remote work
Chromebooks, with their streamlined, cloud-centric operating system, are another technology that's perfectly suited to remote work. Our new Galaxy Chromebook incorporates some exciting new updates, including an S Pen that's built directly into the chassis.
Workers in creative fields will appreciate the brilliant, 13.3-inch 4K AMOLED display with professional-grade color accuracy, covering the full 100 percent Adobe RGB and DCI-P3 standards. This level of visual acuity is great for photo or video editing and unprecedented in a Chromebook. The Galaxy Chromebook also boots up in as fast as six seconds and weighs only 2.3 pounds. It's a great deal of value packed into an ultra-thin, 9.9-millimeter package, ideal for remote workers.
Go mobile-only with Samsung DeX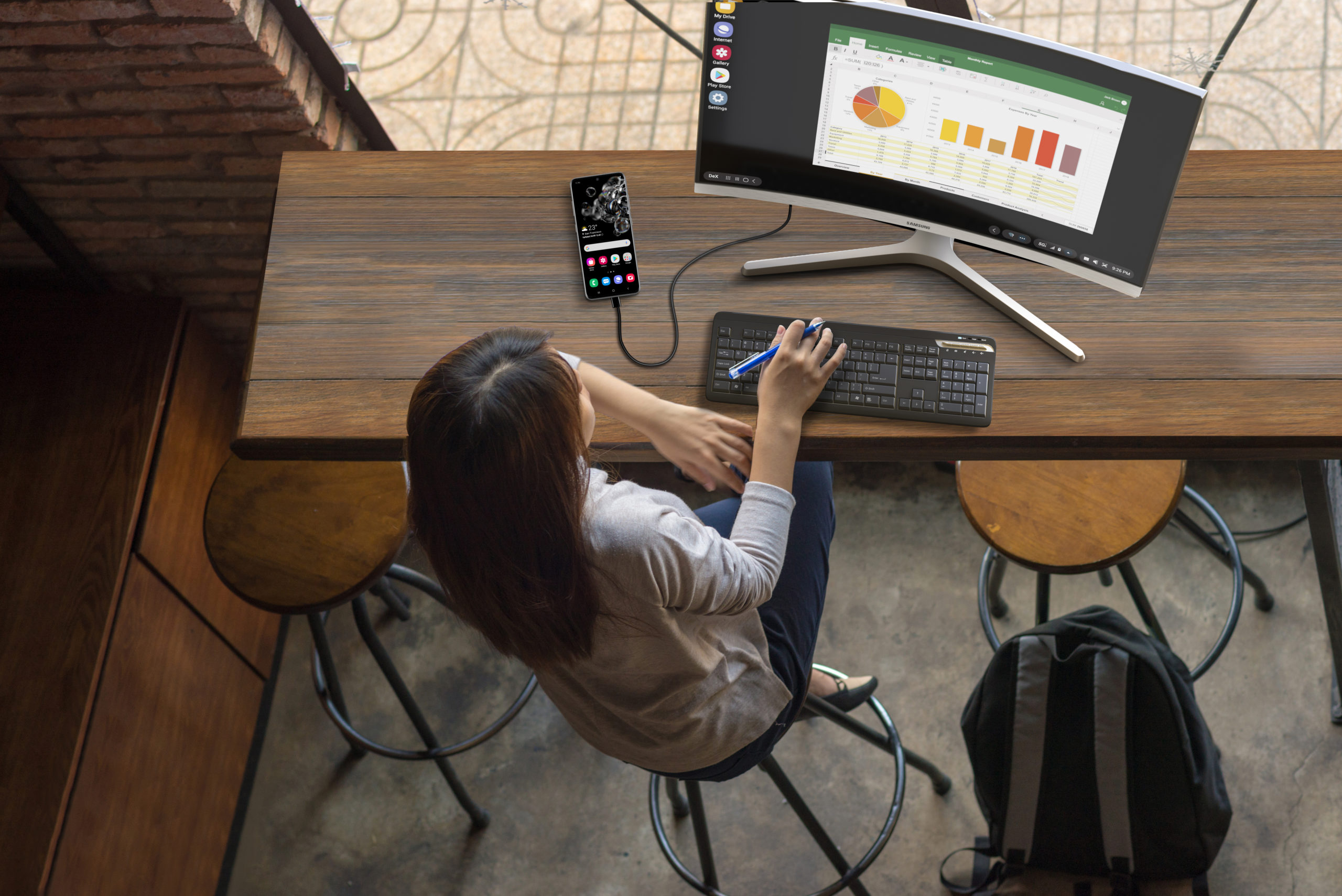 Your comprehensive guide to rolling out a mobile-only solution for your workers. Download Now
For organizations with remote workforces, Chromebooks have become popular due to their cloud-centric approach, including the integration with Google Suite. Google Docs and Google Sheets are becoming workplace staples, thanks in large part to their real-time collaboration features, which have become even more essential to today's distributed workforce.
Of course, these wouldn't be Samsung devices without powerful built-in security features. The Galaxy Chromebook sports a secure fingerprint reader to ensure no one can access the device except the authorized employee assigned to it. And our Android devices are protected by Samsung Knox, our defense-grade security platform which pairs with a package of powerful mobile management tools that let IT achieve the right balance between innovation and security.
Remote work isn't just the future; it's the present
The next phase of the remote workforce will be all about using technology to optimize the work-from-home experience so that it feels comfortable and familiar. The more we can make distributed collaboration work intuitive, the more engaged employees will be in the long haul. Wherever they can, employers should aim to simplify workflows by leveraging collaboration tools that keep everyone in sync and automate time-draining processes.
Samsung may be best known as a consumer brand, but we have always been deeply engaged with business and government customers. Together with our partners, we have the technology, partnerships and innovative culture to overcome today's challenges — and to redefine the future of work.
Learn how Samsung can help empower your remote workforce. And discover 10 reasons you should make the upgrade to the Galaxy Note20.