Mobile technology can help any workplace automate its manual, paper-based processes and keep employees connected to their co-workers. But for those on the frontline — who spend their days on the road or operating outdoors in harsh weather — not just any mobile device will do. They need a device that's durable and multipurpose, that can stand up the rigors of real-world field use and improve productivity.
Across a range of industries, equipping frontline workers with rugged tablets and the right apps can transform how they operate. Collaboration increases, resources are more efficiently managed, productivity is boosted and business leaders gain greater visibility into operations and KPIs.
At the same time, many IT teams have struggled in the early stages of deploying mobile devices to frontline workers. After all, when you're talking about thousands of remote employees, deployments takes a lot more planning than simply handing them the devices.
Samsung is addressing these challenges with the new Galaxy Tab Active3 Enterprise Edition. The rugged device itself lets frontline workers fearlessly pursue projects in intense work environments — while the Enterprise Edition package gives IT workers a set of mobile services that make it easy for them to secure, deploy and manage mobile devices across a distributed workforce.
Work doesn't stop, and neither will you
For anyone whose day-to-day job involves the risk of harsh temperatures, vibrations or sprayed water, the business case for rugged tablets is clear. Built with frontline workers in mind, the Tab Active3 can withstand drops from up to 1.5 meters with its tough protective casing. The device also boasts an IP68 rating for dust and water resistance. Its military-grade design has been tested against MIL-STD-810H, the Department of Defense's environmental criteria for rugged electronics, ensuring it's ready to stand up to extreme working conditions.
Empower your field services team with mobility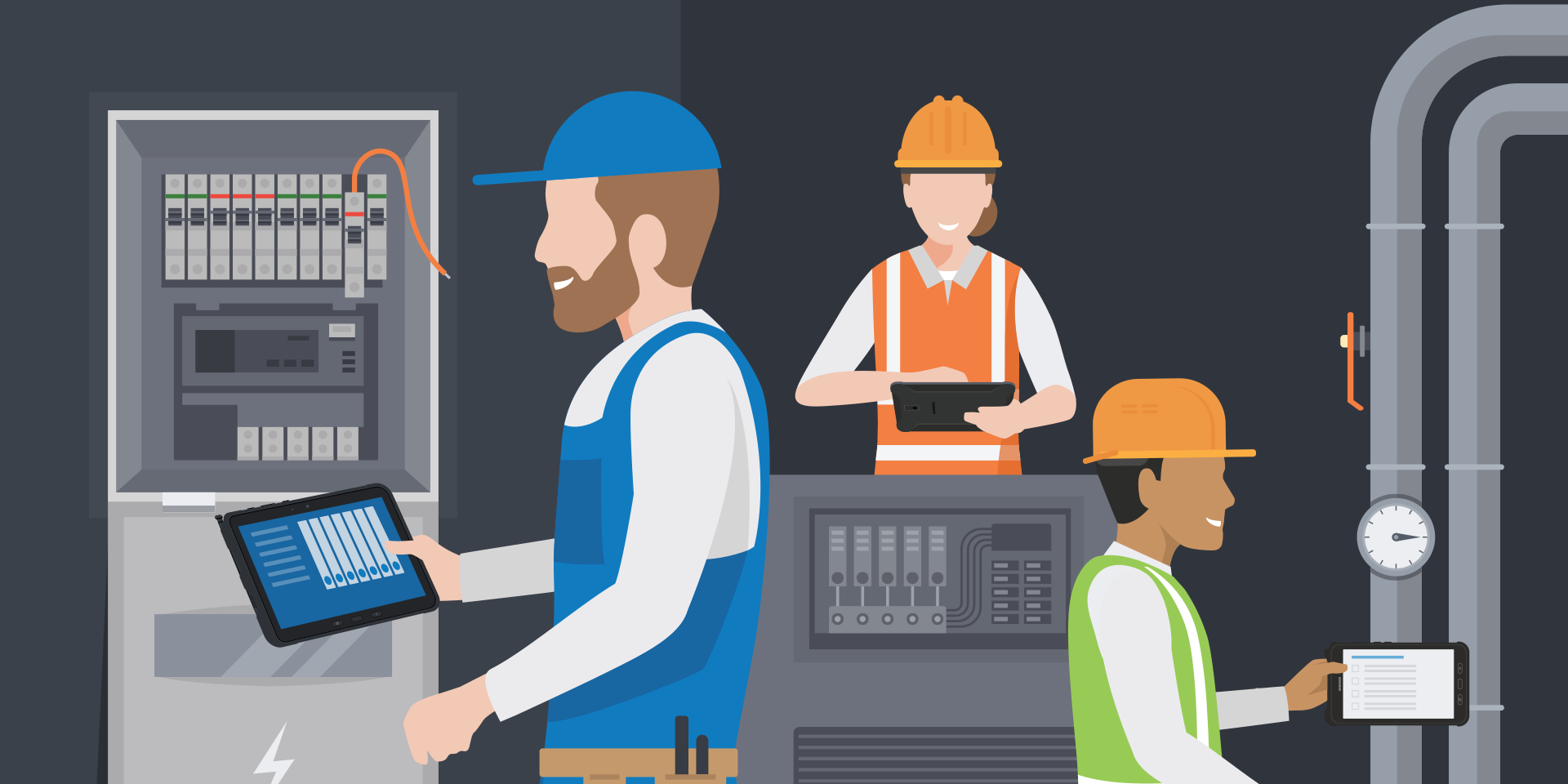 Exceed customer expectations with this free guide to improving connectivity in field services. Download Now
That said, the word "rugged" here isn't a euphemism for clunky or cumbersome. The Tab Active3 has a sleek, compact design; a powerful processor; a bright, high-resolution screen; an IP68-rated S Pen stylus; and all the productivity features you'd expect from a Samsung tablet.
Other field-ready features include:
A long-lasting, field-replaceable 5,050mAh battery that supports Fast Charging through USB and pogo pins
Enhanced touch mode, which means employees can use the touchscreen and buttons while wearing gloves
A programmable Active key on the side of the device lets workers open frequently used apps in a single press
Smart connectivity via Wi-Fi 6 and 2×2 multiple-input and multiple-output (MIMO), with LTE connected models available from major carriers
The addition of Samsung DeX allows field workers to connect their tablet to a monitor, mouse and keyboard for a full desktop experience. On Miracast-capable displays, they can use DeX wirelessly.
All these features ensure the Tab Active3 will more than satisfy the mobile technology needs of frontline workers.
But what if your team comprises thousands of workers, who not only need to be equipped with devices but to be supported on an ongoing basis? That's where Enterprise Edition comes in.
An Enterprise Edition built for business
In complex business environments such as logistics, trucking, retail and manufacturing, deploying a mobile fleet needs to be fast and simple. For your IT team, the ideal is zero-touch deployment, in which admins aren't tasked with manually deploying and updating an overwhelming number of tablets.
This is the thinking behind Knox Suite, a complete toolset of cloud-based services that enable end-to-end mobile management, so IT can secure, manage and deploy mobile devices efficiently. A one-year license to the Knox Suite is included with the Tab Active3 Enterprise Edition, with discount pricing available when enterprises renew for subsequent years.
IT admins can bulk enroll a large fleet of tablets in their mobile device management (MDM) platform via Knox Mobile Enrollment (KME). Once rugged tablets are out in the field, troubleshooting issues are inevitable. But the Knox Manage EMM allows IT to offer support remotely. Mandatory firmware-over-the-air (FOTA) updates can also be scheduled using Knox E-FOTA, ensuring OS changes won't cause compatibility issues with business apps. Even deep device customization is possible through Knox Platform for Enterprise (KPE), another tool included in Knox Suite.
A lasting support system from Samsung
As your organization continues its digital transformation, you may discover opportunities to expand your mobile device deployments. Samsung brings peace of mind with our assurance that the Galaxy Tab Active3 Enterprise Edition will continue to be available for three years after initial launch.
Finally, IT teams want to work with rugged devices that they know are both durable and secure. The Tab Active3 Enterprise Edition's five-year security maintenance release takes care of that.
The Galaxy Tab Active3, like Samsung's entire rugged portfolio, is backed by an ecosystem of partners and customers with expertise in frontline industries — driving innovative solutions for specific business needs.
Frontline workers and IT teams may not be in the same room very often, but they're very much on the same team. The Galaxy Tab Active3 Enterprise Edition delivers a solution that will keep both groups operating with maximum efficiency.
Learn more about how the Galaxy Tab Active3 supports field workers and IT departments — simultaneously. Not sure if rugged is right for your business? Take this short, free assessment to find out.