Buying or leasing a new vehicle can be an emotional decision. Even though the end result is beneficial, consumers are often apprehensive during the process. With the right visual messaging, dealerships can use large digital displays to drive positive customer experiences and help dealers close more sales.
At the dealership, digital displays can guide customers through the customer journey, from the presale exploration stage that piques the buyer's interest to their scheduled car maintence visits. Brand messaging reinforces what enticed customers to visit, and displays within the dealership drive new messaging to keep them engaged.
Here are seven ways that direct view LED and other digital signage can rev up business in automotive showrooms:
1. Generate showroom traffic
Dealerships have been using roadside LED screens for years. Now, old-school digital signage is complemented by large-format displays built into dealerships' architectural design.
On the facades of higher-profile dealerships, large outdoor LED displays act as digital billboards that promote the brand's offers, locate the dealership and encourage impulse visits from passersby.
2. Reinforce the brand
Large-format vinyl and fabric lightbox displays have long been automotive showrooms' signature visuals, but they're now being supplanted by seamless direct view LED displays, which can fill key wall space. While printed displays can capture just one specific visual and message, large-format digital displays such as Samsung's The Wall — built with boundary-pushing microLED technology — can run lifesize full-motion video.
Improve store safety with digital signage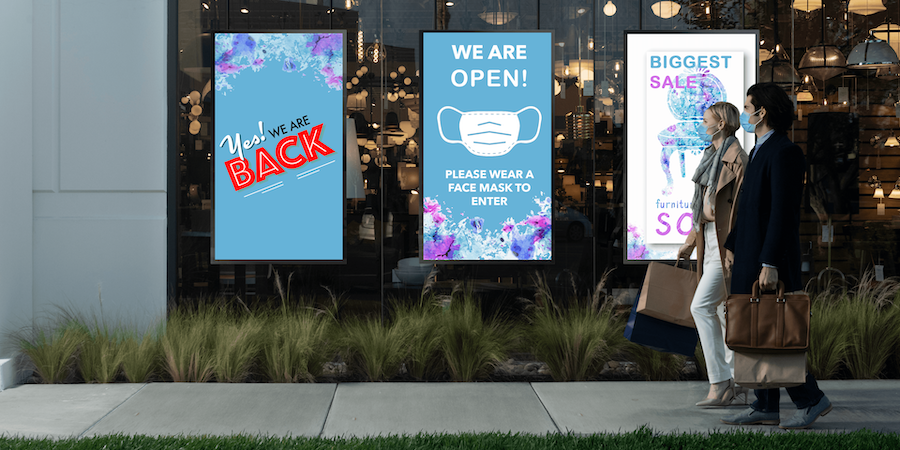 Discover new ways you can adapt your store signage to keep shoppers safe and maximize ROI. Download Now
Dealerships can use these displays to showcase vehicle design and performance in stunning visual clarity and scale, in the kinds of meaningful moments that compel customers to get behind the wheel and prompt their buying decisions. Carefully crafted, targeted media placed throughout the dealership reinforces the manufacturer's brand, including its history and the characteristics that matter most to buyers, such as safety and craftsmanship.
3. Showcase DIY configurations
Almost every mainstream manufacturer now offers virtual car configuration. Smartphone apps and browser tools on tablets and PCs allow consumers to outfit a car digitally, with the in-vehicle setup that's right for them.
These configuration tools can also be used in the showroom, but then buyers are looking at a small screen while surrounded by full-size vehicles. Instead, with a fine pixel pitch LED as the configuration canvas, consumers can see their ideal vehicle in the setup they want — at full scale — and explore it inside and out, even when there's nothing physically on the lot.
4. Remain visible
Dealerships tend to have many rooms surrounded by glass curtain walls with all-day sunlight. Glare can easily overpower standard commercial LCD displays, and even specialized high-brightness displays may be tough to see in certain conditions.
By comparison, direct view LED displays are bright enough to easily overpower direct sunlight, ensuring key messaging is always visible. The Wall from Samsung uses leading microLED technology to deliver two times more color purity than conventional LED displays. Its black base and ultra-low reflection black technology result in impressive contrast and accurate imagery.
5. Guide and remind
Smaller LED configurations are being tied into dealer management systems to welcome known customers and guide them to drive-in service bays, using technologies such as license plate recognition to generate dynamic customer messaging and instructions. Versions of this technology can be placed inside the dealership or above roll-up entryways.
At the service desk, LED wall displays can alert customers to available promotions and services, and gently remind them to schedule routine maintenance, such as switching their tires in the winter for snow and ice — all of which help create long-term customer loyalty.
6. Upsell customers
The car buying process typically involves several steps, including situations where buyers are asked to stand by in the waiting room as a deal is approved, paperwork is processed or vehicles are prepped. Digital displays present an opportunity to show these waiting customers the value of incremental sales initiatives, like extended warranties, accessories and services.
7. Support small-footprint dealers
Dealers along major roadways remain the norm in auto sales, but manufacturers have started opening satellite dealerships in urban settings and shopping malls where traditional dealership operations aren't available. The trade-off is limited space, with room for one or a handful of vehicles in a showroom, and an operation purely focused on branding and selling.
For most of these new dealerships, conventional LED is secure and stable, but it can limit control for on-premises salespeople to share availability and configurations in real time. Large-format digital displays and direct view LED can be leveraged in the moment to generate excitement about the brand.
Some brands have even started adding LED to their ceilings, attracting passersby and creating immersive branding and buying experiences.
Deliver on experience
For most consumers, getting a new set of wheels is a deeply personal experience, and one of their bigger buying decisions. Great experiences that deliver visual excitement and thoughtful, well-timed messaging can be meaningful for consumers — and even more meaningful to dealerships, who need to convert as many showroom visits as they can into customers.
Get your free guide to the what, where and how of retail digital signage. And see how one family-owned tire shop set themselves apart with dual-sided digital signage.