First impressions matter, so as commercial and residential space designers think about which technologies will widen eyes and drop jaws in the entrance of a business or home, more of them are turning to super-realistic direct view LED displays like Samsung's The Wall.
With seamless direct view microLED technology, a lobby or reception area's feature wall is endlessly and instantly changeable, with a keystroke or a preset schedule. In a corporate lobby, high-end auto dealership or luxury retailer, that feature wall can display stunning high-definition visuals specific to the place and moment. One scene may be a digital waterfall, and in another moment, a dynamic dashboard featuring the key numbers and marketing visuals that tell the story of your business.
LED now also plays a role in luxury home design, with high-net worth individuals using super fine-pitch LED technology for feature walls in their living rooms and entertainment areas. A video wall can function as a living art canvas or a showstopping HDR TV that delivers an immersive experience that conventional TVs and projectors can't compete with.
Creating an LED canvas
LED displays offer endless options for putting together a digital feature wall, but almost all of these displays come with qualifiers. Conventional direct view LED technology is best viewed from a distance, as these module-based displays are manufactured in such a way that limits how tightly the LED lights can be packed.
These days, LED displays are marketed on their pixel pitch — the distance between their pixels. The finer or narrower the pitch, the closer that viewers can be to the screen and still see a crisp, uniform image. But more SMD chips per module increases cost, so the finest-pitch direct view SMD LED displays are pricey.
On a low-cost LED display, viewers can see the individual pixels up close, degrading their visual experience. Once they step back 15 feet, the visuals pull together as the gaps between the pixels are no longer visible. But this limited viewing perspective can be frustrating to work around as you design a display for a building.
Find the best display for your video wall project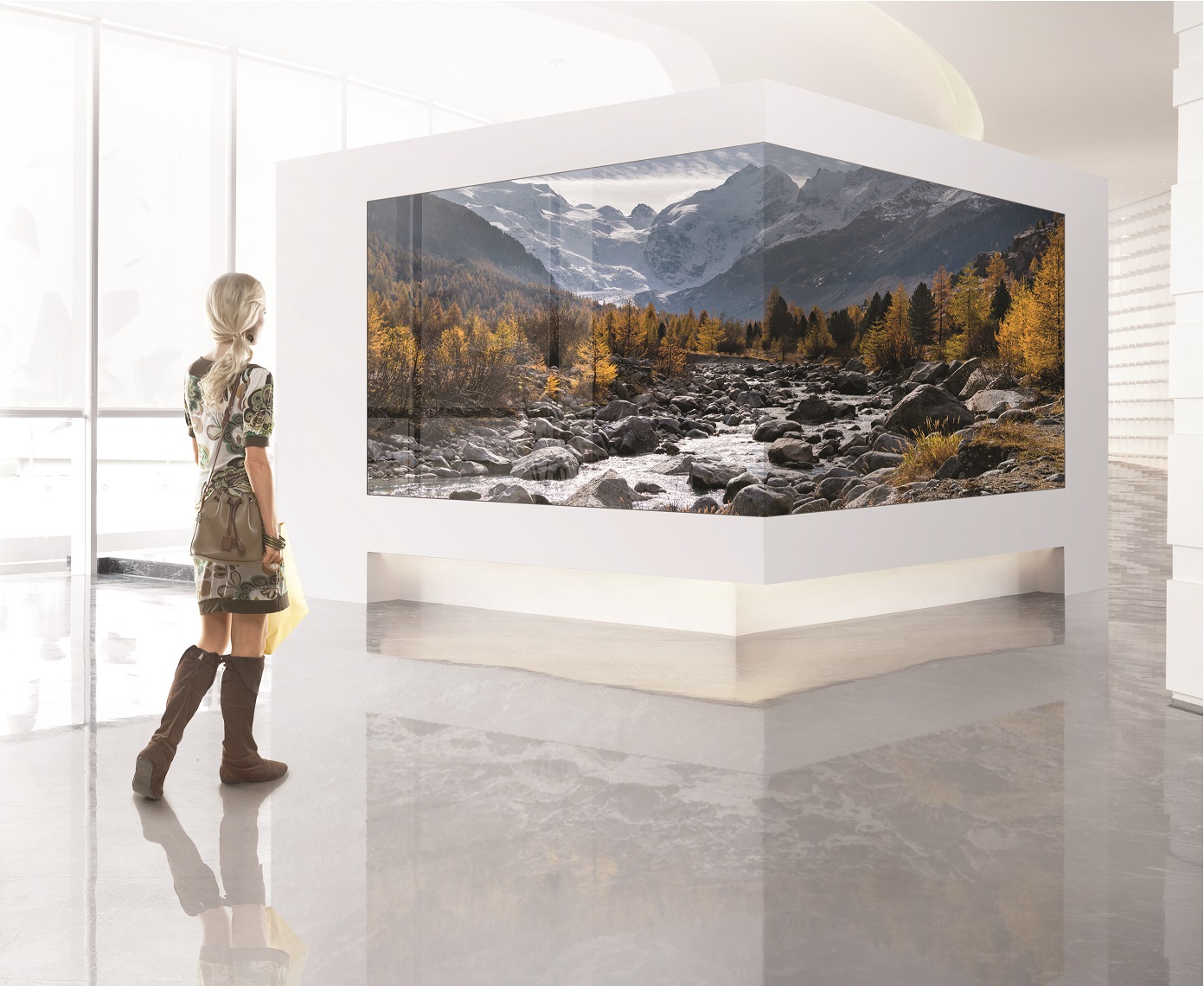 Take this quick assessment to discover the right display tech for your space, style and budget. Download Now
Conventional LED presents durability issues if the display is located in a public area within viewers' reach. Because the individual LED lights are soldered on, they're brittle and easily damaged. If you look at the edges of a large LED display in a store entrance, you'll probably see individual diodes that have been bumped or scratched off. They can be repaired, but it's time-consuming and therefore costly.
These two scenarios are nonissues with Samsung's The Wall, which uses microLED technology to deliver crisp visuals even up close, and is built to resist water, dust and shock. The screen's Black Seal Technology fills in the gaps between LED modules with a pure black base, creating a smooth surface that withstands bumps and other accidental impacts. The Wall's polished surface is beautiful and functional, as it's less likely to collect dust and far easier to clean and sanitize — a major advantage for LED video walls in high-traffic public environments.
The tech behind The Wall
The market for direct view LEDs is evolving rapidly — and so are the terms applied to different versions of that core technology.
For instance, in the last few years, Mini LED and microLED have emerged — technologies that use micrometer-scale LEDs and a different manufacturing process that mass-transfers clusters of nearly microscopic lights to create modular tiles. When those tiles are mounted together, they create a uniform, seamless canvas with the quality of today's premium Samsung QLED displays, at any size.
The size is one of the most compelling features of microLED. A large display will consist of dozens, hundreds or thousands of smaller, tiled modules, so your version of The Wall can be whatever dimensions it needs to be to fill a particular space. It's also not confined to the familiar 16:9 aspect ratio of LCD displays. A video display built using The Wall's modular technology could be a slim vertical column advertising products in a retail setting or an irregular, jagged mosaic decorating the lobby of a hotel or corporate office. It can be installed on a surface that's curved, inclined or L-shaped.
The modular tiles are also slim enough to mount flush against a wall with minimal physical footprint.
No viewing compromises
LED displays are known for their brightness — but the secret to great visuals is, ironically, in the black surface between those lights. Samsung's premium Black Seal Technology gives The Wall's modules a deep black base color and ultra-low reflection. Combined with the microscopic LED lights, which create more black space in the gaps (aka pitch), The Wall enables super-high contrast for a more immersive viewing experience.
And with Ultra Chroma technology, The Wall's microLEDs delivers twice the average color purity and a wider color gamut than conventional LED displays, so every color is richer and more vibrant. Also supported by HDR10+ display technology, The Wall amplifies visual details in extra bright and extra dark scenes, from the brightest whites to every shade of gray. Brands that want to accurately display their trademarked colors, from lipstick shades to a company logo, can trust the color precision of The Wall. In command and control rooms that depend on clear visuals, color specificity increases efficient, informed decision making.
The Wall at work and play
Wherever there's a large surface — in business and in residential — there's a potential application for The Wall.
Interior designers are using large direct view LED canvases to create fully malleable feature walls in office lobbies, auditoriums and boardrooms. Imagine the design flexibility of a wall that can look like granite or fine woodwork, or serve as a virtual window into anything from a high-definition nature scene to a city skyline, and then switch to a live video conference with employees or partners.
Premium direct view LED is being used for feature walls in use cases from check-out counters at luxury retailers and hotel lounges to casino sports books, museums, hospitals and airport concourses. There are video wall applications everywhere from operations control centers to virtual windows in high-end restaurants. Wherever you install it, The Wall's leading-edge technology distinguishes your business as a bold, future-focused leader.
At home, The Wall can feature swappable artwork during the day and a massive HDR TV at night. Some homeowners are opting to use The Wall for an unforgettable immersive movie viewing experience. For the home market, The Wall ships in sizes as small as 75 inches diagonal to an enormous 292 inches. For businesses, The Wall can be shaped to whatever size you need.
Powering up
As you evaluate supporting technology for The Wall, these decisions will depend on the nature of the content you're pushing, including its resolution and volume. Samsung makes the job easy with a total solution: White glove service and support can help you with design, installation and maintenance of The Wall, simplifying the end-to-end process for both companies and individuals.
Samsung's support software and hardware make it easy to manage everything from scheduling and publishing content to controlling screens within one technology set.
So the biggest question you need to answer is an imaginative one: What do you want people to see on The Wall?
Not sure how a video wall will fit into your office? Discover the diverse business benefits of Samsung's immersive LED displays. And learn more about how to effectively leverage digital signage in any corporate space in Samsung's free guide.