For a premium viewing experience and increased productivity, new desktop monitors are shifting to higher resolutions that deliver more detail — for both work and leisure.
Market research conducted by Samsung suggests that marketplace demand has been gaining favor for High Resolution monitors in workplaces and homes. Now that more people than ever are working from home, the general public spends more hours in front of their screens, and the demand for advanced picture quality and clarity has only increased.
Samsung's new series of High Resolution monitors — including the S6, S65, S7 and S8 — is designed around the rich viewing experience of 4K. These screens' optimized visual technologies and ergonomic features also increase comfort, particularly helpful for long workdays.
The S Series monitors include these six key features:
1. Decreased eye fatigue
Average screen time for U.S. adults spiked to more than 13 hours a day in 2020 — in large part due to lockdowns and the shift toward remote work — which has heightened concerns about eye strain and increased fatigue. Samsung's new High Resolution desktop monitors are all equipped with Intelligent Eye Care technology, which has been tested and certified by the renowned German labs of TUV Rheinland.
Upgrade your monitor fleet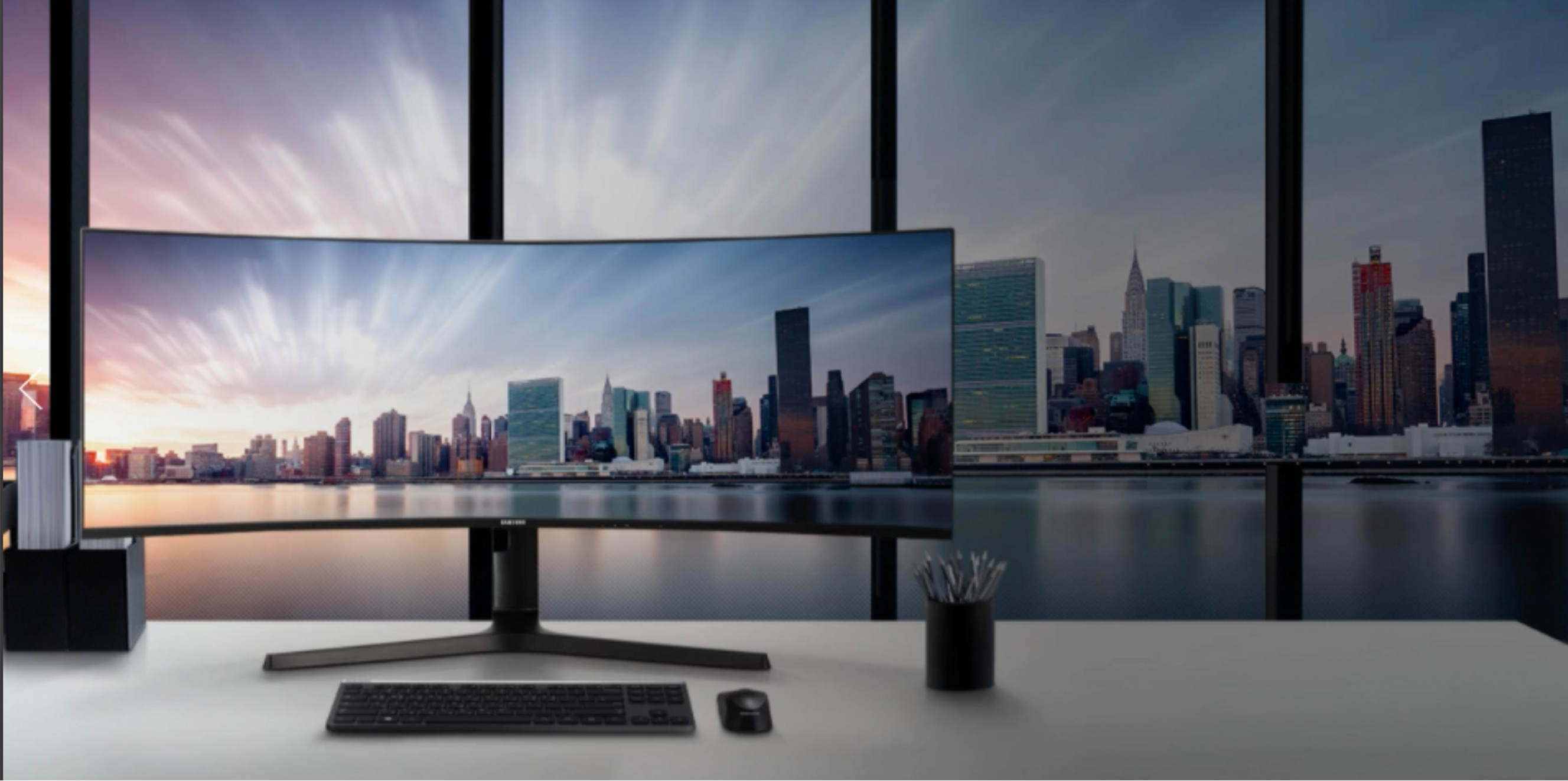 Calculate the total cost of ownership of upgrading your business's monitors with five easy questions. Download Now
These monitors also feature Adaptive Picture technology, which automatically adjusts brightness and color temperature levels in response to room conditions, for more comfortable viewing comfort and lessened eye strain. With the Eye Saver Mode, you can also reduce the discomfort caused by blue light emissions. And to round out these solutions, Flicker-Free technology keeps your eyes even happier, allowing you to work with fewer headaches — literally and figuratively.
2. Optimized visual experiences
With more pixels comes more detail, ultimately creating a richer viewing experience. Whether you're designing creative assets or analyzing technical imaging, you'll notice a clear difference in the High Resolution monitors' enhanced visuals. While all monitors in the series offer incredible resolution, there's a range of options to choose from: QHD (2560×1440), WQHD (3440×1440) and UHD (3840×2160), which is exactly four times the pixel density of a Full HD display.
All of that granular on-screen detail is enhanced by visual optimization technologies, such as:
High dynamic range 10 (HDR10), which helps reveal all the colors and visual elements in unusually dark or bright scenes — details that are often lost on other monitors
99 percent of the sRGB color space, for an enormous visual palette
In-plane switching (IPS), which produces the best possible colors and viewing angles, is available on the 24-inch and 27-inch monitors
3. Eco mode for power savings
Lower your power bills — at home or at the office — with monitors engineered with Eco Saving Plus technology. Earning an Energy Star certification for energy-saving products, Samsung's energy-saving mode dynamically adjusts brightness levels, reducing power consumption by as much as 10 percent.
High Resolution monitors are illuminated from behind by arrays of tiny LED lights, which are adjustable through a technology known as local dimming. The monitor detects solid black parts of on-screen visuals, switching those LEDs off so viewers actually see black, not the lower-contrast gray or charcoal that's typical on monitors without local dimming control.
4. Innovative ergonomics
If you've ever struggled to make a monitor fit your workstation properly, or scoured your workplace for spare books or boxes to set your monitor at a comfortable viewing height, you'll appreciate that the High Resolution series has a setup that meets almost any workspace challenge.
Samsung's High Resolution displays are compatible with Video Electronics Standards Association (VESA) mounts, meaning they have the same built-in threaded holes as most larger business displays and TVs. This compatibility makes it is easy to mount your monitor to a desk or wall and take advantage of articulated (swing-out) mounts, for next-level flexibility. You also have a variety of options to tilt, swivel and pivot the screen, so it's easy to get your setup just right. The minimalist monitor stand also frees up more desk space.
Ergonomic design is about more than just your spine. The S65UA 34-inch monitor has a 1000R curvature, a gentle concave curve, which makes the screen easier on your eyes and neck, while immersing you in your work.
5. Optimal workspace
USB-C support is built into some monitors in the High Resolution series, reducing capital costs, minimizing workstation clutter and preventing cable overloads. The USB-C standard allows you to power external devices and transfer data with a single cable, turning your monitor into a docking station and USB hub, while removing the typical costs and complications associated with peripheral devices.
Some of the monitors in the High Resolution series also have an integrated Ethernet port for faster internet speeds, enhanced security and decreased interruptions and slowdowns.
To open up more space on your physical desktop, the High Resolution monitors' design includes slim metal stands with a minimal footprint, further streamlining your workstation.
6. Enhanced colors
Monitors in the High Resolution series are technically described as 10-bit, which includes more than 1 billion colors. Many monitors on the market are 8-bit, supporting only 16.7 million colors — less than 2 percent of what the 10-bit offers. The dramatically broader range of colors on the S Series makes all the on-screen visuals vividly lifelike, and ensures absolute accuracy — particularly important in professions that involve precision color correction, such as film and video editing.
7. Quick input switch
The Auto Source Switch feature eliminates the need to search for the right input on your menu after connecting a new device. Immediately after plugging in a device, your S Series monitor detects it and displays the correct signal. You can switch inputs without hassle, making it easier to get right to work.
Quality viewing time
Whether you use your monitor to code, write, design, analyze or just relax, a High Resolution display can significantly reduce eye and muscle strain — even more so the more you use your monitor. And it can boost your productivity by ensuring you see all the details and every color with absolute accuracy.
As you consider making a monitor upgrade — for yourself or your business — remember that monitors are more than just displays. Learn how USB-C, HDMI and Thunderbolt 3 enable complete workstations. If you're not sure which display is the right choice for your needs, explore your options among Samsung's best-in-class desktop monitors.