Improving patient care in hospitals sounds relatively clear-cut, but inefficient processes and insufficient technology can make it tough to catalyze significant change.
Across the continuum of care, poor communication and coordination lead to costly errors, frustrated clinicians and unsatisfied patients. By some estimates, poor communication accounts for 60 to 80 percent of medical errors. On top of that, an estimated 35 to 54 percent of physicians report significant burnout, as do at least 33 percent of hospital nurses. One of the top causes? Being overwhelmed with administrative tasks that take time away from patient care.
Digital signage can turn this around by streamlining your hospital workflows, supporting collaboration, ensuring team members have access to real-time information and allowing you to provide efficient and accurate communications across your facility. With the help of proper signage, patients are more engaged — and actionable data is readily accessible and accurate.
With a strategic digital signage deployment, you can give clinicians — and the rest of your team — the tools they need to offer more patient-centered care. For your hospital staff and guests alike, digital signage can inform, connect and even comfort.
There are as many use cases for signage as there are areas of a hospital. To start, one of the most important nonclinical applications is helping patients navigate your facility:
Wayfinding: Guiding patients through the literal journey
The patient journey is more than a metaphor. Anyone who visits your facility, including patients, visitors and outside physicians, must find their way through a sprawling medical campus — typically guided by small, static signs or arrow symbols painted on the ground.
But this journey begins long before someone enters your facility. Outdoor digital signage can direct them to the right parking area, the right building and the right entrance. Once they enter the facility, guests can use touchscreen maps to get their bearings and head confidently toward their destination.
Optimize healthcare with digital signage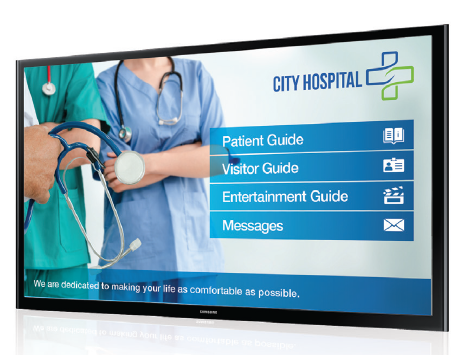 Learn how displays are easing pain points and transforming clinician and patient experiences. Download Now
Easier wayfinding benefits more than just guests. Your hospital team no longer has to take valuable time away from patient care to help guests find their way. And anyone who's new to the facility — whether they're a visiting doctor, nurse or chaplain — spends less time wandering and more time with their patients. Digital signage maps can also provide other critical information, such as updated COVID-19 precautions or even weather alerts.
Samsung displays are easy to install in hospitals, and they don't take up much space. The SH37R series, for example, features widescreen displays that deliver clear, current information 24/7. They're designed to take full advantage of smaller spaces, and they can be installed either horizontally or vertically. These screens' high brightness ensures you can read them clearly even in the sunniest areas.
However you choose to configure them, wayfinding digital displays increase your hospital's efficiency and reduce stress — from the moment people arrive, all the way to the end of their journey.
In the waiting room, less uncertainty
Hospital waiting rooms are full of anxious people. To help alleviate that stress, you can implement digital displays that reduce uncertainty.
Take queue management technology, for example. A patient checks in and is assigned No. 42. That's meaningless without context, but the waiting room display shows there are 24 people ahead of them. That may not make them happy, but now they know they have time to grab a cup of coffee without missing their turn. And when visitors know their place in line, their perceived wait time is reduced by as much as 35 percent.
Visitors, meanwhile, can track the status of their loved ones. Are they still in the operating room? How long will they be there? Have they been returned to their room?
Digital signage doesn't just enhance the guest experience; it improves efficiency. Uncertainty leads to questions, and these questions can pull healthcare workers away from other important tasks.
To some degree, waiting rooms provide a captive audience. Patients and family members are regularly checking the display. There's an opportunity for teachable moments. You might add important messaging, such as encouraging vaccinations or sharing tips for disease management.
Improving images, facilitating collaboration
With the increased color depth and resolution on HD displays, physicians can more easily and accurately review detailed medical images. When the St. Luke's health system in Idaho began using 49-inch curved Samsung monitors, they found that the monitors' immersive design made it easier for clinicians to load all kinds of relevant information onto one screen, enhancing productivity and collaboration across the patient care team. As an added benefit, the curved shape of the monitors also reduces eye strain.
Patient diagnosis and treatment is a collaborative effort, but team members are often spread across a campus. Digital signage can provide remote access to patient information for team members working in another part of the campus — or across town. As care teams collaborate, whether remote or in person, Samsung's Interactive Display provides a digital whiteboard that allows everyone to annotate charts, draw diagrams and mark up images.
Nursing stations: Ensuring accurate information on every door
Digital signage can also improve clinical efficiency by equipping nurses stations with large, centralized displays. These dashboards provide nurses with accurate information on each patient, updated in real time.
And with Samsung's easy-to-install QMR/QBR display at a nurses station, the care team can update the smaller QB13R-T displays outside each patient's door (with non-HIPAA information). The crisp, easy-to-read display ensures that clinicians, staff and visitors are all informed of the patient's dietary restrictions, allergies and preferred language, as well as any safety protocols required to enter the room.
Replacing conventional handwritten signs with digital displays reduces the chance of human error, thereby improving patients' safety and streamlining their care.
Coordinating care in and out of the room
Inside the patient room, a dry-erase board can also cause confusion. In theory, these boards are supposed to be updated shift by shift, with the names of the patient's care team, their current medications, their estimated date of discharge and the care team's goals. This information is vital to the patient's safety and quality of care, but it's often inaccurate and/or illegible. Hospital care teams are overtaxed, and the information they need to update is often stored in several different siloed systems.
A digital whiteboard can be updated automatically, informed by data from integrated platforms, including the software you use for electronic health records (EHRs) and shift assignments. Everyone at your facility, including patients and caregivers, has immediate access to the most current information when it's most relevant to them.
Also inside the patient's room, Samsung TVs enhance the guest experience with HD entertainment, such as the patient's own streaming services. On the clinical side, these TVs provide on-demand educational materials, including interactive content, curated for each patient and their condition. Clinicians can even display information from their desktop or mobile device.
The common factor: Communications
Everywhere digital displays are implemented on a hospital campus, they improve communication. And greater communication means greater efficiency. With Samsung digital signage installed throughout your healthcare facility, you can target messages in real time — to patients, families and care teams in any building at any time.
Equipping healthcare professionals with digital solutions makes their jobs easier and supports their patients. Digital communication has become an intrinsic part of providing high-quality, efficient healthcare.
Hospital communications are often a matter of life or death. Discover how Samsung TVs in hospitals can increase data accuracy and lower the chances of human error. And learn more about how digital displays in healthcare are easing pain points and transforming clinician and patient experiences.