When deploying mobile devices in the enterprise, IT leaders have to strike a delicate balance between data security and productivity. Too often, a conservative, risk-averse security stance leads organizations to block access to mobile devices by leaning on strict policies — hampering productivity and hamstringing mobile workers in the process.
I want to propose an alternative approach, one that puts more of the burden on the device, supported by sensible management policies and open communication about new cybersecurity threats. Mobile-enabled enterprises not only respond faster to customers and markets; they also see improved collaboration — accelerating decision making and delivering information wherever people need it. Blocking mobile access to data and apps undermines these core benefits.
At Samsung, we've invested significant resources into continuously evolving our Knox security platform — both at the hardware and software layers. Rather than building barriers, our enterprise customers can tell their employees "yes" and focus on driving business forward with the latest mobile technology, like the Samsung Galaxy Z Fold3, a three-in-one foldable powerhouse that works as a smartphone, tablet and even PC — all on a single device.
Here's a look at how Knox provides enterprises both the platform and device management capabilities to strike the right balance between security and productivity:
Built-in protection
With new threats and data breaches emerging daily, peace of mind is a prized commodity. The Knox security platform is built on hardware-level protections. And each new generation of Samsung smartphone takes our experience and our customer's feedback to further strengthen that secure foundation.
At the core of every Galaxy phone is a security co-processor protecting your credentials, biometric data, digital certificates and even blockchain private keys. With the Secure Processor on the Galaxy Z Fold3 line, we've taken this even further by combining it with a tamper-resistant Secure Memory in the Knox Vault, which allows users to safely store their sensitive data like PIN, passwords, biometrics and authentication keys under lock and key.
Shop special offers
Find out about offers on the latest Samsung technology.
see deals
Speak to a solutions expert
Get expert advice from a solutions consultant.
Talk to an expert
With Knox, you can rest assured your business and personal data is protected. The moment the device is booted up, Knox checks the integrity of the operating system (OS) that's loading, monitoring it for potential threats.
Our track record of consistently delivering security improvements has contributed to Knox receiving high grades in leading security assessments and to gaining certifications from governments around the world. For example, in Gartner's report, "Mobile OSs and Device Security: A Comparison of Platforms," Knox 3.2 received "Strong" ratings across 27 of 30 categories.
The protections afforded by the Knox security platform extend all the way up to the application layer, integrating closely with enterprise mobility management (EMM) solutions. For businesses and government agencies that require the highest level of security, Knox Platform for Enterprise (KPE) delivers an array of capabilities and application programming interfaces (APIs) that provide better passive security, greater granularity of controls and improved security forensics and remediation.
The Knox platform continues to evolve to meet the rigorous security requirements set by governments and major enterprises around the world, providing business users with a defense-grade solution they can count on. Enterprises and government agencies using Common Access Card technologies can even replace these cards and readers with the newest Galaxy devices, updated to support the latest encryption and signature algorithms.
Many of Samsung's KPE innovations have also been fed back into the Android ecosystem, delivering improved security to all Android users through Google's Android Enterprise and aligned APIs.
Advanced device management capabilities
Samsung is excited to deliver our best capabilities through partner EMM products, but we're also ready to support enterprises with our own suite of cloud-based management tools.
For IT managers who want to streamline device deployment, Knox Mobile Enrollment delivers a zero-touch experience to enrolling devices in your preferred EMM. Not only does this save time; it ensures that all corporate devices are managed from day one and cannot be deregistered from the EMM, even if factory reset.
While Knox Mobile Enrollment can be used to enroll devices with many of the leading mobile management solutions, we also offer our own intuitive cloud-based EMM solution called Knox Manage. Knox Manage is a cross-platform solution, but is optimized for Samsung devices, giving IT a robust set of policies as well as powerful device monitoring and remote support capabilities.
Mobile device management for beginners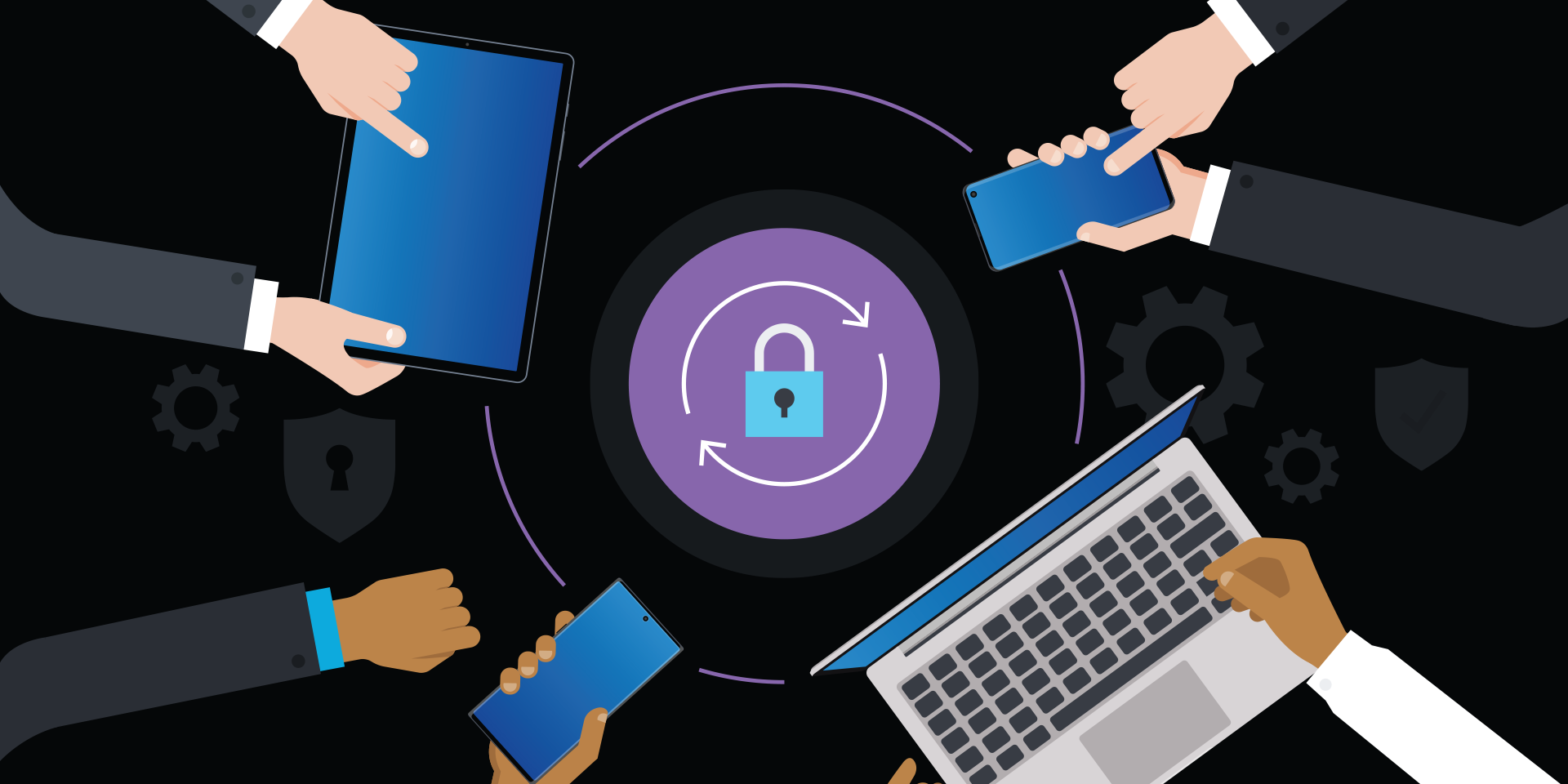 Get started with MDM so your organization can spend less and do more — securely and efficiently. Download Now
For enterprises with large mobile device fleets, Knox Enterprise Firmware Over-the-Air (E-FOTA) is another key tool that allows IT managers to better control security and OS patches. With the ability to postpone and schedule firmware updates, you are able to deliver solid, tested updates on your schedule, avoiding nasty surprises.
All of these solutions — including Knox Platform for Enterprise, which provides defense-grade encryption and containerization to separate work and personal data — are also available as part of Knox Suite, an end-to-end device security and management solution.
Last but not least, Knox Configure builds upon the Knox Suite bundle by answering the growing demand for advanced capabilities to customize mobile devices and create purpose-built appliances. Using Knox Configure, you can remotely configure Samsung devices, including rebranding, app provisioning and device feature restrictions to meet specific business needs such as a locked kiosk.
Security for the future
For many enterprises, smartphones and tablets are now the primary endpoint. Their teams are mobile, and the fixed desktop in an office is only a small part of the bigger picture. With increases in performance, memory and storage, mobile devices are the preferred medium for applications — and hackers. We can't sit idly by when it comes to security and today's rapidly evolving threat landscape. Knox continues to lead the market with best-in-class security, combined with powerful, user-friendly management capabilities.
Samsung's devices come equipped with strong security straight out of the box. Knox is built in at the moment of first boot, protecting against hardware and firmware attacks and delivering enterprise features such as protected workspaces. The advanced Secure Processors combined with the Secure Memory in the Knox Vault on Galaxy Z Fold3 extend this protection by locking up critical information and guarding against both software and hardware attacks. And for organizations that need the highest security possible, KPE delivers next-level controls.
As you evaluate your enterprise security needs, I encourage you to seek solutions that break down barriers to innovation and work flexibility in order to realize the full potential of your mobile workforce.
Galaxy Z Fold3 isn't just super secure — it's also a three-in-one powerhouse built for easy multitasking. Order yours today with a Samsung Business Account and get exclusive volume pricing. Is your business' mobile security keeping your data safe? Take this short assessment to find out.