Inside hospitals and patient rooms, innovators apply healthcare technology in pursuit of improved patient care and patient experiences. Samsung and its partners have created smart solutions for hospital patient rooms, integrating mobile tablets and display technology with cloud-based healthcare apps. Hospitals can use these technologies to increase their engagement with patients and enhance their clinicians' workflow — ultimately improving average patient outcomes.
Bedside tablets connect patients to care and services
By giving patients mobile tablets to use at their bedside, hospitals can offer better access to care, educational resources and entertainment. Providers like Oneview and Equiva offer tablet-based solutions that equip patients with multipurpose technology on familiar Samsung Galaxy tablets.
Patients can view their records and prescriptions, see who's on their care team and communicate with nurses, doctors and other hospital staff. Rather than summoning a nurse for nonmedical needs, like housekeeping and meal service, patients can use the tablet to request those services directly, freeing medical staff to focus on medical care.
Shop special offers
Find out about offers on the latest Samsung technology.
see deals
Speak to a solutions expert
Get expert advice from a solutions consultant.
Talk to an expert
The device can be used to deliver on-demand educational content specific to a patient's condition, which is much more user-friendly and engaging than a stack of written materials or a scheduled lesson on television. Patients can also use the tablet to watch movies and series, play games or stream music. It's a welcome distraction from the tedium of a hospital stay — and a window to the outside world.
Some tablet solutions include video chat, which allows patients to stay in touch with their loved ones and expands medical team discussions to include remote specialists and family members.
By providing a more supportive and engaging patient experience, bedside tablets help patients adhere to their medication and wellness plans while reducing readmissions. They also lead to better reviews and feedback, which can improve Hospital Consumer Assessment of Healthcare Providers and Systems (HCAHPS) scores.
Plus, these infotainment apps make it easy for hospitals to maintain data privacy by scrubbing patients' personal data from each device as soon as they check out.
Better connection and agility improve clinical outcomes
In busy hospitals, efficiency is critical. Smart patient rooms — with seamless healthcare technology — support better clinical outcomes. Purpose-built mobile devices streamline hospital workflows by connecting to larger displays, turning the smart patient room into the hub of a collaborative care environment.
It's now common for doctors and nurses to carry smartphones with them during their work hours. With the right healthcare apps, their mobile devices can serve as multipurpose professional tools, streamlining their workflows and enabling more accurate data capture. When these mobile devices are data-integrated, caregivers can use them to access electronic health records (EHRs), scan pharmaceutical codes and even conduct virtual consultations. Scanning software such as Knox Capture allows hospitals to integrate in-app scanning capability on rugged Samsung devices, such as the Galaxy Tab Active3 and XCover Pro. Nurses can use integrated data to capture patient IDs and keep track of medical supplies and prescriptions.
Healthcare workers can also use their mobile devices for a desktop-like computing experience with Samsung DeX, which allows a smartphone or tablet to connect to an external screen and keyboard. Because clinicians can use their mobile devices as computers, hospital workstations no longer need PCs, both reducing technology costs and reducing time and risk of error on data entry.
In discussing treatment plans with patients and their families, healthcare teams often need to work together. The Samsung Interactive Display provides a collaborative whiteboard-like screen, serving as a portable, intuitive, time-saving technology for caregivers. Just like a paper chart, the Interactive Display lets healthcare teams draw diagrams, take notes and annotate charts and images — but it's fully digital and mobile, and can be accessed from the patient's bedside.
Digital signage and displays improve patient experience
The patient experience is improved by anything that makes healthcare more convenient or services and facilities easier to navigate. The patient experience starts the moment they arrive at the hospital and try to find their way around, which is often overwhelming. Digital displays and touchscreen maps can help patients and visitors understand exactly where they need to go — which is especially useful when the hospital staff has limited availability to answer questions.
In waiting rooms, digital signage allows patients to see where they are in the queue, helping alleviate anxiety about their wait time. These displays can also inform family members of patients' status as they go through different procedures. With the most common questions answered digitally — and automatically — staff members have more time to focus on direct patient care.
How to create a mobile-first hospital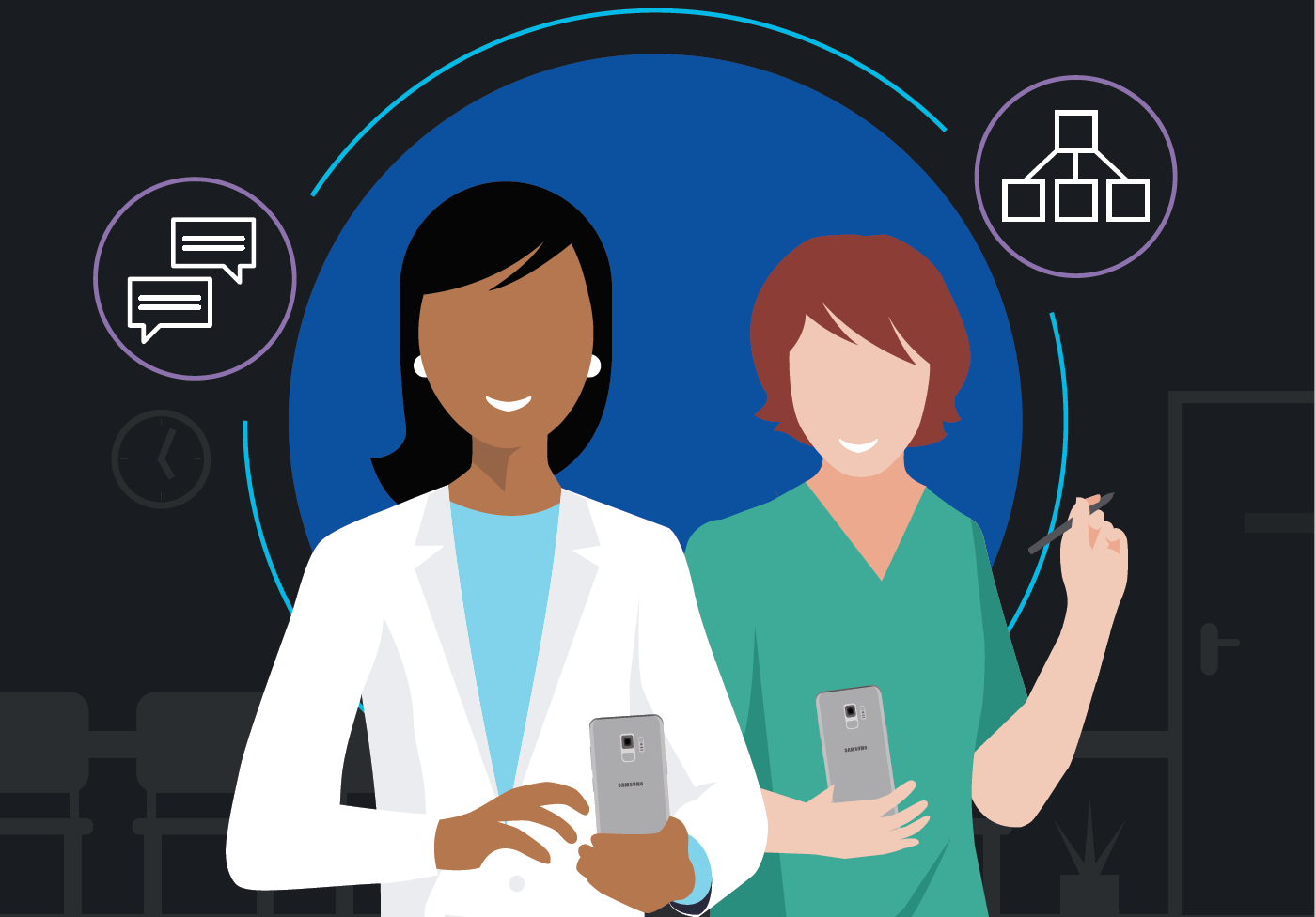 Get your free guide to modernizing clinical communications with smartphones. Download Now
Digital signage is also part of the smart patient room's ecosystem. Just outside the room, a display may identify the patient's care team, along with facts that the team should know before entering the room, such as a patient's fall risk or latex allergy.
By replacing old dry-erase boards with digital displays, EHR information can be extracted seamlessly rather than written out manually by already overworked staff. In care rooms, these displays help patients and their family members understand the patient's status, talk to the care team, learn more about relevant medical science and even enjoy some entertainment to help pass the time.
Better experiences improve HCAHPS scores
The HCAHPS survey measures patients' impressions about their hospital care. These scores are publicly reported to further incentivize hospitals to improve their quality of care. The survey results are also factored into cost calculations for value-based care. With smart patient room technology, care facilities create more comfortable, open and efficient patient experiences, which helps increase reimbursement rates.
With the technology they need to treat patients more effectively, clinicians can provide higher-quality care. Smart patient rooms have the power to transform the hospital experience.
As you work to make your patient rooms smarter, learn more about Samsung's other digital healthcare solutions. Or, discover how you can streamline your clinical communications with smartphones with this quick, free assessment.