When San Diego's popular Sycuan Casino Resort launched a massive $225 million property upgrade, it wanted to ensure the new technology would deliver a memorable guest experience — from the check-in desk to the hotel rooms.
In March 2019, guests walked into a resort filled with digital displays and multitasking in-room TVs, giving them an informed and seamless stay while generating excitement and driving the Sycuan brand.
Samsung's display technology — from hospitality TVs and commercial LCDs to the latest LEDs — were used across the AAA Four Diamond resort property.
State-of-the-art displays from gaming floor to guest room
At the registration counter, arriving guests see a jaw-dropping 32-ft. wide, 18-ft. high, 2.5-mm. thick direct view LED video wall, which features a steady mix of iconic regional scenes and aerial views, as well as ambient experiential content.
Screens fill the gaming floor, and digital signage displays are also central to areas like food services. Casual dining concessions use digital menu board displays to accurately inform guests of their dining options, special offers and new items.
Impress your guests with digital signage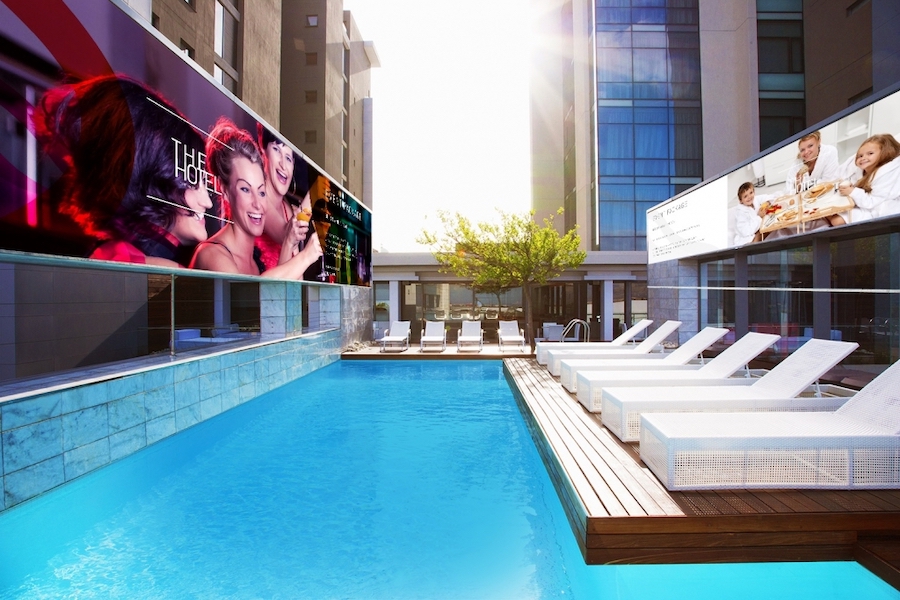 Learn how to redefine the guest experience with digital signage opportunities around every corner. Download Now
Sycuan's guest rooms feature more than 350 hospitality TVs, some as large as 65-in. They all have System-on-Chip (SoC) intelligent media processors on board and H.Browser software installed, allowing network content delivery and removing the need for costly, often sluggish set-top TV boxes. Guests can watch broadcast or streamed TV, and they can use the screens to order room service without picking up the phone.
"We wanted to make a choice that we felt was interoperable with all of the other displays that we have throughout the casino," explains Pat Tinklenberg, Sycuan's VP of information technology. "And so we felt the best choice that we could make were Samsung displays that we could use in the guest rooms, on the casino floor and in the food and beverage outlets." The same Samsung solution even extends outdoors to bar areas and guest cabanas.
Keeping guests and staff informed
Behind the scenes, screens in staff-only areas relay human resources messaging to workers who are constantly on the move and changing across the property's always-on environment.
There is also a super narrow bezel LCD video wall at the front of the casino near a brewpub. It serves many informational and promotional purposes, among them highlighting and supporting Sycuan's long-running relationship with the MLB's San Diego Padres.
The screens are all run out of Tinklenberg's IT department. An in-house creative collaborates with marketing and promotions to continuously generate new messaging.
"All of our guests are so impressed with our digital signage," says Kimberley Stromberg, VP of Sycuan's hotel operations. "When you are coming to stay with us, you know exactly where to go — for the elevators, for your restaurant choices, where we have the menus posted. And if you are coming for a meeting, you can just follow the signage, digitally, down to the meeting space, and it will tell you what room you are in and what your day consists of."
Enhancing the guest experience with digital signage
Other casinos and hotels looking to capitalize on Sycuan's success should invest in digital signage to transform the overall guest experience and leave a lasting visual impression.
Whether it's a Samsung LED video wall set up directly behind the check-in desk, hospitality displays in every room or digital displays placed throughout casino floors — including in food, beverage and gaming locations — the technology can help ensure every guest enjoys their stay to the fullest without having to worry about where to go, what to do or where to order from.
Get a deeper look into how Sycuan Casino Resort uses digital displays and signage technology to support guest experience. And see how your hospitality business can take the next step in its digital transformation journey.