Outdoor digital signage displays are intended to deliver your business's message, even in the harshest of elements.
Although there are some similarities between screens that are used indoors and outside, as they're both equipped to display messaging on a vast scale, there are other key distinctions when it comes to LED technology including the brightness levels, as well as pixel density and the cost.
Overall, the engineering is markedly different, by necessity. Here's how.
The very bright side
The biggest difference, by far, between indoor and outdoor commercial displays is brightness.
Typical digital signage jobs in retail, dining and workplaces need only modest brightness to counteract ambient lighting. A standalone indoor signage display will normally do just fine with a brightness rating of 350-500 nits.
Optimize your outdoor signage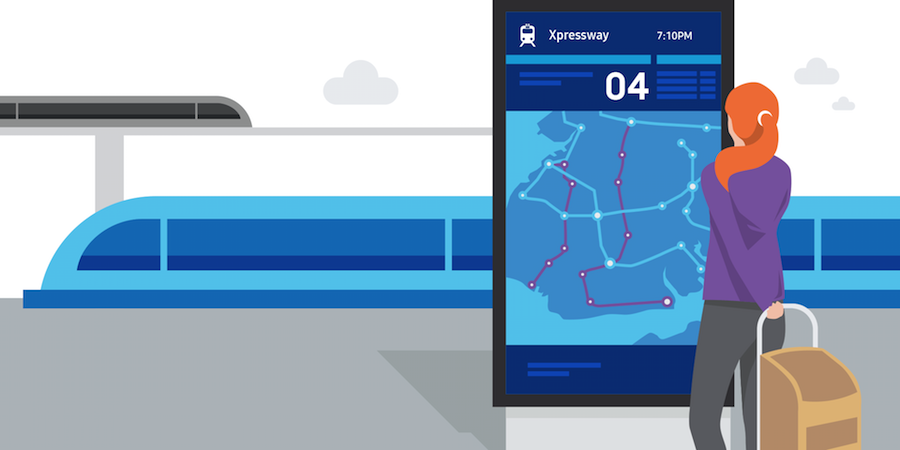 Leverage high-brightness displays to deliver clear, compelling communications in any weather. Download Now
A digital signage display used in street-facing business windows, like storefronts, or outside on sidewalks and public plazas, may have eight to 12 times that brightness level. For example, Samsung manufactures outdoor screens for drive-thru restaurant menu displays that push 4,000 nits.
That may seem extreme, but a screen hit at the right angle by midafternoon direct sunlight will be washed out and unviewable if the brightness isn't high enough. Glare wins that battle against lesser displays.
Another wrinkle to factor in: On sunny days, many people wear sunglasses. Without polarizing signage technology designed for sunny environments, the use of sunglasses can cause the screen to appear black to the viewer.
Be cool
Two key things happen when the sun beats down incessantly on outdoor screens — whether they're used in the merciless heat of Phoenix, Arizona or the mild summer streets of Fairbanks, Alaska.
First, the array of hundreds or thousands of tiny LED lights that illuminate the outdoor digital displays generate a lot of heat, particularly at the peak of sunny days. Well-engineered outdoor displays use light sensors to dynamically adjust the brightness based on lighting conditions. That not only ensures that visuals can be easily seen, but also controls energy consumption and costs and, ultimately, increases the lifetime of the display. The brightness, and energy draw, can go way down when the sun dips below the horizon.
That direct sunlight piles on the display-generated heat, creating what's referred to as thermal load. A screen already warm from the illuminating LEDs can get super heated by the sun's rays.
Early versions of outdoor-rated digital signage displays had to build in supplemental heating or air conditioning units just to ensure reliable operations, whether in high heat or numbing cold. Now, well-engineered displays use self-cooling systems (including heat exchangers) to handle climates that can vary from minus 22 F to 122 F.
Battling elements and bad behavior
Arguably the biggest operating risk to indoor displays is someone pulling the power plug for a screen, perhaps the cleaners who need to run a vacuum. Designing and engineering outdoor-rated displays presents many more risks and challenges than a clean, climate controlled shop or office.
Along with heat and cold, true all-weather displays have to withstand rain, snow, dust and the general grime of cities. The enclosures need to be fully sealed to prevent the elements finding their way inside and damaging sensitive electronic components. Ideally, a display like the P8 Outdoor LED Signage should be IP66 rated.
Weather is not the only enemy for screens in public places. They will not survive the outdoors if they're not equipped with advanced antivandalism protection. Some people have bad days, or bad attitudes, and take their frustrations out on what's noticeable and handy — like screens on streets delivering public information, navigation, directories and advertising. Accidental bumps can happen as well, whether it's a bike or scooter that falls over into the display.
Whatever the case, tempered protection glass should be sufficiently durable to withstand any type of hit from a vehicle or person.
Marketing muscle
As you've now learned, sourcing the right outdoor display technology is critical for reliable, effective operations. But there also need to be solid business arguments for using outdoor display technology.
For out-of-home media advertising applications, the argument is obvious: Digital posters on standalone totems or attached to transit shelters reach consumers when they're out in public in buying mode. Unlike TV or mobile, consumers can't change a channel or click past an outdoor ad.
Retailers and brands use outdoor and window displays such as the OMN Series 55-inch to reach consumers as they circulate in their immediate area, drawing them inside with vivid, attention-demanding promotions and special offers.
Outdoor directories and mapping applications — long used at information stations inside building complexes and shopping malls — are coming outside. They're used for everything from navigation for theme parks and attractions to smart cities applications.
Among the heaviest adopters of outdoor display technology is the quick service restaurant (QSR) industry. Many QSR operators make a significant portion of their sales through their drive-thru lanes, so screens that "presell" motorists on special offers and high margin items are powerful tools. They also use digital menu screens at the ordering position of the lanes.
Businesses also have access to an all-in-one content management system (CMS) like MagicINFO, which makes it that much easier to create content and play ads on digital displays, and change them according to the time of day or year.
Different screens, different jobs
Solutions providers still have to regularly explain to new clients why using consumer TVs for commercial projects is a bad idea. The truth is that TVs are not engineered for the "always on" demands of screens used for digital signage jobs.
The same arguments apply for outdoor digital signage, or even facing outdoors from inside windows.
Become an expert in outdoor displays and how to optimize digital communications with this free white paper. Once you've mastered the basics, you'll be ready to design an irresistible window marketing program.