Outdoor-ready digital displays have become essential components for quick service restaurant (QSR) drive-thrus. Their bright, vivid messages attract customers, promote offers, accelerate customer orders and, ultimately, boost sales.
Major multinational QSR operators have incorporated digital menu displays as a standard part of their service delivery. In 2020, McDonald's reported the company added digital to more than 10,500 sites across the U.S.
Today, drive-thru sales represent a significant portion of many restaurants' business. In some cases, indoor dining room closures have increased that portion to as much as 100 percent of sales. Restaurant operators who were previously focused on walk-in traffic are now adjusting, where possible, to drive-thru options to better serve both the customers and the employees.
Here are seven ways outdoor displays with content management systems (CMS) are enhancing QSR business and customer experience.
1. Raising awareness
When motorists enter a QSR drive-thru, they're already narrowing down their choices. Presell displays positioned along the drive-thru lane, ahead of the ordering position, can raise awareness of new menu options, specials and other items that deliver higher margins for owner-operators.
Modernize your QSR with displays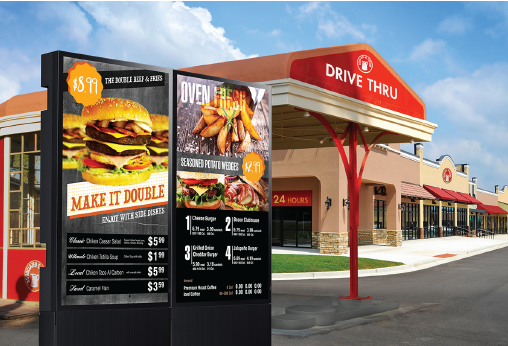 Explore how digital signage is improving customer experiences and motivating QSR employees. Download Now
Typically oriented like posters, these screens do the work of promoting items that might otherwise be lost among the many menu options listed at the order station, where many drive-thru customers feel rushed to make their decisions and not hold up the line.
2. The right menu
Many QSR operations open early and stay open late into the night — or even 24/7. They keep traffic coming by offering different menus by time of day.
That's a lot of menu items to display on printed drive-thru posters, and some of those items may be unavailable after a certain hour, leading to potentially disappointed customers.
Digital menus fix that problem, and content management software like Samsung's MagicINFO makes it a breeze to daypart menus so breakfast items disappear from screens at a specified time. Operators can also update menus, promos and upsells from inside the store using self-service kiosks, which can enhance sales as well as improve the customer experience by allowing customers to make an order and complete the transaction at their convenience and without face-to-face interaction.
3. Instant, ensured accuracy
In the hypercompetitive QSR business, operators are steadily developing new products and promotions and tweaking prices and offers.
Keeping printed menus up-to-date with all those changes is a chore — an expensive and time-consuming one. And printed menus in drive-thru enclosures often have to be changed after operating hours, in any possible weather condition.
Going digital means new menu items, price changes and promotions can all be updated remotely, with just a few keystrokes. Cloud-based CMS platforms and highly secure software "handshakes" make it simple to automate drive-thru menu systems displays. Menu updates can be specific to a store or planned and executed across a region or entire QSR chain.
4. Curbside pickup
Order-ahead and pickup are a rising trend in the QSR and fast casual restaurant sectors. Not all QSRs are focused on drive-thru, and it's rare in fast casual restaurants, so curbside pickup presents a way to offer the same level of speed and convenience without reconfiguring the restaurant's physical footprint.
To make it work, motorists need to know where to pull up and what to do. High-brightness displays in restaurant windows or weather-protected outdoor enclosures with self-service kiosks can relay instructions, as well as promote offers and loyalty programs.
Displays facing motorists can also be used to provide updates in real time — by being tied into order and management systems — so customers know when to expect their curbside order.
5. Enforcing safety measures
Health and safety guidelines are transforming how restaurant operators do business and elevating the need for customer communications that go beyond influencing their order choices.
With limited dining-in access, operators can use window displays to inform approaching customers of the location's new policies, such as ordering using a kiosk to reduce face-to-face interactions.
Screens, software and sensors can also be used to manage and meter lineups, with visual messaging holding people outside until someone leaves.
Cleanliness has always been important in food service, but its importance has grown in 2020. Now diners need to feel safe when they enter, which can be accomplished through on-screen messaging that reinforces the restaurant's safety and sanitizaton practices.
6. Faster service
An important term for QSR operators is throughput: the speed at which orders are processed and delivered, particularly in drive-thrus. During busy hours like lunchtime, faster service means more orders and revenue, and shorter lines lower the likelihood of customers opting to go elsewhere.
Digital displays have a large role in speeding service. Paper signs need to show every item available, from breakfast through late-night. Digital displays remove breakfast and late-night items by time of day, reducing the options diners need to scan through, speeding their decision-making.
Using artificial intelligence (AI) and databases, sensors can scan motorists in drive-thrus and optimize menus to match their predictive characteristics. If sales and loyalty data shows, for example, that people in half-ton trucks tend to order combos, then the most attractive combo options are dynamically displayed on screens — boosting order sizes and sales.
This isn't just theory. McDonald's invested $300 million in such technology, and they've seen encouraging results.
7. Tailored, targeted messaging
Machine learning-based tools — like license plate readers and pattern detection of vehicle types — analyze approaching customers and show them optimized menus.
Digital displays, combined with powerful playback software and content tools, can automate changing presentations and layouts. QSRs can highlight specific options and reduce the overall menu, leading to easier and faster ordering decisions.
Visual beacons drive business
Outdoor displays optimized for the task make mission-critical drive-thrus thrive for QSRs. With more and more people carrying out rather than dining in, tools that influence and speed up ordering are big wins for operators.
Learn more about why digital signage has become essential to the QSR industry in this free white paper. And explore Samsung's range of indoor and outdoor QSR solutions designed to make the restaurant and in-store experience as compelling as possible.