Whether you're an IT leader looking for the right mobile device for your workforce, or a business professional upgrading your personal phone, it's important to select a device that can support your productivity, foster collaboration and keep your data secure — wherever you're working.
Introduced at the Samsung Galaxy Unpacked event in January this year, the Galaxy S21, S21+, S21 Ultra 5G, and S21 FE 5G are built for the modern workday, with powerful performance, HyperFast 5G connectivity, next-level data protection and smart productivity features that guarantee your mobile experience is always seamless and secure.
Here are 10 reasons why you should switch to the Galaxy S21 range today:
1. Office at your fingertips
When you unbox your Galaxy S21, you can start working right away, thanks to integration with leading Microsoft business apps like Office, Outlook and OneDrive. As you edit files and communicate with your team, you can have your work automatically saved in the cloud. When you need to share an idea, Samsung Notes seamlessly syncs with OneNote, Outlook and Teams. Of course, the S21 also works beautifully with Google Workspace (formerly known as G Suite), so you can get the job done however works best for you.
Shop special offers
Find out about offers on the latest Samsung technology.
see deals
Speak to a solutions expert
Get expert advice from a solutions consultant.
Talk to an expert
2. Phone and PC beautifully in sync
Ever wish you could transfer content from your smartphone to your computer without having to use email or a flash drive? Now you can, with Link to Windows, which lets you access everything on your smartphone right from your PC. On the S21, Link to Windows is natively integrated at the system level. Just pull down the quick panel and toggle Link to Windows to connect to your PC and access all your mobile notifications, messages, photos, apps and phone calls. Drag and drop photos to your desktop, listen to music on Spotify or check important notifications as you get them — all without ever picking up your phone.
3. Productivity gets the big-screen treatment
With the power of Samsung DeX and Galaxy S21, your productivity expands beyond your smartphone. You can wirelessly connect your S21 to a bigger screen, using a Samsung Smart Monitor or any Miracast-enabled display. Add a Bluetooth keyboard and mouse to transform your smartphone into a full-fledged desktop experience. If you have a PC or Mac, you can also use DeX wirelessly to run your favorite Android apps alongside your native desktop.
4. Innovation comes fast
Because millions more people are now working from home, S21 devices include HyperFast 5G for increased bandwidth and lower latency. If you need to jump on a conference call in Microsoft Teams or Google Meet, the experience is seamless. You can even use your S21 to create a 5G hot spot and share connectivity with your other devices.
5. All-day battery — and then some
When you're facing approaching deadlines or emailing a colleague on the go, battery anxiety can get in the way. The S21's all-day intelligent battery manages and conserves power so you can get through the longest days without having to stop to recharge. When you do need to power up, Samsung's Super-Fast Charging technology gets you hours of charge in just a few minutes, so you never miss a beat. (Note that the Super-Fast charging accessory is sold separately.)
6. Director's View
Galaxy S21 devices also feature a pro-grade camera system. Zoom in close, take professional-quality photos and videos and capture incredible moments utilizing the multiple lenses. You can even film in 8K at up to 24 frames per second.
Choose the right phone for your growing business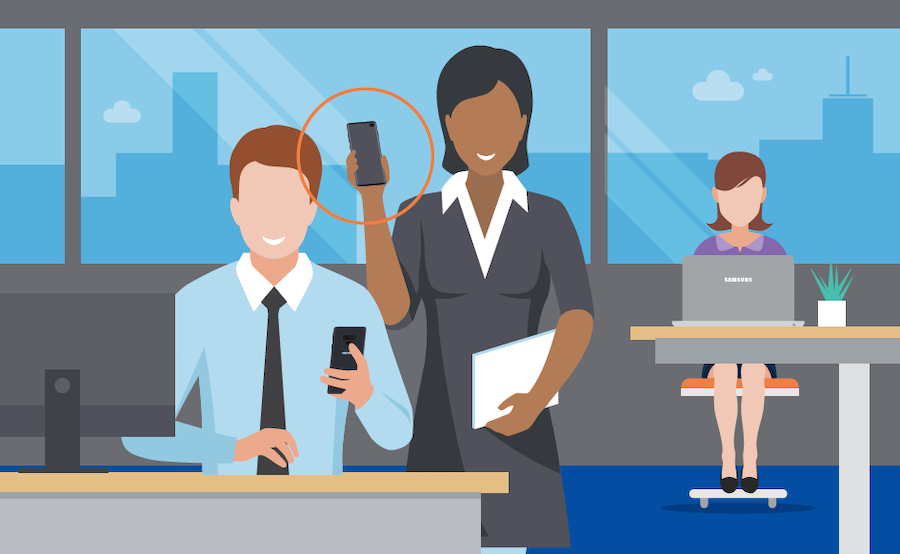 Get your free guide to matching the right smartphone with your business and employee needs. Download Now
Available on the S21, S21+, and S21 Ultra 5G is Samsung's unique Director's View feature allows you to capture video from your device's front-facing and rear-facing cameras simultaneously. Capture footage of a work site while keeping your face visible in side-by-side or picture-in-picture mode.
While on the S21 FE 5G, a similar feature called Dual Recording allows users to capture content in the same way, but only using the rear-facing Ultra Wide camera, instead of all three lenses.
7. Ultra-wideband file sharing
The S21+ and S21 Ultra 5G offer a quick and easy way to share files between devices with the Point to Share feature. When you're with a group of co-workers and want to share documents, there's no need to use a flash drive or adhere to your email's file size limit. Instead, utilize your S21+ or S21 Ultra 5G's built-in file sharing capabilities using ultra-wideband (UWB) technology. Simply select your team members and clients from the share menu and send them files with one tap. The Point to Share feature works with any Samsung devices that support UWB.
8. Note-taking gets a major upgrade
Galaxy Note users are already familiar with the benefits of the S Pen. On the Galaxy S21 Ultra 5G exclusively, you can pair an optional S Pen with the device. Easily jot down your thoughts and sketch out ideas using Samsung Notes, and take advantage of all the tools in the Air Command menu. Whether you're on the go or in the office, the Galaxy S21 Ultra 5G combined with an S Pen makes it simpler to brainstorm, sign documents and navigate with precision.
9. Defense-grade Knox security
Samsung has always been at the forefront of mobile device security. The Galaxy S21 is no different, thanks to Samsung Knox, a defense-grade solution for keeping your work and your business protected, from the chip up. Knox defends your device from intrusions, malware and other malicious threats. The S21 series also introduces Knox Vault, which combines tamper-resistant secure memory with Samsung's secure processor for an additional layer of protection. This advanced security architecture keeps your data — including your Blockchain private key, Samsung Pay credentials and more — out of unauthorized hands.
10. Your private data stays private
To take your Galaxy S21's security one step further, you can use the device's built-in biometrics capabilities, protected by Samsung Knox. This makes accessing your device more convenient and highly secure. For your most sensitive data, S21 devices include a Secure Folder feature, which adds an extra level of protection. You can also take advantage of Samsung Pass, another security tool that lets you access your saved passwords with a quick fingerprint scan.
The Galaxy S21, S21+, S21 Ultra 5G, and S21 FE 5G all offer a new way to work and collaborate — with natively integrated productivity apps, wireless Samsung DeX technology, Knox Vault and powerful hardware — ideal for the modern workday.
While you may be back in the office, or soon to return, working from home part time will remain the norm. Discover Samsung's other innovative technology solutions for remote work. And if you're in need of a new business smartphone but not sure what to choose, you can find the right device for your needs with this free, quick assessment.