With the release of the Samsung Galaxy S21 Ultra 5G, Samsung is bringing S Pen support to its flagship S series devices for the first time. Users of Samsung Galaxy Note devices will be familiar with the capabilities of the S Pen, which provides a true pen-and-paper experience on the device's touchscreen.
"It's more than just a pen," explained Charlie McCarran from Samsung's Global Corporate Strategy team at the Jan. 14 Unpacked event. "It puts precision at your fingertips, so you can take charge of your mobile experience. You can use it to write, draw and make more precise edits."
Unlike Note devices, the Galaxy S21 Ultra 5G doesn't come with the S Pen built into a silo within the device. However, Samsung has integrated Wacom technology into the 6.8-in. display on the S21 Ultra to give the same precise writing and drawing capabilities you get with Note devices.
To take advantage of the S Pen capabilities on the S21 Ultra, you'll need to purchase one of the two new S Pens. Available now, the standard S Pen accessory for the S21 Ultra is larger than the typical built-in S Pen on Note devices, providing a more comfortable grip for writing. The S Pen Pro, due to debut later in 2021, will add Bluetooth connectivity that allows users to control their device using air gestures, snapping photos or advancing a presentation without even touching their phone. Samsung is also introducing protective cases that include a storage space for your S Pen, so you won't misplace it.
Shop special offers
Find out about offers on the latest Samsung technology.
see deals
Speak to a solutions expert
Get expert advice from a solutions consultant.
Talk to an expert
If you've used a Note device before, you're likely aware of many of Samsung's S Pen-optimized productivity tools. But if not, here's a quick rundown of five reasons to get an S Pen for your Galaxy S21 Ultra 5G:
1. Work with pinpoint precision
With its 0.7 millimeter tip, the S Pen lets you work more precisely in all your apps. Whether you're completing forms, working in Microsoft Office, editing a video, or just browsing the web, the S Pen gives you a deft touch and boosts your productivity.
You also have instant access to Samsung's Air Command tools by just tapping the floating pen icon with your S Pen. From there, you can quickly take a screen capture, hover to translate text, or use your S Pen as a magnifying glass to get a closer view of on-screen content.
Another advantage of using the S Pen: if the weather is cold, you don't have to take your fingers out of your gloves. You can operate your Galaxy device with the S Pen, while keeping your hands nice and warm.
2. Digital note-taking
With the S Pen, you won't have to scramble for a sticky note and pen when you need to jot down a number or action item. In fact, you can start note-taking on your S21 Ultra without even unlocking the screen.
The Samsung Notes app is great for keeping all your meeting minutes, to-do lists and sketches organized. You can personalize things with a range of pen types, colors and thicknesses, and choose from a variety of page templates. Samsung Notes lets you convert your handwriting to text, and export your notes in a variety of formats (including Word, PowerPoint and PDF).
The S Pen also works nicely with a variety of other note-taking and productivity apps, including Microsoft OneNote. And thanks to Samsung's close collaboration with Microsoft, your Samsung Notes sync seamlessly with OneNote and Outlook.
3. Mark up your documents in a flash
When a colleague sends you a document, there's no need to print it out, mark it up and scan it. On the S21 Ultra, you can open a PDF in Samsung Notes and annotate it directly on screen with the S Pen. Then just tap Share and attach it directly to an email or message.
Choose the right phone for your growing business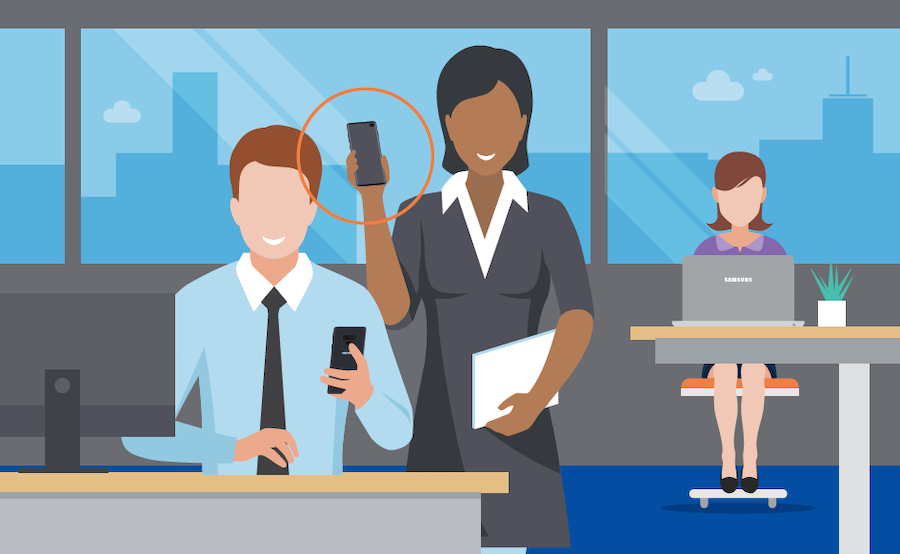 Get your free guide to matching the right smartphone with your business and employee needs. Download Now
With the latest version of Samsung Notes, you can even add a verbal commentary to accompany your annotations and give additional context. This kind of flexible, multimedia communication is great for remote teams trying to stay on the same page.
4. Release your inner artist
The S Pen is a finely honed writing and drawing instrument, with over 4,096 levels of pressure sensitivity. If you have the artistic skills, you can use it to produce impressively detailed drawings using apps like PenUP or Adobe Sketch. For those with more limited drawing skills, you can still take advantage of features like Live Message to add some visual flair to your text messages.
5. Control slideshows with a click
The S Pen Pro, which will be available later in 2021, adds on some unique Bluetooth capabilities. If you are using Samsung DeX to present a PowerPoint from your phone on a larger display, you can use the S Pen Pro's button to advance slides. In the camera app, the Bluetooth-connected S Pen Pro will let you take photos or start video recording, as well as controlling the zoom. You can even use the S Pen Pro to control your music player wirelessly, adjusting the volume and skipping through tracks from the other side of the room.
Discover more S Pen tips that can take your productivity to the next level, even while you're working from home. And if you're in the market for a new smartphone, find the device that's right for your business needs in this free guide.