If job changes, life events or other circumstances find you working from home instead of the office, upfront planning and informed choices can make the difference between a productive home office and a frustrating one.
People working from home need the right space and the right technology to meet their job's demands — for whatever they do and however they work with colleagues and customers. Laptops offer the portability to do some after-hours work from home (WFH) or while traveling, but for most people, a typical laptop's smaller screen, keyboard and touchpad can't fulfill their home office needs full time.
Here are six keys to optimizing your WFH office setup:
1. Configuring your home office
Your needs, your home dynamics and how you work are all factors in configuring your home workspace.
Some area in your home needs to be multipurposed — whether it's an entire room, a hallway nook or one end of a dining table — where you can focus while not being too disruptive to how the rest of the home works.
2. Technology considerations
What tools do you need to communicate and collaborate effectively? A laptop or other type of PC is a given, as is a desktop monitor for any role that requires all-day usage and involves multiple apps running simultaneously.
Laptop keyboards and touchpads cover the minimum, but adding a regular full-size keyboard and external mouse will make you much faster and more productive — not to mention being easier on your wrists.
Which monitor is best for your workstation?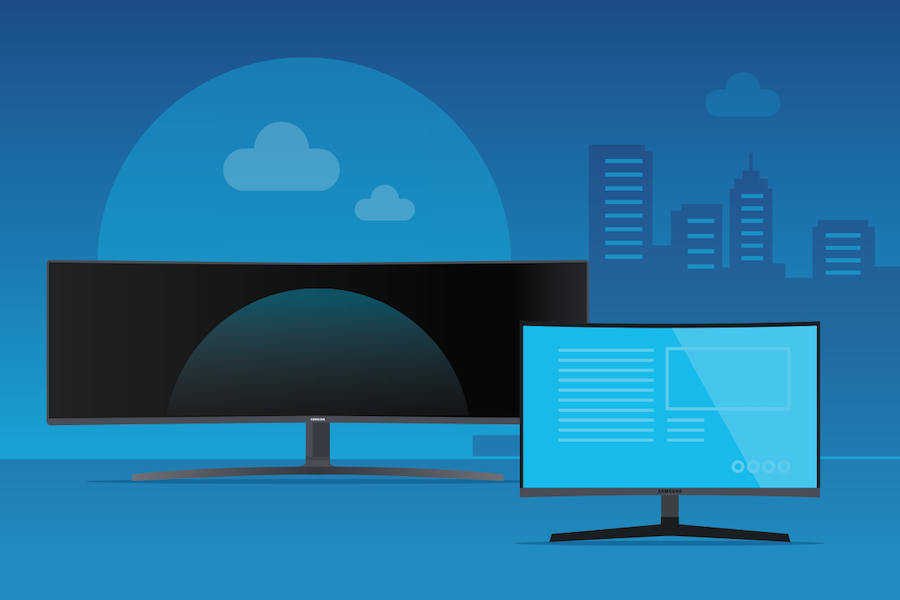 Get personalized recommendations on the optimal monitor setup for your space. Download Now
Devices like docking stations and USB hubs make it easy to interconnect a variety of supporting devices like printers and backup storage drives, but they can be expensive, cumbersome and unreliable. Some new monitors offer full USB Type-C support, building that same functionality into the display for a clean desk setup with a laptop and monitor.
Workers who regularly participate in conference calls are best equipped with a Webcam Monitor that has a proper camera and microphone built in to ensure they can properly see and hear — and be seen and heard — in remote meetings.
3. Right-sizing your monitor(s)
Available space will directly inform the size, shape and type of desktop display or displays that fit your home workstation.
A space already dedicated or available as a home office may have room for a monitor as large as 49 inches diagonal, with a 1800R curve that equalizes the focal distance of the edges of the screen with the center's. Monitors with in-plane switching (IPS) panel technology provide optimal viewing angles and an ergonomic design can significantly reduce eye strain.
Home office monitors — curved or conventional — also come in a succession of smaller sizes that suit different desk spaces. Some monitors can be stacked or set side by side to increase your visual canvas.
4. The right screen for the jobs
Your optimal home office monitor depends on your multitasking needs, the apps you use and your daily screen time.
If your job involves using one or two core apps all day long, a single conventional monitor may do just fine. But in an age of multitasking and unified communications, large widescreen monitors that can show multiple apps at once are highly beneficial.
Widescreen — especially with fast refresh rates and high-resolution visuals — is particularly important for roles like creative design and project management, which involve lengthy timeline views, and for accounting work with many-columned spreadsheets.
Some users put widescreens in portrait mode, not only to free desk space but also to view everything from software coding to rolling office collaboration threads in a more digestible column format.
5. Expanded screen time at home requires flexibility
Monitors with 1800R curvature for eye health and adjustable heights for reduced neck strain are keys to success. Ergonomics play a vital role for employees who spend the better part of 40 hours a week at a desk with their eyes fixed on a screen. Desktop monitors that can be elevated to reduce neck and eye strain will create longterm physical success.
Monitors that reduce blue light emissions or have auto-dimming capabilities can also help reduce eye strain for long work days. S Series monitors from Samsung feature Intelligent Eye Care technology, tested and certified by the renowned German labs of TUV Rheinland.
6. Decluttering limited spaces
Thanks to the growing use of USB-C connections and Thunderbolt technology, the days of desktop fire hazards from an influx of tangled cords and cables are in the past. These connections can handle lightning fast data transfers while charging devices — laptops, tablets and peripherals like a mouse or keyboard — to truly streamline the desktop experience. Monitors with a built-in camera and speakers for videoconferencing cut down on wires and clutter in a home office with limited space.
Getting to work, remotely
Temporary or permanent, work-from-home setups should be treated as seriously as those at a formal office.
Home office veterans suggest establishing a work "cocoon," ensuring that what you need to be effective is readily available so that your workday flow is unimpeded.
They also advocate, as do workplace health professionals, that people have proper desks and chairs in place to minimize eye, neck and overall neuromuscular issues. Anyone who has pounded away for hours on a laptop perched on their laps can attest to the ravages on their upper body.
Laptops are great, but eight-hour workdays demand proper workstations and an effective WFH office setup. Done right, WFH arrangements allow staffers to be productive, happy and still attached, albeit remotely, to their company and colleagues.
You can find the optimal monitor setup for your workspace in this free, short assessment. Or discover how monitor color technology and refresh rates support fast-paced, creative work in this free, complete guide.