Since its first Environment Declaration in 1992, Samsung has worked to develop and expand its sustainability initiatives. Today, these initiatives form the underpinning of Samsung's business practices.
The benefits of sustainability efforts apply not only to the betterment of the planet as a whole, but also to present and future business operations. According to The Guardian, S&P 500 companies with strong sustainability initiatives perform better, producing an 18 percent greater return on investment (ROI) than companies that don't have these programs in place. Eco-minded companies are also better suited to meet challenges related to climate change, since they're proactively planning for them.
Samsung recently announced several exciting eco-friendly signage initiatives that will further strengthen the brand's sustainable ecosystem.
Sustainable interactive signage at EV charging stations
As electric vehicles (EVs) become more common and widely affordable, drivers will need convenient places to charge them. In March 2022, Samsung announced its partnership with IoTecha, which provides hardware, software and cloud services for EV charging infrastructure.
How to plan and deploy direct view LED signage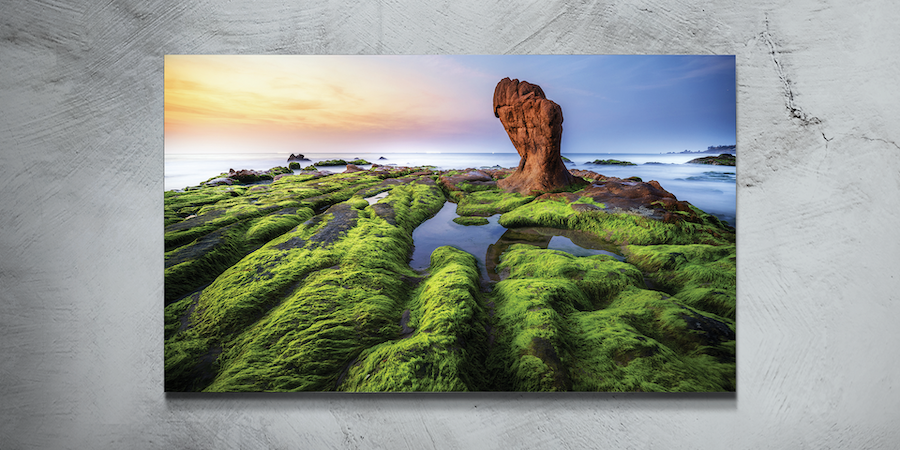 Everything you need to know about choosing your LED displays for optimal viewing indoors and out. Download Now
Featuring Samsung's OH series of ultra-thin HD displays, these charging kiosks are highly customizable, bringing white-label branding opportunities to businesses where customers tend to linger, like retail stores, restaurants, movie theaters, shopping malls, hotels and stadiums. In addition to plug-and-charge service, the kiosk's interactive display can power dynamic, personalized messaging, programmatic advertising, service offers and more.
Reducing plastic waste
The environmental impact of single-use plastics is monumental. Litter is dangerous for wildlife, and it breaks down into "microplastics" — tiny plastic particles that can be ingested by humans via seafood or water. To combat excessive plastic use, Samsung is working to incorporate more recycled plastic into its product lines, which saves energy, conserves resources and minimizes e-waste.
Manufacturing recycled plastic uses a third less energy than virgin plastic — and reduces the need to drill for more oil. All Samsung business monitors are made with up to 30 percent recycled plastic, and the company is using 30 times more recycled plastic for displays than it did in the past. Many Samsung monitors have earned Energy Star certification because of their eco-friendly materials and power-saving features.
Samsung also plans to expand the use of recycled plastic into more display components. With every generation of products and packaging, they incorporate more recycled materials. In the next few years, Samsung aims to use 500 thousand tons of recycled plastics.
Eco-friendly display packaging
Samsung's commitment to phasing out plastic packaging includes its display boxes, which are currently made with at least 50 percent recycled materials. In just a few years, displays will be packaged with solely recyclable materials.
In the distribution stage, Samsung replaced plastic and shrink wrap with packaging made from renewable biomaterials. The company also requires its paper suppliers to hold a Forest Stewardship certification. Display boxes are designed with minimal text and graphic imagery to reduce oil-based ink use. And, in a fun twist on conservation, the boxes can be repurposed as side tables, magazine racks, consoles or even a cozy cat house.
Solar cell remote controls
In 2021, Samsung introduced its new SolarCell Remote Control, which can be recharged through indoor and outdoor lighting in addition to a USB port. Designed for Samsung QLED TVs, the SolarCell Remote is made from 28 percent post-consumer resin (PCR) plastic and eliminates the need for disposable batteries.
Samsung estimates this remote will keep 140 million AA batteries out of landfills each year and prevent 8,250 tons of greenhouse gas emissions.
Trade-in programs for upcycling
In another innovative partnership, Samsung is working with Anything IT — the premier electronic recycling, reuse and recovery service in the U.S. — to allow customers to trade in and even trade up their existing display or video wall systems.
Eligible customers who submit a registration form can receive a 30 percent discount on select LED Bundle Kits. Trade-in video walls don't have to be in working condition to receive the discount, because the materials can still be recycled and repurposed. The program encourages people to dispose of unwanted technology the responsible way, and they can upgrade to energy-saving LED displays.
As new Samsung products are developed, every design is assessed for environmental impact. The company's facilities also run on renewable energy, such as recycled water, solar and geothermal heat.
With its enduring commitment to sustainability and developing a circular economic ecosystem, Samsung's overarching goal remains to reduce consumption during every stage of a product's life cycle.
Discover how you can bring your vision to life with vivid and versatile Samsung display solutions. And find everything you need to know about choosing your LED displays for optimal viewing, indoors and out, in this free guide.