With jobs that demand absolute precision at all times, such as programming, a single keystroke can mean the difference between something working perfectly and utterly failing. These professions require high-precision monitors that can keep up, by supporting accurate color fidelity, consistent contrast and wide viewing angles that don't cause color shift.
And the more a profession requires the use of a monitor, the more crucial the monitor's performance. Engineers and IT specialists, for instance, routinely top the list of "screen time" jobs. A monitor that's stress-free to use and facilitates high performance is critical.
The Samsung ViewFinity series, including the S80PB and S80TB, have been designed and developed to offer class-leading performance in every respect — image fidelity, stress-free operation, flexibility and compatibility — meeting the standards these jobs demand.
Anti-glare monitor technology
The S80PB is the world's first monitor to be certified "glare-free" by the long-established global safety certification company UL.
Samsung uses state-of-the-art matte display technology in conjunction with super anti-glare/anti-reflection (sAGAR) film to ensure users are freed from the effects of suboptimal lighting conditions, or even direct sunlight, without the need for a monitor hood and without affecting the monitor's performance.
Which monitor is best for your workstation?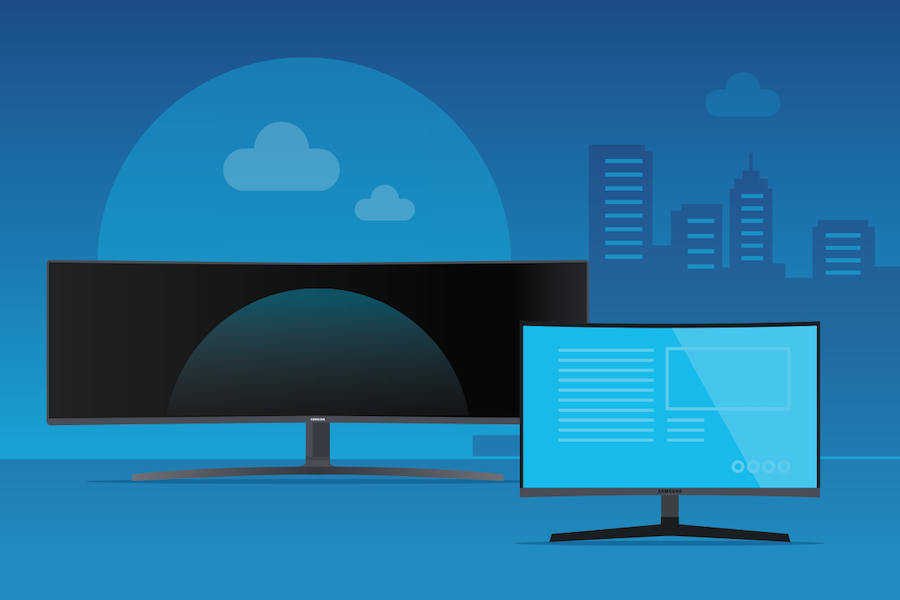 Get personalized recommendations on the optimal monitor setup for your space. Download Now
Developers routinely spend time looking at a dark monitor screen with lighter-colored text. The sort of glare that most monitors are susceptible to can make tasks like this tiring, and the user's productivity suffers along with their well-being. The S80PB and S80TB change the game as some of the best monitors on the market for programming.
High resolution
Precision work requires a high-resolution monitor with high color accuracy and brightness consistency. The S80PB's 4K ultra-high-definition (UHD) resolution delivers extraordinarily accurate and detailed images with four times more pixel density than full high-definition (FHD) monitors. It can also display well over 1 billion colors — up to 98 percent of the DCI-P3 spectrum — and it's Pantone Validated, so images are impeccably color-balanced and consistent. The 32-inch S80PB supports HDR 600, and the 27-inch model supports HDR 400, for clear and detailed resolution.
Thanks to its IPS panel, the S80PB is able to maintain this remarkable fidelity and consistent performance through an incredibly wide 178-degree viewing angle, which helps make collaboration easy and rewarding.
Versatile connectivity
In addition to their class-leading performance, the S80PB and S80TB are among the most flexible, easy-to-connect monitors.
The S80PB can connect to any laptop with a USB-C port (or adapter) using just one cable. With no need for an external docking station, USB-C hub or any other peripherals, the user gets instant access to everything they need to be as productive as possible. This single USB-C connection can even power the laptop itself with its 90W charging power.
With the S80TB, two Thunderbolt 4 connection ports make it easy to connect to an additional monitor while maintaining 4K visuals. Thunderbolt 4 connections allow users to simultaneously charge devices with up to 90W power delivery and transmit data at speeds up to 40Gbps. Problem-solvers of all kinds can work in a clean, uncluttered workspace that's entirely geared toward productivity and results.
Eye health
Screen-flicker, caused by a monitor's backlighting switching on and off rapidly, may be imperceptible to the naked eye but is an acknowledged cause of headaches and eye strain. Samsung's Flicker Free technology helps mitigate these effects. The S80PB's Adaptive Picture technology also assesses the ambient lighting conditions surrounding the monitor, and adjusts the screen's brightness automatically.
Along the visible color spectrum, blue light is the most deleterious to the eyes — the effects can range from eye strain to blurred sight all the way to permanent shifts in vision. So the S80PB features Samsung's Eye Saver Mode, which diminishes blue-light emissions and reduces immediate eye strain (as well as helps to prevent long-term problems such as phototoxicity).
The S80PB is available in both 27-inch and 32-inch screen sizes, which means it's compact enough to be easily positioned in a busy workspace but large enough to let analysts, coders and problem-solvers of all kinds become immersed in their projects. Its height-adjustable stand — which features tilt, swivel and pivot control points — adds to its flexibility.
Using the Samsung S80PB, any environment can become an ideal place for problem-solvers and programmers to create and manage the complex digital solutions we rely on every day.
Unlock the potential of problem-solving professionals, and bring any vision to life like never seen before with the Samsung ViewFinity series. And discover how monitor color technology powers a creative and fast-paced workspace in this free, complete guide.