Consumer-grade tech and tough working conditions don't always play well together. While consumer smartphones offer great functionality for frontline workers, they're not designed to withstand the rough environments common to logistics warehouses, manufacturing sites and utility and field services.
Heavy-duty work demands rugged devices. But until recently, rugged devices have come with a lot of sacrifices: Rugged devices were more expensive, less powerful and bulkier than the sleek consumer smartphones on the market.
That's changing with Samsung's introduction of a new kind of rugged mobile devices. Combining the slim design and powerful feature set of its consumer smartphones with a durable build engineered to be field-ready, Samsung's Galaxy XCover6 Pro gets more done without sacrifice.
Here are 10 ways Galaxy XCover6 Pro makes your team field-ready:
1. Military-grade durability
Transportation, utilities, manufacturing, retail and hospitality are civilian industries, but their intense work environments often require military-grade equipment. For mobile devices, that means meeting the U.S. Department of Defense's MIL-STD-810 durability standard. Galaxy XCover6 Pro has passed a battery of durability tests, including functioning normally after being dropped from a height of 1.5m (with case) and being exposed to hours of constant vibration. It has also been tested to operate after being exposed to a large range of temperatures, tested in high altitude and exposed to high humidity.
Shop special offers
Find out about offers on the latest Samsung technology.
see deals
Speak to a solutions expert
Get expert advice from a solutions consultant.
Talk to an expert
2. Work anyplace, anytime
Being field-ready means you can take a device fearlessly into just about any work environment, and travel between sites without losing contact with the team. Galaxy XCover6 Pro offers all the options you'll need, including 5G for hyper-fast connectivity for those working in outside areas, such as field repair team members. Meanwhile, Wi-Fi 6E can work well for those who are moving between workspaces, such as from a warehouse to a truck, or who need to connect quickly in highly congested areas. It even supports CBRS for organizations that use private networks.
3. Water and dust resistant
Need to work in a wet or dusty environment? Galaxy XCover6 Pro is IP68 certified: It survived submersion in water, and is resistant to dust. Frontline workers can expose their phone to the elements with confidence it is tough enough to take a beating.
4. You can keep the gloves on
Field workers need gloves to protect their hands from the elements. Most smartphone touchscreens don't respond well to gloves. With its enhanced touch mode, Galaxy XCover6 Pro lets frontline workers keep their gloves on, or even use it with their hands wet. It's also sanitizer-safe.
5. Easy push-to-talk
Frontline workers have long relied on two-way radios for voice communications. When the pressure is on, they simply don't have time to open the dialer app and tap in a number. Smart push-to-talk (PTT) integrations allow Galaxy XCover6 Pro users to initiate group conversations instantly, just like a walkie-talkie. Galaxy XCover6 Pro's programmable buttons can be configured to activate two-way or group conversations. Available PTT integrations on Galaxy XCover6 Pro include Microsoft Teams Walkie Talkie functionality, Verizon Push to Talk Plus and ESChat, among others.
Learn about leading industry solutions leveraging rugged smartphones:
6. Quickly launch key apps
Beyond PTT, Galaxy XCover6 Pro's programmable keys can be configured for one-click access to other frequently repeated tasks, such as barcode scanning, inventory management or quickly launching an app. These smart shortcuts help frontline workers move faster and be more productive. With multiple apps at their fingertips, workers can rely on one device for seamless workflows and collaboration anywhere.
7. Field-replaceable battery
Galaxy XCover6 Pro has a fast-charging, long-lasting battery that's easy to replace in the field, so users can work without interruption through even the longest shifts. Heavy-duty pogo pin connectors mean rock-solid dependability for connecting to the charger or attaching peripherals.
What's the best phone for your business?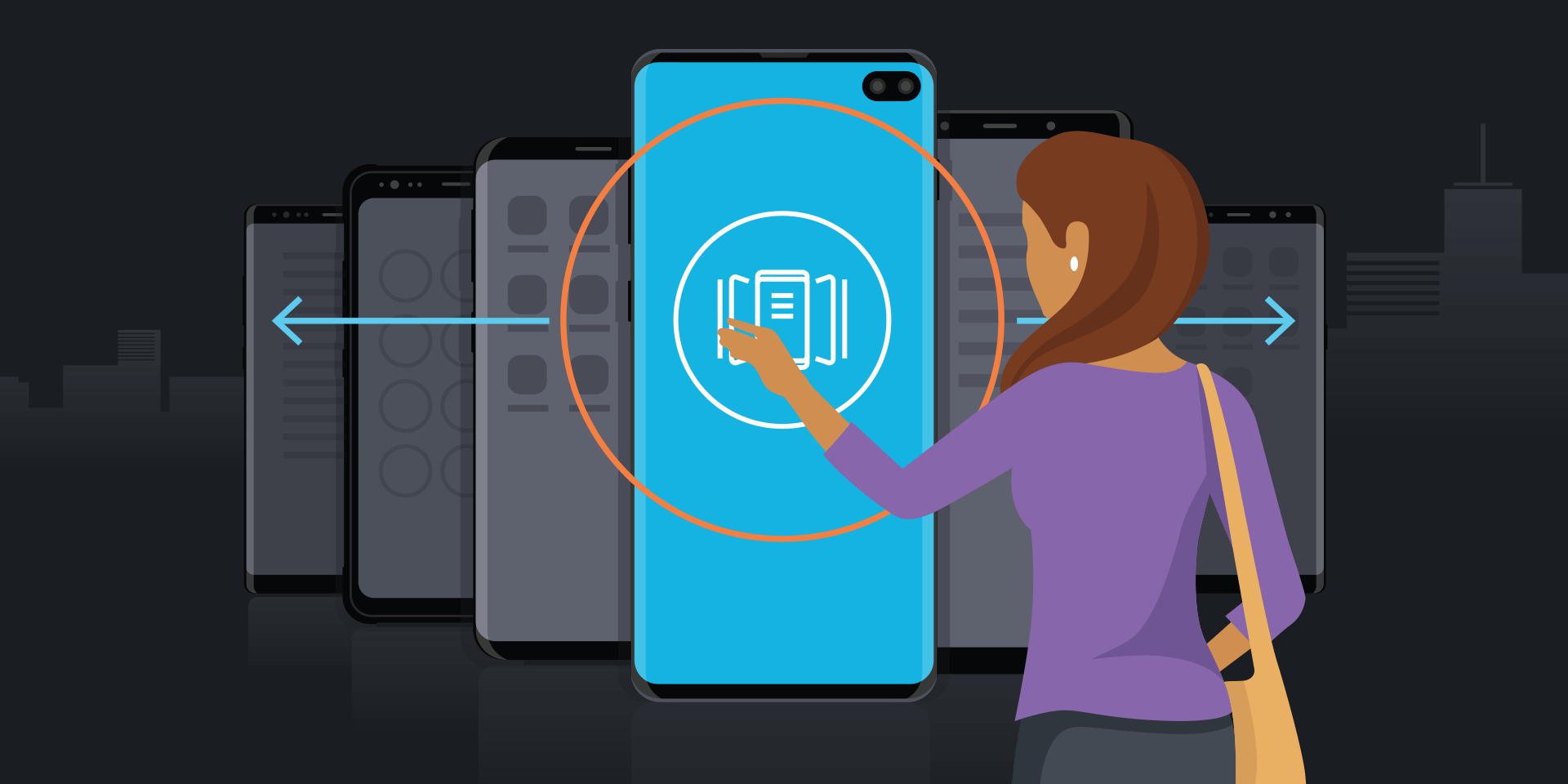 Take this quick assessment to discover the smartphone most tailored to your business needs. Explore the phones
8. Versatile high-res cameras
For field workers performing inspections or troubleshooting on-site issues, a picture is worth a thousand words. Galaxy XCover6 Pro features high-resolution front and rear cameras that allow workers to quickly capture high-quality photos and video, or even launch a live video call to share what they're seeing with a remote technician in real time. For retail, transportation and logistics, high-res cameras also mean highly effective barcode scanning with today's innovative mobile scanning apps.
9. Strong partner ecosystem
Moving from single-purpose devices to all-in-one smartphones opens up a world of opportunity. By leveraging Samsung's rich ecosystem of software and hardware integrations on Galaxy XCover6 Pro, businesses can empower teams to work more efficiently and productively.
10. Secure, compliant and customizable
Your business data is secured by the built-in, defense-grade Samsung Knox platform — protecting your phone from the chip up — as well as advanced biometric authentication. If a phone is lost or stolen, its data stays protected. Businesses can also leverage Samsung mobile security solutions like Knox Mobile Enrollment, Knox Configure and Knox Manage to enroll, customize and remotely manage hundreds of devices as if they were one.
Learn more about how Samsung's rugged mobile devices can support your frontline workers in almost any environment. Not sure rugged is right for you? Take this quick free assessment to find the best smartphone for your business needs.