As advertising technology has continued to advance in the digital world, retailers are constantly looking for new and innovative ways to connect with their customers within their physical retail environments.
One such strategy is to upgrade and replace traditional letter boards into digital signage, creating a more flexible and agile platform for retailers. Leveraging proprietary content management software, retailers can quickly update displays with custom messaging, as well as schedule changes based on the time of day, limited time offers, or promotional events — all without associated printing costs.
Retail digital signage provides high-quality images and clear and bright messaging, accurately portraying retailer brands, their logos and taglines. This elevated signage is essential for retailers, as over a third of North Americans associate sign quality with store and product quality and 38.5 percent make quality assumptions about a business based on the clarity and attractiveness of their signs.
As a global leader in innovation, Samsung is helping advance this transformation in the digital signage space by fostering connections between brands and consumers in an ever-evolving industry through advertising-enabled screens.
Samsung's new advertising solutions will now enable advertisers and merchants to tailor promotions and drive demand through paid merchandising advertising. Retailers can now open up new revenue channels while providing a richer, more relevant in-store experience for customers.
Optimizing your digital display investment
Physical brick-and-mortar spaces are identified as untapped resources in the OOH advertising space when compared to their digital or e-commerce counterparts. Forrester estimates that 72% of retail sales still happen in brick-and-mortar stores. Online consumers receive targeted ads based upon their likes, passions, and purchase history, but the same is not happening in the physical space where there is equal, if not greater, traffic and purchase intent.
The popularity of DOOH with retailers has boomed in the online space. Major retailers have launched retail media networks to win incremental revenue to counteract the lower margins they achieve from growing online sales. These contextual in-store ad experiences help foster stronger brand connections between the products being advertised, as well as the retailers housing the advertisement, which provide a stronger influence at the moment of action and point of purchase.
Become a digital transformation expert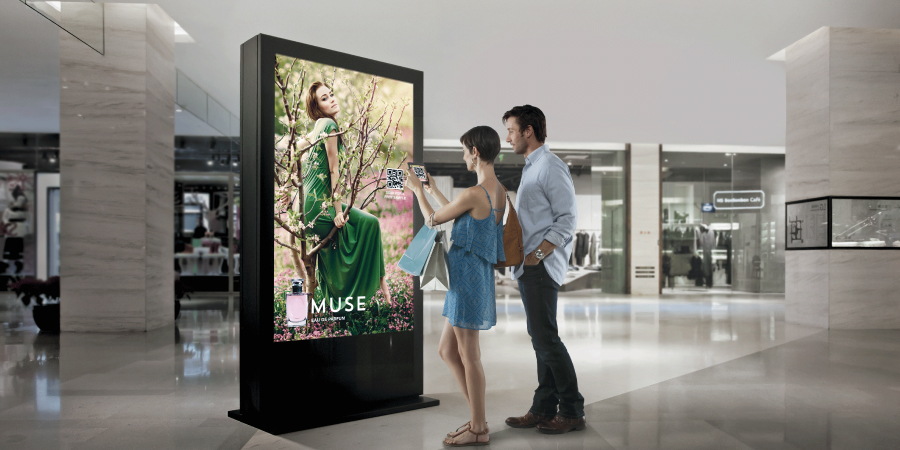 Explore how to harness the power of data with integrated tech to elevate any in-store experience. Download Now
Investing in digital signage creates new avenues for retailers to reach consumers beyond internal messaging — it opens a window to connect with consumers through customized content and targeted advertising solutions in contextually relevant environments.
By tailoring the in-store experience for consumers through new out-of-home (OOH) advertising channels, retailers optimize their digital displays. They create a seamless path to purchase and drive incremental revenue for both the screen owners and advertisers alike. Retailers can now fully connect their omnichannel ecosystem to reach consumers on the web, on the go and in-store to increase purchase intent and sales lift.
In identifying this white space within the industry, Samsung Ads is uniquely positioned to fill the needs of both screen owners and advertisers. As the #1 global leader in digital displays from a hardware perspective, as well as an established innovator in the advertising technology space, these combined elements will open new media channels to simplify the path to sale, amplify a brands' reach at each stage of the consumer buying journey and increase campaign performance for both endemic and non-endemic advertisers.
As digital signage becomes more entrenched in the retail world, there will be a subsequent increase in DOOH media that will vie for an increasing share of advertiser spend, especially as continued success is demonstrated across the board.
The advantages can be seen in practice. These 100% viewable retail placements are showing clear success for major advertisers, with double-digit increases in both sales lift and transactions over the previous year. There it a rising importance to become part of this retail media network revolution that is expected to grow to $100 BN by 2026.
Use case: Technology engages and targets travelers
Duty Free Americas, the largest duty-free retailer in the Americas, is transforming the airport shopping experience with Samsung OOH digital solutions. The retailer has transitioned from traditional print out-of-home to digital displays in order to modernize store environments and create a more engaging shopper experience. By enabling the company to offer premium advertising options to vendors and provide visibility into in-store ad performance, it has shown a marked impact on sales.
Managed by Samsung's MagicINFO content management system (CMS), these displays enable duty-free vendors to target specific markets and demographics at certain times, such as when a flight has just landed.
While this is one specific example, the flexibility and customization capabilities of DOOH advertising enable advertisers to be more dynamic and ensure that their ads reach their target audience at the right time, in the right place.
These aforementioned data signals are only a small segment of the overall capabilities, with other relevant signals like weather providing another effective, if indirect, indicator. For example, a sun lotion vendor may invest in digital advertising placements that are only to be displayed when temperatures reach 75 degrees Fahrenheit, or the UV index reaches a certain level. On the flip side of the temperature spectrum, an electric blanket manufacturer would want its ads displayed when the weather drops below 40 degrees Fahrenheit.
Need-to-have retail technology
New tech like digital signage is no longer a "nice to have" but a "need to have" given the growth of retail media networks online and increasingly in the OOH space.
Digital signage solutions tick several boxes — they enable instantaneous updates, are time-saving and low maintenance and provide high-quality, colorful displays that elevate stores and their retailer brands. At the same time, they enable retailers to offer premium advertising opportunities to vendors via programmatic ads, ultimately driving incremental sales and ROI.
Samsung Ads is the Samsung Electronics advertising division powering the digital out-of-home (DOOH) advertising solution, which aims to foster connections between brands and consumers.
By combining two of the most effective media channels — CTV and DOOH — Samsung Ads is unlocking a new targeted and measurable approach for marketers that was previously inaccessible in a single platform.
This all-in-one solution is built upon the foundation of Samsung's visual displays and supported by the company's proprietary MagicINFO CMS that opens a gateway to new advertising opportunities.
Samsung Ads' DOOH solution offers retailers a number of key benefits:
It provides integrated advertising monetization with complete control of brand and advertiser content across a retailer's screen network.
It provides retailers the added benefit of driving in-store traffic and sales for endemic brands through reach extensions available on Samsung's Premium CTV inventory.
It streamlines ad creation, scheduling and distribution, and offers ad reporting and insights to optimize the impact of class-leading displays.
Samsung Ads' DOOH has a simplified technical setup to easily define screen usage, ad allocation and inventory availability and, by providing contextually relevant programmatic advertising, drives incremental retail revenue.
Get your free guide to the what, where and how of digital signage in retail environments. From interactive kiosks to outdoor-ready displays to eye-popping video walls, explore Samsung's full range of groundbreaking retail digital signage.