Small and medium-sized businesses (SMBs) need their teams to be ready to work from anywhere, at any moment, and as efficiently as possible.
Some employees — especially the power users, like developers and content creators — may be hunkered down at an office to collaborate with their peers. People in sales, however, often need to travel back and forth to conduct client meetings. Field workers, too, are hurrying from one job to another. And in today's era of hybrid work, it's common for people to be constantly traveling between different workspaces.
Regardless of the role they play, everyone working at an SMB relies on technology to communicate and manage their workflow. In most cases, a traditional desktop that keeps them tethered to a singular location no longer fulfills their needs.
Productivity and mobility go hand in hand, so remote and hybrid workers need a truly mobile PC — like Samsung's Galaxy Book3 series. These devices are designed to keep users connected and allow them the flexibility to do their best work from anywhere, including from home.
Here are 10 ways the Galaxy Book3 lineup supports today's business users.
1. Offers productivity from anywhere
There used to be an unfortunate trade-off in owning a laptop: The more powerful its capabilities, the heavier it was to lug around.
Given that the average employee is now juggling multiple workplaces, no one wants to carry a device that's cumbersome or inconvenient. When hardware becomes more of a burden than an asset, it's tempting to stay put rather than go where you're supposed to be.
Shop special offers
Find out about offers on the latest Samsung technology.
See Deals
Speak to a solutions expert
Get expert advice from a solutions consultant.
Talk to an Expert
That's not an issue with the Galaxy Book3 series. Their thin, lightweight form factor makes them as portable as a tablet, with hardware composed of materials such as aluminum and magnesium. This includes the Galaxy Book3 Ultra, which comes in at only 3.95 pounds and measures just 16.5 millimeters. Ultra-portable translates into ultra-productive because you can always take your work with you.
2. Moves at lightning speed
The longer an employee has to wait to download a large file, stream a video or have an app send a request back to the server, the more their work is disrupted — hindering their overall productivity.
Companies shouldn't have to think twice about whether their PCs can keep up with their team's needs. Your business technology should be optimized to let employees get on with their tasks, rather than introduce friction into their workflow.
Samsung has addressed this in the Galaxy Book3 lineup by incorporating powerful 13th-generation Core i5 and i7 processors. Devices like the ultra-slim Galaxy Book3 Ultra's processor is also Intel EVO-certified, having passed rigorous tests for factors such as how quickly the device "wakes up" from sleep mode and the responsiveness of the battery. As a result, you get greater peace of mind, knowing that the Galaxy Book3 Ultra, Galaxy Book3 Pro or Galaxy Book3 Pro 360 will perform fast downloads and support easy multitasking.
3. Optimized to make you remote-ready
Collaboration is no longer limited to the boardroom or to your customer's office. Today, collaboration often involves connecting with people over videoconference — and you still need to look professional. Trying to find a quiet room, setting up the right lighting and double-checking that there's nothing distracting in the background can become a hassle, taking your focus away from the meeting itself.
Galaxy Book3 PCs remove that stress with a built-in camera and other conferencing solutions that optimize video call quality. The latest features include AI-powered eye contact correction and lighting correction on the Galaxy Book3 Ultra, Galaxy Book3 Pro or Galaxy Book3 Pro 360, as well as an FHD wide-angle camera.
You'll spend less time straining to hear people or asking them to repeat themselves thanks to the quality quad speaker, featuring audio enhanced by Dolby Atmos. There's also a studio mic with bidirectional noise cancellation to capture your voice and deliver sound clearly.
4. Keeps your phone and PC in sync
As much as you and your team love your laptops, you'll also inevitably keep using your smartphones. When you set up your PC, it's easy to be distracted by smartphone messages and other notifications popping up out of the corner of your eye. Galaxy Book3 devices allow you to access your phone without even picking it up.
You can mirror your entire phone, including your apps, using Link to Windows, also known as Microsoft Your Phone. Not only can you track all your phone notifications right from your Galaxy Book3 device, but you can also make calls or send texts on your PC — without even touching your phone.
Link to Windows lets you drag and drop images from your smartphone's gallery straight to your desktop for a more seamless workflow across your devices. Compare that to all the times you've emailed yourself to access something from another device.
5. Offers the easiest file transfer ever
Today's work involves constantly providing content to other people — whether they're members of your team, your partners or even customers.
Meetings are more productive when you can share content in real time, rather than sending items afterward. The Galaxy Book3 lineup features Quick Share, which lets you send files, photos and videos with a single tap. The process is as simple as choosing the content you want, designating a recipient and having them click "Accept." They can then retrieve the content on their Galaxy Book3 or smartphone.
Best of all, Quick Share can be used to send content to multiple people at the same time, rather than sending individually.
6. Lets you connect your Buds for easy audio
The most productive people learn not to waste an opportunity. Even walking from one location to another can be a chance to catch up on a podcast or take a call you might otherwise postpone.
If you switch from walking to sitting down at your desk, though, you may have to stop, adjust your PC or smartphone's audio settings, disconnect from the device you were listening on and pair your headphones with another device.
Choose the right phone for your growing business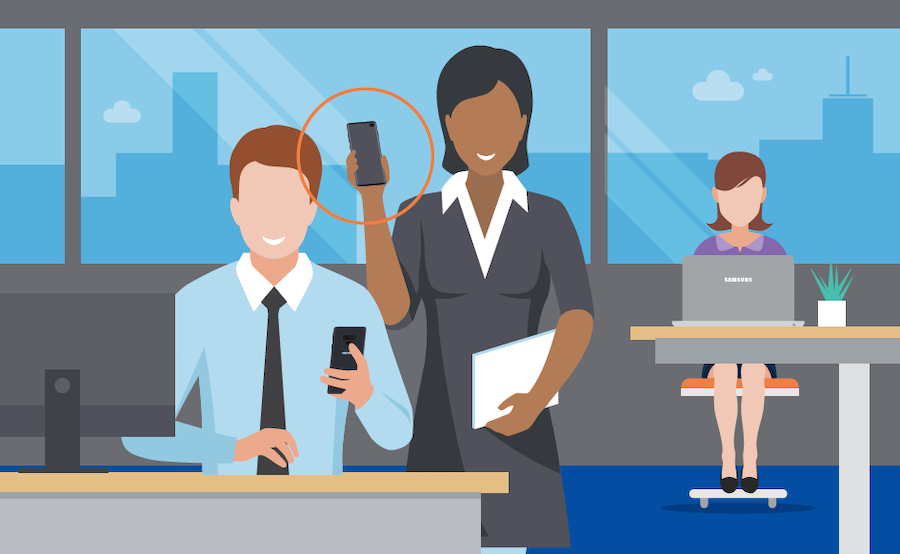 Get your free guide to matching the right smartphone with your business and employee needs. Download Now
Galaxy Book3 devices prevent these kinds of hiccups by providing full continuity with the rest of your Galaxy ecosystem. This means you can automatically connect your Galaxy Buds2 to your Galaxy Book3 PC or smartphone and can toggle back and forth between different devices with ease.
7. Long-lasting batteries combine power and convenience
If you notice your device has a low battery and you don't act quickly enough, you risk losing your work. Even if that doesn't happen, productivity grinds to a halt if you don't have a charging cable handy.
The Galaxy Book3 lineup only needs one adapter, so you can leave behind all the extra dongles. And you may not always need to bring the charger, because models like the Galaxy Book3 Ultra last up to 17.5 hours on a single charge. When you do have to recharge it, it's done in a snap, so you can quickly get the power you need for that last meeting of the day.
It's also easy to connect a variety of peripherals and accessories on the Galaxy Book3 Ultra, Galaxy Book3 Pro or Galaxy Book3 Pro 360 thanks to an array of HDMI, USB and Thunderbolt ports.
8. Supports Second Screen on a Galaxy tablet
Moving to a mobile PC doesn't mean giving up a dual monitor setup — something that's especially important in this age of hybrid work. Dual monitors can provide more comfortable ergonomics, as well as a productivity boost, by letting employees view multiple apps at once. On one screen, they might be working on a presentation, while using another screen to watch a dashboard that tracks their online revenue.
Galaxy Book3 devices come with a Second Screen feature, which lets you extend your display to a tablet, like Galaxy Tab S8, as an additional monitor. It's a dual monitor setup you can fit in your laptop bag.
Beyond displaying content on that second screen, you can also control your Galaxy Book3 device with the tablet and even mark up documents using the S Pen.
9. Smart Switch makes migrating content to new devices effortless
One of the most common reasons companies put off investing in new PCs is to avoid disrupting operations, fearful that employees will struggle to set up their new devices. Manually transferring important data and apps can be time-consuming. Smart Switch for Galaxy Book solves this problem by streamlining data migrations into just a few clicks.
With the Smart Switch app, you can easily move files, photos, and even settings from your old PC, just as you would when you upgrade to a Galaxy smartphone. You can get your Galaxy Book3 devices ready for action in no time.
10. Extended care you can count on
Inevitably, sometimes devices break or need emergency repairs. For your Galaxy Book3 fleet, you can opt to insure your devices through Samsung Care+ for Business. The service is based on a hassle-free claims process, with an extended warranty — up to five years — as well as accident coverage.
As your new mobile PCs increase your productivity, you'll be providing a better employee experience and creating a more successful business.
Samsung is dedicated to helping your small business grow, every step of the way. Learn more about the Galaxy Book3 series and how it can help you meet your goals. And explore exclusive business pricing, discounts, financing options and other deals on Galaxy Books, smartphones, tablets and more through Samsung Business Direct.