It's time to debunk the myth that working on the frontline or in the field means having to accept a mobile device with limited features and a cumbersome design.
When the first rugged devices were introduced (or customized by organizations) to withstand challenging conditions, the results bore little resemblance to today's sleek and sophisticated rugged mobile devices.
Early rugged mobile devices could be bulky, with several layers of protective hardware. Some were far heavier than mainstream mobile devices, making them less convenient to carry for extended periods. And connectivity was never a given — a major issue for people working in remote environments.
Samsung has changed all that with the release of Galaxy XCover6 Pro. It not only fits a diverse set of needs and allows you to do more on a single device, but also includes premium design features and capabilities that employees can rely on in any environment.
Ready for anything: The rugged rundown
From a rugged perspective, Galaxy XCover6 Pro is designed with durability that brings peace of mind, no matter what frontline workers may encounter.
This includes extensive testing against drops, extreme temperatures, and other challenging conditions — meeting the rigorous MIL-STD-810H standard, as well as IP68 certification for dust and water resistance. The addition of Corning Gorilla Glass Victus+ makes Galaxy XCover6 Pro among the strongest Galaxy mobile devices yet.
Shop special offers
Find out about offers on the latest Samsung technology.
See Deals
Speak to a solutions expert
Get expert advice from a solutions consultant.
Talk to an Expert
Galaxy XCover6 Pro's touchscreen is usable in wet weather or with gloves on, a huge benefit when you're often working outside. You can even use hand sanitizer on the display without worrying about damaging your device.
Some of these features might be what you expect from a rugged mobile device. But take a closer look and you'll see the many other benefits Galaxy XCover6 Pro provides for employees in almost any role:
Enhanced connectivity, performance, and storage
First responders, manufacturers, and transportation companies are just three examples of sectors where team members need to stay in constant contact. This can be challenging when they're dispatched to rural locations, or working in areas that require higher speeds and lower latency than LTE can deliver. That's why Galaxy XCover6 Pro offers both 5G, and Wi-Fi 6E.
People who spend much of their time on the road, like couriers, also need to stay productive while navigating maps, scanning barcodes, and transferring data back to their co-workers. Galaxy XCover6 Pro speeds up those tasks with a powerful Qualcomm SnapdragonTM 778G 6nm processor.
Other people in the field, like police officers, often need to take many pictures, write detailed notes and create reports. Galaxy XCover6 Pro lets them take advantage of 6GB memory and 128GB internal storage, offering plenty of power for multitasking, along with room for large files, high-resolution photos, and videos.
Sleek, portable, with an immersive display
Looks may not be the first thing organizations think about when they're choosing a rugged mobile device, but employees will appreciate Galaxy XCover6 Pro's sleek 9.9mm size and light weight, at just 0.52 pounds, which makes the device a breeze to carry and use. Logging in, meanwhile, is as simple as it is secure, via facial recognition or fingerprint scanning.
Galaxy XCover6 Pro also offers a swappable battery, as a helpful alternative to stopping and recharging your device. In sectors like retail, workers can continue using their mobile device for the entirety of their shift. Built-in pogo pins support fast and hassle-free charging. Push-to-talk (PTT) functionality streamlines the process of communicating back and forth, and the speaker volume can be increased for better voice clarity. You can even remap programmable active keys for instant access to your most-used app features or actions.
Contrary to what you might expect, Galaxy XCover6 Pro also makes it easy to watch videos or read digital content. The immersive 6.6-inch display is significantly larger than previous models, and the refresh rate has been doubled, from up to 60Hz to up to 120Hz. Employees won't miss a beat, no matter what the work day throws their way.
Powering a desktop-like experience, with best-in-class security
While the display of the XCover6 Pro is truly expansive, there comes a time in many workflows where a desktop with a full-sized monitor and keyboard is what's really needed. No wonder, then, that Galaxy XCover6 Pro is Samsung DeX compatible, which allows you to connect to a conference room display directly from your mobile device and share presentation files, as just one use case.
Choose the right phone for your growing business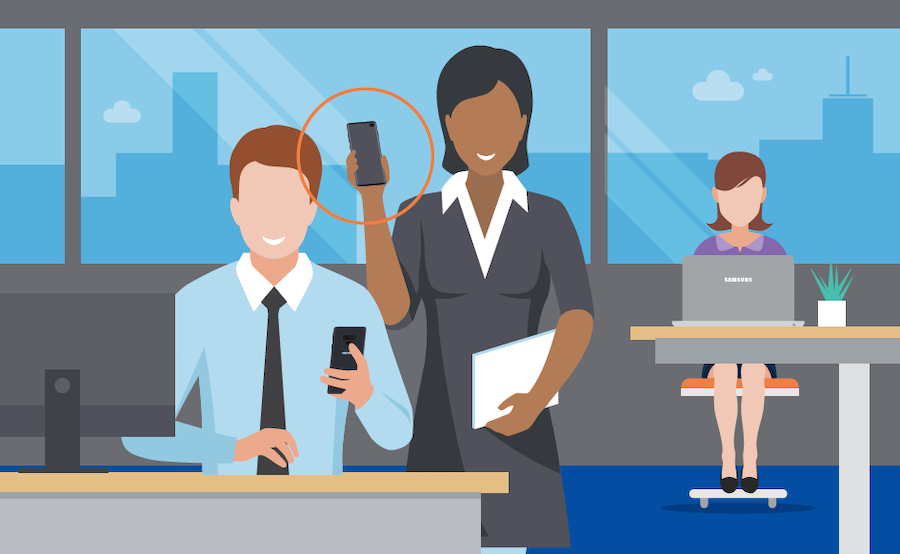 Get your free guide to matching the right smartphone with your business and employee needs. Download Now
DeX also makes it simple to connect to an external monitor and add a keyboard and mouse for a PC-like experience. This is a game changer for those, like law enforcement professionals or drivers, who need to complete work in their vehicle and send it back to another location.
Fortunately, none of these premium features compromise your cybersecurity. Galaxy XCover6 Pro is secured by Samsung Knox, while Knox Suite offers a breadth of tools to help you deploy, manage, and secure entire fleets of devices. Certain Knox apps, such as Knox Capture, can transform the work of inventory managers or delivery teams, allowing them to scan barcodes without additional accessories.
With Galaxy XCover6 Pro, frontline workers and first responders can finally enjoy the best of both worlds: a rugged mobile device built to last, with all the premium features that will make them happier and more successful.
Explore how Samsung's rugged mobile devices can support your workers in nearly any environment. Not sure rugged is right for you? Find the right mobile devices for your business and employee needs in our free guide.