The Samsung Galaxy Tab S9, Tab S9+, and Tab S9 Ultra are the latest edition in Samsung's Android tablet line designed for achieving higher business productivity. The decision to invest in them, however, may have you looking for some tab tips to help you make the most of the line's many features.
The Tab S9 family is outfitted to let you work from anywhere, whether you're in the field or back at the home office. All three feature the Snapdragon 8 Gen 2 processor, giving you the power and speed to multitask. With Wi-Fi 6E and 5G connectivity, you can eliminate the need for separate desktop or laptop PCs. Paired with the optional keyboard cases, the tablets transform into laptops, with Samsung DeX providing a PC-like experience to access your mobile apps. You can also connect Galaxy Tab S9 to a monitor or TV, and run DeX on that larger screen while continuing to use your tablet at the same time.
The Galaxy Tab S9 lineup packs plenty of other features that can help you turbocharge your work. What can you do with a Samsung tablet? Here are some Samsung S9 tablet tips and tricks for using them to their fullest potential:
1. Take advantage of the large display to maximize multitasking
Power users, like those creating and presenting content to customers, used to rely on their laptops for their screen size. Tab S9 Ultra gives them a more portable alternative with a 14.6-inch display that rivals most laptops. That makes it ideal for those in financial services, for example, who want to explain their products and services to clients, retail associates who want to create a mood board for customers, or those in healthcare who want to share treatment information safely.
All Tab S9 devices have the same Dynamic AMOLED 2X display technology and a new Vision Booster feature that automatically adjusts brightness when the devices are used in an outdoor setting.
2. Mark up documents and control your tablet with the S Pen
All devices in the Tab S9 line include the powerful S Pen in the box at no extra cost. When you detach the S Pen from the back of your tablet, the Air Command menu makes itself visible, allowing you to jump into quick actions. You can automatically convert handwriting to text with an experience that feels more like writing on paper than ever before, and take advantage of pro-level apps like GoodNotes.
Illustrate a concept for your team or bring an abstract idea to life for your client. Sketch out your next masterpiece.
Need to control a slideshow from afar? Air Actions allow you to use gestures with your S Pen to control apps, such as advancing slides in a presentation or zooming in on the camera. You can customize these commands in the Settings app under Air Actions. And when your S Pen runs low on battery, just attach it magnetically to the back of your tablet to charge it.
3. See it all at a glance with Multi-View Windows
Multitasking on a tablet has never been this productive, thanks to Multi-View Window layouts. With this feature, you can display up to four different layouts on your screen at any time. You can also adjust the height or width rather than being limited by fixed layouts. This makes it easier to work across multiple apps at once or take notes while you're on a video call. Meanwhile, use split-screen on your Tab S9 devices to show current content on one page and new content in a split view.
4. Add the 2-in-1 Book Cover for laptop-like productivity
The Tab S9 series offers lightweight computing solutions and interactive touchscreen displays. However, if you want a full-sized tactile keyboard, consider the advanced 2-in-1 Book Cover. It offers the keyboard functionality of a PC with fully backlit keys and shortcuts for accessing your favorite apps or DeX. You can even wirelessly share your keyboard between your Tab S9 Ultra and your phone.
Shop special offers
Find out about offers on the latest Samsung technology.
See Deals
Speak to a solutions expert
Get expert advice from a solutions consultant.
Talk to an Expert
The Book Cover also has multiple standing modes so you can adjust it based on the kind of work you're doing, and your screen will turn off and on based on whether it's open or closed.
5. Use Samsung DeX, wired or wirelessly, on an external display
The power of Samsung DeX means you don't need to stay tethered to your S9 tablet. Using either a USB-C to HDMI cable or a wireless Miracast-enabled display, you can put your work on the big screen. Share slideshows with others in the room or increase your productivity by opting for a larger monitor where you can view all of your mobile apps. It's never been easier to ditch the laptop, thanks to DeX.
6. Ensure you've got the connectivity you and your team need
The connectivity business users need may vary by department or employee. For those working at home or in the office, all three S9 devices offer Wi-Fi 6E speeds of up to 2.4Gbps, which is almost double the speed of what they might have experienced in previous models.
In other cases, employees may have to ensure they have flexible connectivity to stay productive wherever they are, including the car or a remote site. That's where you can take advantage of the Tab S9+ 5G connectivity, which is also faster and more secure than ever.
7. Connect to higher-quality video calls more quickly
We've all joked about video calls that glitch or are difficult to hear, but the truth is, every team needs a simple, effective way to communicate and collaborate online.
Samsung has formed partnerships with leading platforms such as BlueJeans by Verizon and Cisco WebEx to offer seamless integrated calling on Tab S9 devices.
With BlueJeans, for instance, you can mute your mic, control your camera, or end your call with a push of a button or an air gesture with your S Pen.
8. Keep everything safe with Samsung Knox
When it's time to store sensitive information, such as financial data or personal records, the Tab S9 series offers robust security through Samsung Knox, a platform that protects data at both the hardware and software level. Knox Vault, for example, keeps data safe from physical attacks, fault injection, and side panel attacks by keeping it in tamper-resistant storage and using a proprietary secure channel between the processor and memory.
Use the Secure Folder feature, meanwhile, to add an extra layer of security by saving private information with a custom pin or pattern. Samsung Message Guard adds further protection against vulnerabilities that stem from multiple permissions in messaging apps, and you can unlock your Tab S9 screen with bio authentication using a simple and intuitive on-screen fingerprint scanner. The tablets are also protected and supported by four generations of One UI and Android OS upgrades and by five years of security updates.
What's the best tablet for your business?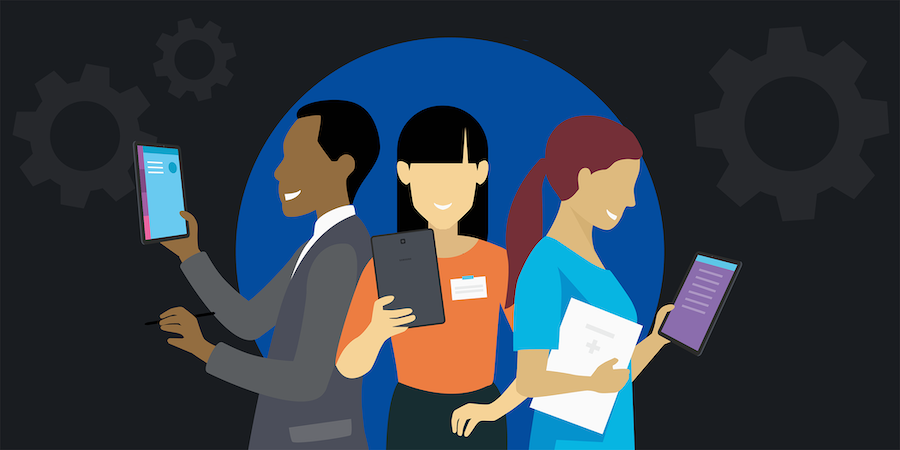 Take this quick assessment to see which Samsung tablet would best support your business needs. Download Now
9. Effortlessly share information across connected devices
The Tab S9 portfolio offers the Galaxy Connected Experience. In other words, you'll be able to use tools like Quick Share to send files or images from your tablet to your smartphone or other device. Additional capabilities in this area include Multi-Control, which lets you control your smartphone with your tablet — if you wanted to reply to a text message using your tablet keyboard, for instance. Auto Share will let you capture video on your phone and then edit it directly on your tablet.
Buds Auto-Switch means you can move from listening to a podcast on your phone to a Tab S9 without disconnecting and reconnecting. You can also take advantage of the larger display on Tab S9 Ultra and use it with your phone as a second screen.
10. Get more done with pro-level and B2B-specific apps
Besides support for GoodNotes that was mentioned earlier, the Tab S9 also works with ArcSite, which allows for quick and easy CAD drawings for those working in sectors like manufacturing. Your Tab S9 is also a great device for managing projects with tools like Wrike, analyzing email marketing efforts with Zoho Campaigns, or organizing your digital workspace with Notion. And don't forget to check out Folia, which is great for capturing insights with S Pen annotations, collaborating with colleagues, and sharing across platforms.
What can you do with a Samsung tablet? Here's a tab tip — almost anything a modern business user would want or need to do.
Does the Tab S9 series offer the right devices for your business needs? Read on with this overview of Samsung's tablet offerings. And see how you can get the most out of Samsung DeX on your Galaxy tablet.