Whether it's a large hospital or a physician's office, the traditional waiting room is becoming the new hub of patient engagement. Even as the industry shifts toward integrating the concepts of care and health into everyday life, the waiting room remains a powerful space in which patients are most focused on their care needs — presenting an opportunity that smart practices and hospitals can't afford to ignore.
The physician's office or hospital waiting room is an environment with multiple factors at play, all of which impact patients' perception of care (important in an age of HCAHPS and CG CAHPS) and receptiveness to treatment and lifestyle recommendations. This environmental experience hinges on everything from lighting to layout, and presents healthcare providers with an opportunity to communicate directly and efficiently with waiting patients. What's previously been attempted through magazines, pamphlets and flyers can now be augmented in ways that are proven to be more effective and enjoyable for the patient.
Addressing Shifting Mindsets
Leveraging the possibilities of a modern waiting room starts with a shift in mindset. Providers and administrators must understand that the patient waiting room is the first point of contact when it comes to patient engagement. Turning this knowledge into action requires an awareness of the shift that patients are making in their everyday lives. From airports to retail stores, patients are used to being constantly presented with offers and information to help them make choices and understand the environments they're trying to navigate. While a waiting room shouldn't turn into a free-for-all of flashing lights and scrolling ads, it's important to approach patients in ways with which they're familiar. One of the most effective ways to do this in a modern office is through digital signage.
Can Tablets Help With Pain Management?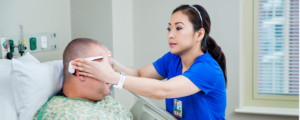 Read the case study to find out how this deployment helps distract patients from pain. Download Now
Digital signage isn't only an incredibly efficient way to deliver tailored health information to your patients, it's also a format that's familiar to your patients (and, if it's entertaining enough, even welcome).
So how does this technology actually work? To implement digital signage in a waiting area, the room is equipped with one or more commercial displays that can be managed remotely to deliver customized content based on facility or physician preferences. Content can be created and scheduled from any PC by dragging and dropping images or video files into flexible signage templates. Larger facilities may choose to utilize digital signage software-as-a-service offerings such as Hypersign, while smaller practices have the option of all-in-one solutions like Samsung's Smart Signage TV.
Rather than pinning up posters or printed notices on a bulletin board, hospital news or events can be dynamically presented on the digital signage display. Messaging and content can also be targeted depending on the day of the week or time of the day — an approach called "dayparting." Many solutions also allow the facility to present video or broadcast TV content in combination with other information, such as instructions on registration or information encouraging patients to get their flu shots.
Understanding Impact
So why does all this matter?
Much of patient satisfaction and the patient experience is based on perception, and perceptions are formed from the moment a patient arrives at the registration desk. Numerous studies have found that digital signage that presents entertaining or relevant educational content can reduced perceived wait times. In addition to keeping patients engaged while they wait, a study by waiting room media network AccentHealth noted that doctors reported a 50 percent increase in same-day discussions of advertised brands, and 63 percent of their patients indicated that they discussed or planned to discuss an advertised product or condition after engaging with waiting room display content.
Any practice or facility with serious initiatives to better engage patients should consider digital signage as a core part of their patient engagement strategy. If you're looking to put your digital signage plans into action, learn more by checking out some of our signage options here.