Exotec Solutions, a robotics startup, recently announced a second round of financing to develop a fleet of warehouse robots that can help pack and dispatch goods. VentureBeat reports that the French-based company is designing a collaborative robot that uses complex navigational software and a system of bins to move products around a warehouse.
Exotec says it offers an "innovative order preparation system" with collaborative mobile robots that can carry up to 50 kilograms. The fleet control supervisor solution coordinates the motion of robots and interfaces with the WMS (warehouse management system) to determine time and destination. Exotec says the system can double the picking rate and offers maximum efficiency with handle preparation, replenishment and returns. The small robots are also scalable, offering warehouses the ability to add new ones as needed and constantly reconfigure to meet their needs.
The first robot will be launched in 2017, and the company will use new funding to boost commercial development as they prepare to announce partnerships with several "key players" in the logistics industry. According to company CTO Renaud Heitz, Exotec is also finalizing a second generation robot with greater intelligence and preparation capabilities. This rise of the robots will continue as retailers and logistics companies leverage technology to boost efficiencies and speed in an environment where consumers are demanding faster fulfillment at lower costs.
Smart warehouses are the future of retail.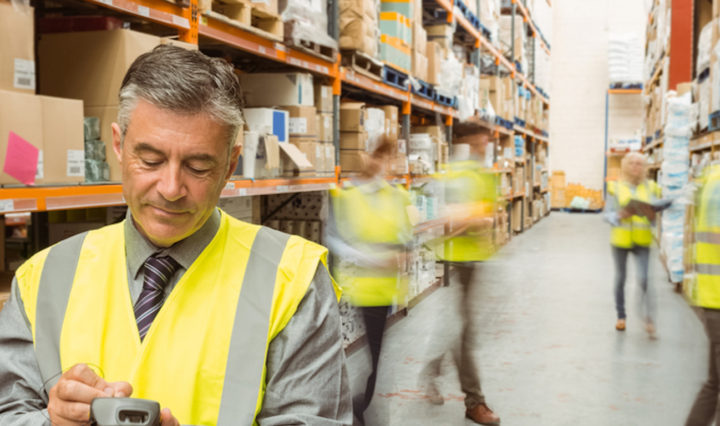 More warehouses are using the Internet of Things to boost efficiency. Download Now
The Future of Warehouse Robots
A recent survey by MHI and Deloitte found that 35 percent of companies have already incorporated robotics into their logistics, and that number is expected to rise to 74 percent in the next ten years.
Retailers, distributors and logistics operators are viewing these robots as a tool to boost efficiency, reduce costs and help create "smart warehouses." These machines are also smaller and more flexible than a conveyor system, and allow users to easily scale and add more robots as needed.
Bloomberg reported that Amazon started using robots in some of its facilities in 2012 and now has more than 30,000 operating in its warehouses around the world. Dave Clark, Amazon's senior vice president of worldwide operations and customer service, said the robots have reduced operating expenses by nearly twenty percent. According to the Los Angeles Times, one Amazon fulfillment center was able to reduce package processing time from over an hour down to thirteen minutes.
Other retailers are looking to more automation and introducing robot pilot programs. Walmart is testing robots to ship apparel orders from its e-commerce website, and Lids, an athletic sportswear company, is using IoT-enabled robots made by Swisslog to pick items and optimize its supply chain.
Retailers that want to remain competitive in e-commerce will need to continually upgrade their warehouse technology to meet the growing demands of faster delivery. Warehouse robots are growing to be a powerful tool to boost processing time by increasing efficiencies and reducing the human touch that can lead to errors.
Looking for other ways to boost supply chain efficiency? In addition to robotics, retailers are also using wearables and mobile technology to keep the supply chain moving