Sign up to download the full white paper as a PDF.
Outmaneuver an opponent in a dogfight without ever leaving the ground. Repair an engine on a littoral ship without ever stepping aboard a vessel. Deploy life-saving steps to get a wounded soldier quickly on the road to recovery. These scenarios are all now possible thanks to rapid advancements in virtual reality (VR), augmented reality (AR) and mixed-reality (MR)-powered immersive training.
But are Department of Defense (DoD) leaders fully realizing the mission performance and cost saving advantages promised by these technologies? Not yet.
In order to truly maximize immersive training's benefits, DoD must reevaluate legacy solutions, harness the next wave of technology and evolve its approach to make training more mobile and integrated. Former Air Force Lt. General Thomas Baptiste once stated, "there is no way that any service chief can avoid the fact that they're going to have to rethink the balance between live training and simulation." Deploying an immersive ecosystem that can seamlessly capture, create, display, sync and secure training capabilities to deliver enhanced situational awareness and gain an operational advantage is a must for DoD leaders.
In this paper, you will learn why legacy training solutions simply aren't agile enough to keep pace with today's changing mission needs; ways immersive training addresses growing workforce and skills gaps challenges; and how to implement cost-effective mobile end-to-end immersive training solutions designed to ensure readiness and tactical advantage in today's high-stakes environment.
The Evolution of DoD Training
Our Armed Forces and personnel are facing increasingly sophisticated national security threats in an age where asymmetric warfare and "multi-domain" conflicts span land, air, sea, space and cyber. At the same time, our weapon systems are becoming more technical and complex as we meet enemies on these various fronts. In order to stay a step ahead of relentless adversaries, the DoD needs the means to enable anytime, anywhere training to ensure personnel are prepared to handle a greater range of unpredictable and emerging combat scenarios and systems than ever before. Improving mission rehearsal capabilities and readiness will become increasingly important as institutional knowledge evaporates with retirees and the skills gap widens across civilian and military forces. According to GAO's 2017 High Risk Report, "current budget and long-term fiscal pressures, the changing nature of federal work, and a potential wave of employee retirements that could produce gaps in leadership and institutional knowledge, threaten to aggravate the problems created by existing skills gaps."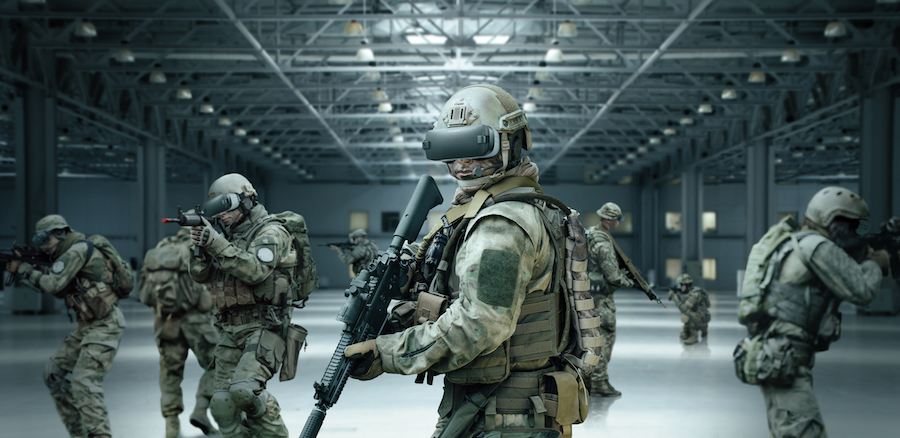 Compounding the skills gap is a new wave of warfighters entering the Armed Forces. In fact, we could see the influx of 25,900 new service members, according to the White House's proposed $686 billion fiscal 2019 defense budget. All of these individuals will need intensive training and education before they can be introduced into the field or be ready to fight. As Army chief of staff, Gen. Mark A. Milley stated about the work still to be done on overall preparedness, "We are not at the level of readiness that we need to be at to fully execute the National Strategic Plan to the level that I would be comfortable with. We've got more work to do as an Army, and we'll continue to do that."
Challenges such as the skills gap, a flood of new talent and rapidly-changing technologies are precisely why finding new and more efficient training approaches is critical for improving readiness and saving lives.
Today's Solutions Don't Scale for the Needs of the Global Threat Landscape
Traditional DoD simulations and training operations can be costly and complex to operate. The Asymmetric Warfare Training Center at Fort A.P. Hill, with a 300-acre city and mock town designed to "replicate complex operational environments," cost $96 million, for example. Beyond constructed environments, most of the DoD's virtual training solutions are heavily centered on large simulators, which often have limitations and lack flexibility, preventing them from meeting all the needs of today's personnel and warfighters.
Traditional training solutions are:
Stationary and costly to build and maintain
Typically far from mission command and require travel
Slow to update on the latest operational procedures
Not scalable for larger group or joint training
Unable to meet on-demand needs
Not tuned to the needs of a changing, younger workforce
These solutions fall short of optimizing DoD's ability to conduct military training in virtual environments; provide immersive reconnaissance to enhance situational awareness; or facilitate virtual collaboration among thousands of remote participants. Leadership has recognized the constraints of this environment, however, and are now investing in synthetic training capabilities that can bring virtual, augmented and mixed-reality environments to the point of need. To that end, the DoD training and simulation budget is estimated to be a steady $14.6 billion annually through 2020 and beyond, according to Frost & Sullivan. The same report outlines that DoD is making major investments in live, virtual, constructive and mixed-reality training, with the Navy alone expecting to spend between $6 billion and $6.12 billion annually from 2016 to 2021.
The Mobile Platform Is Changing the Game for Immersive Training
Mobile devices today are more powerful than ever before — and they are ingrained in how we work and live. The federal government is also benefiting from mobility, particularly as agencies view emerging devices as key pillars of government-wide digitization and IT modernization efforts. Mobile devices can not only enhance workforce productivity, but also help agencies better secure mission-critical data regardless of where it's captured, stored or used.
Beyond the office, mobile devices are ushering in a new era of immersive training that can bring AR, VR and MR training to DoD personnel and troops anytime, anywhere. Rapid advancements in 5G network connectivity will underpin increasingly realistic, mobile-based virtual simulations that can prepare users for real-world battlefield experiences. Faster speeds, greater capabilities, lower cost and enhanced security are all making mobile the ideal platform for DoD training.
Mobile as an immersive training platform also addresses the needs of a new generation. Millennials, for example, have grown up in the digital age and are fluent in smartphones and gaming technologies. According to Government Business Council (GBC) research, "two thirds (67 percent) of respondents agree that the incoming generation of service members will learn better through multimedia training programs." Next-generation warfighters expect to have access to a variety of tools in the palm of their hands — pictures, audio, videos and more — that cater to the way they learn on the go.
Some of the most compelling use-cases for leveraging mobile immersive training for mission advantage include:
Education training: Interactive immersive training allows trainers and users to move away from textbooks and traditional environments and bring live training and interactive content to life. For instance, a Navy mechanic can use mobile VR capabilities to learn how to make engine repairs on a littoral combat ship before the vessel ever leaves port.
Operation training: Troops can "train like they fight" using mobile VR for field-level and weapon simulation training. This allows them to minimize risk and wear and tear to equipment, and avoids the cost of putting a plane in the air, tank on the ground or ship in the sea. Air Force Special Operations Command (AFSOC), for example, created a VR app to simulate specialized air mobility, precision strike and intelligence missions.
Combat and environmental training: Mobile immersive capabilities continue to expand around virtual interaction in simulated environments like the battlefield. Immersive technologies can also be used when the troops return home, such as for the treatment of posttraumatic stress disorder (PTSD). As Albert Rizzo, a research professor at the USC Davis School of Gerontology, reported, "Exposure therapy is an ideal match with VR. … You can place people in provocative environments and systematically control the stimulus presentation."
Portability and on-demand accessibility make mobile an ideal platform for enabling repeatable sessions that can hone essential skills over time. By providing a truly interactive experience, trainers can simulate dangerous or risky situations within a controlled environment before putting boots on the ground.
Immersive Training Requires a Mobile End-to-End Ecosystem Approach
Samsung's immersive solutions are delivering virtual training experiences today that can prepare personnel for dynamic real-world scenarios. For example, the Battlespace Exploitation and Mixed Reality (BEMR) Lab, based at the Navy's Space and Naval Warfare Systems Center Pacific (SSC Pacific) in San Diego, is using 360-degree videos to provide low-cost virtual training for warfighters. BEMR is deploying immersive solutions, including Samsung Gear VR, to train personnel on complex scenarios such as helping fighter pilots master mid-air refueling; letting Navy Sea Air Land (SEAL) teams "virtually" dock a swimmer delivery vehicle (SDV); assisting with its Rim of the Pacific (RIMPAC) 2016 multinational maritime exercise, which captured 360-degree video of humanitarian assistance and disaster relief tasks; and other video projects with the Marine Corps Aviation Weapons and Tactics Squadron One's combat camera unit, Asymmetric Warfare Group (AWG) training center, Center for Security Forces training unit in Virginia Beach, Army 18th Airborne Corps in Fort Bragg and others.
However, delivering this type of training requires mission owners and IT leaders to adopt a new approach that embraces a holistic set of tools that can enable seamless content creation, distribution and presentation. Samsung's vision for immersive training delivers an end-to-end ecosystem of products and professional services aimed to close the training gaps and bring secure, real-time access to information, applications, intelligence, training and computing power directly to the mission edge.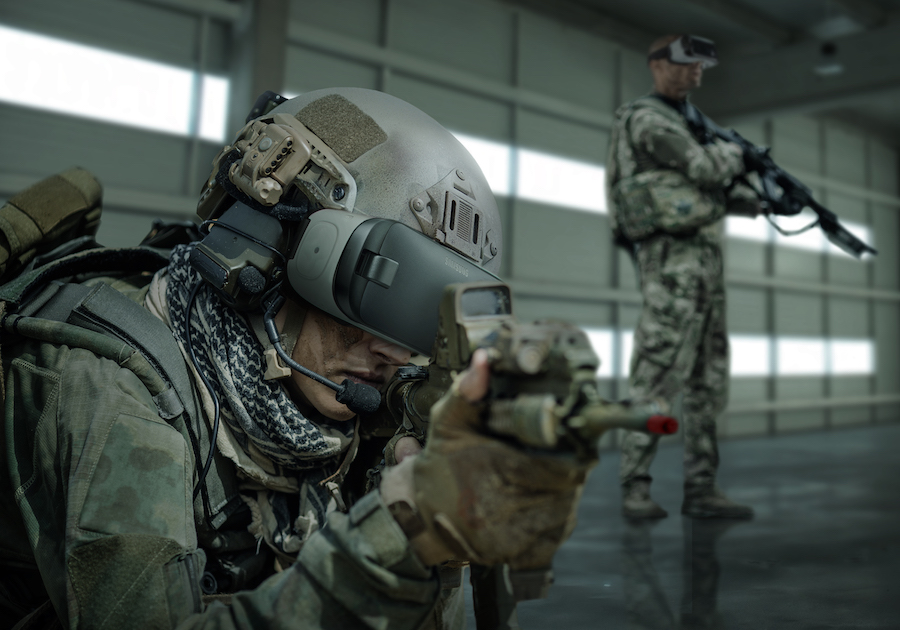 Samsung understands DoD's unique requirements and will ready and deploy solutions that reduce overall training costs; increase efficiency to reach all personnel; make training mobile and accessible anytime, anywhere; secure and manage all devices and data; deliver realistic, high-fidelity content; and provide on-demand, real-time content creation. Samsung's ecosystem also utilizes and integrates with commercial off-the-shelf (COTS) solutions to maximize current and future technology infrastructure investments.
To meet DoD's needs, Samsung is evolving its mobile immersive technology ecosystem, which is centered on the following key pillars and supporting technologies:
Capture: 3D 360-degree cameras and Samsung-designed stitching software enable 4K live stereo audio streaming for delivering real-time immersive experiences. Cameras are dust and water resistant to stand indoor and outdoor use for up to 13 hours of recording time.
Create: Samsung works with a range of leading content partners to create dynamic multi-user immersive simulations that learn, adapt and optimize experiences. New advances in data science, machine learning and artificial intelligence (AI) are powering simulation capabilities that respond in real-time and learn user behavioral patterns for enhanced realism.
Display: Samsung Gear VR delivers stable and precise head tracking via a built-in gyro sensor and accelerometer to support a positive training and simulation user experience. Tablets also provide a platform for immersive 2D learning applications such as pre-operation and other skilled learning-based training cases.
Sync: Synchronized VR viewing experiences scale for immersive group training. Centralized VR content playback to many devices allows all participants to share the same experiences simultaneously in real time. Accessories such as virtual hand controllers integrate into the experience to help maintain equilibrium, guide spatial orientation and sense motion.
Secure: Samsung Knox delivers defense-grade security from the hardware all the way to the application layer to protect a Samsung smartphone from the moment it is powered on. Samsung Knox is approved by the United States government as the first National Information Assurance Partnership (NIAP)-validated consumer mobile device to handle a full range of classified information. It has also achieved validation against the most stringent certifications available, including Common Criteria and Federal Information Processing Standard (FIPS) 140-2.
Samsung Is Collaborating to Bring DoD Training Closer to the Mission Edge
Samsung's vision is to deliver mobile immersive training that enables DoD to solve training challenges — whether it's teaching a pilot flight theory, navigation, meteorology, aircraft operating procedures and mission tactics before they ever step in a jetfighter or helping troops capture 360-degree video content of battlefield obstacles that can be viewed in real time.
Each DoD mission has specific, nuanced requirements and specifications that need to be solved by working in close collaboration with the teams that will use the technology. Samsung is committed to driving efforts with both government and leading solution providers to strategize approaches that will bring advanced, robust and secure immersive training solutions to warfighters, whenever and wherever they need it.
Take Your Mission to the Edge
According to LTC Michael Stinchfield of the Combined Arms Center's Training Innovation Facility at the National Simulation Center, "we can get better training for our soldiers and we can do it more efficiently" using a synthetic training environment. On top of training, the Navy is already using VR to recruit a new generation of prospective sailors and says that their effort has more than doubled engagements.
Taking immersive training one step further by untethering it with a mobile end-to-end ecosystem has the enormous potential to bring highly-effective training closer to the mission edge — and help DoD save millions of defense dollars.
Learn more about Samsung's ecosystem of mobile immersive solutions for DoD and how they can deliver mission advantage.