For federal defense agencies, 2018 has been a year of forging ahead in technology innovation while developing tactics to counter the most sophisticated cyber threats government has seen yet. Conversations around these challenges and opportunities will come to a head at this summer's premier Air Force cybersecurity event, the Air Force Information Technology & Cyberpower Conference (AFITC) taking place August 27-29 in Montgomery, Alabama.
Samsung will join more than 3,400 attendees comprised of U.S. Air Force (USAF) IT experts, prominent IT academics and the nation's top cybersecurity companies to discuss how USAF can better defend the nation from cyber attacks and advanced, persistent threats while innovating in this increasingly digital world.
Building on a History of Innovation at USAF
One technology topic that is sure to be discussed is 5G networks, which are poised to usher in a new era of mobile capabilities that will transform USAF operations, significantly enhance readiness and enable new mission capabilities like never before.
For USAF, 5G networks promise mobile innovation in the form of seamless connectivity solutions and massive bandwidth that will allow leaders and warfighters to drive advanced data analytics insights, harness enhanced battlefield command and control and achieve new levels of combat preparedness — all while creating new operational efficiencies and streamlining costs.
Digitize Your Government Agency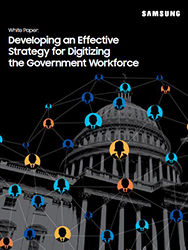 White Paper
Get this guide to drive collaboration, boost productivity and ensure security in the public sector. Download Now
For example, 5G networks will underpin advanced mobile applications in and around the cockpit. Already, USAF is using tablets to advance projects around Electronic Flight Bags (EFBs) and Electronic Knee Boards (EKBs) to minimize or even eliminate paper use in cockpits. Building off of this, there is also tremendous opportunity ahead with empowering flight line operations and maintenance teams with tablets to view real-time inventory, better use spare parts and manage aircraft diagnostic solutions.
Most importantly, USAF can support enhanced security and productivity for an increasingly mobile USAF workforce. 5G not only delivers higher levels of encryption to ensure agencies can protect their data, but DoD personnel are already deploying solutions like Knox, Samsung's defense-grade security platform, to secure devices from the hardware up.
Adopting Solutions Catered to the Unique Needs of USAF
The USAF is already going to great lengths to harness the power of mobile solutions for enhanced mission outcomes and enhanced cybersecurity. On June 28, 2018, the Air Force approved Samsung Galaxy series smartphones and select handheld computing devices in a cellular Blanket Purchase Agreement (BPA). This milestone now gives the Air Force the ability to leverage the advanced and customizable features of Samsung's smartphones and tablets with the peace of mind delivered by Knox's advanced security capabilities.
At AFITC, participants will get a chance to see for themselves how Samsung Galaxy tablets like the Tab S4 and ruggedized Tab Active2 can help the Air Force innovate while strengthening its cyber posture. These tablets combine the operational readiness of a commercially available tablet with the versatility of a customizable mobility solution designed to meet strict DoD security and mission requirements.
Attendees will also have the chance to immerse themselves in a virtual environment with Samsung's Gear VR technology. These solutions allow warfighters to virtually navigate combat scenarios, maintenance crew to learn repair techniques and medics to treat patients in the field and more.
This year's AFITC promises new and exciting insights into national defense strategy and how USAF missions can best defend against cyber threats. Stop by Samsung's booth #526 to learn more about how USAF can take its mission to the edge with advanced mobile solutions.
Discover how Samsung's government technology solutions can assist the U.S. Air Force — and all federal agencies — with digital transformation.