For mobile workers today, the smartphone has become an essential tool. Without it, we just can't function. Whether it's for calls, texts or emails to communicate critical information to a colleague, or to access a line of business apps for updates and reporting, mobile has become an absolute must.
The numbers back this up. Employees report spending a third of their day using their smartphones for work, and rank their mobile phone higher in importance than laptops, desktops and other computing devices, according to a survey conducted by GfK. Another study, conducted by Frost & Sullivan, found that smartphones boost productivity by as much as 34 percent.
But when it comes to delivering a more connected and productive workforce, not all smartphones are created equal. Whether you're selecting smartphones for your entire workforce or upgrading your own personal device, here are five reasons to put Samsung's next-gen Galaxy S10 range at the top of your list.
1. More Screen = More Productivity
It's a simple formula: The more screen real estate your phone provides, the more you can see and do. The S10 range offers a choice of screen sizes — from the 5.8-in. S10e, right up to the 6.7-in. S10 5G model — all of which feature Samsung's Infinity display technology to maximize your working space. If you need to edit documents on the go, multitask with multiple apps, or show a video or photo to a client, you have the screen to get it done.
Go Mobile-Only With DeX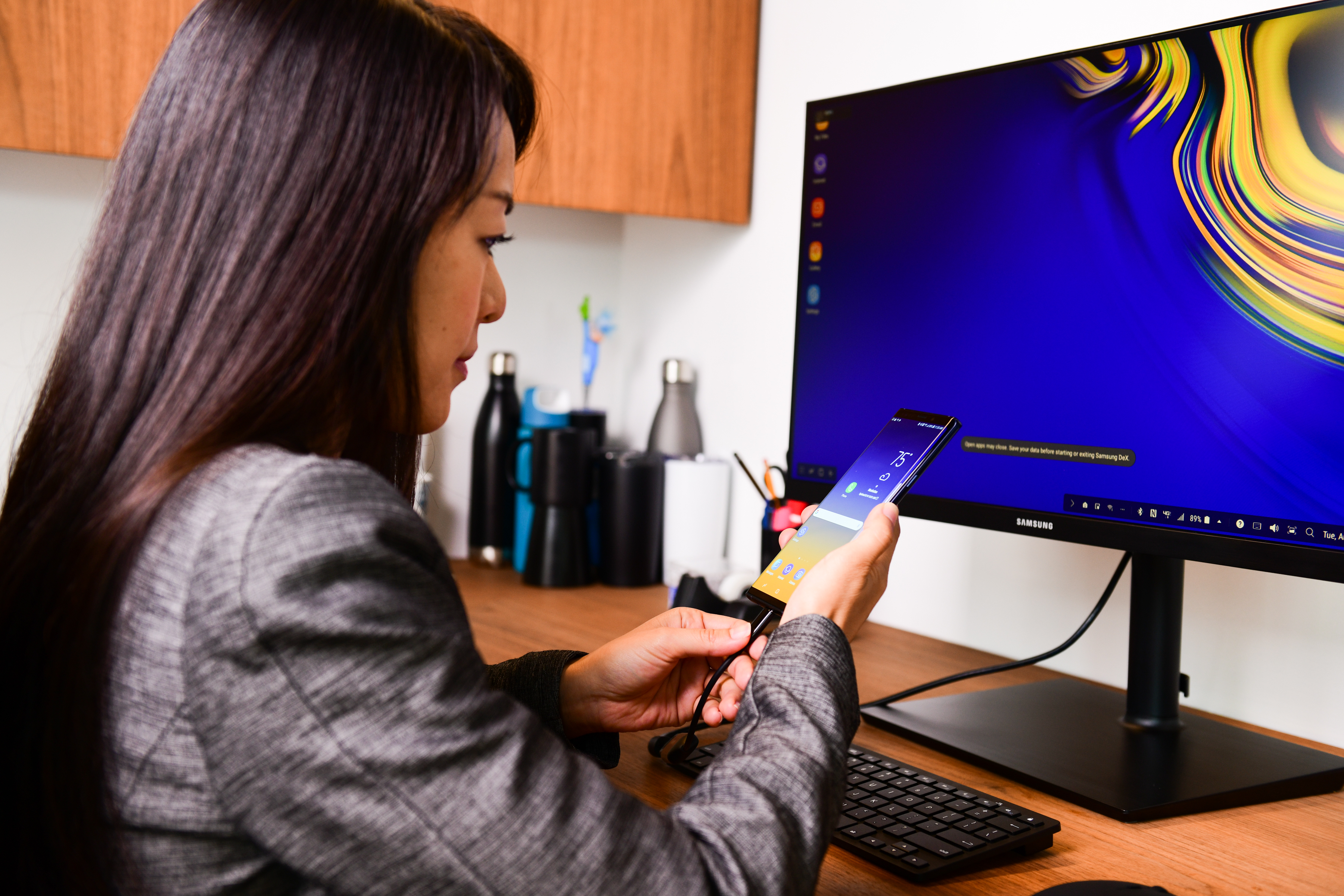 Your comprehensive guide to rolling out a mobile-only solution for your workers. Download Now
2. Accelerate Your Mobile Performance
When you're getting work done on that big screen, you don't want to be stuck staring at the animated loading wheel. With a powerful 7-nm. Octacore application processor, the Galaxy S10 delivers incredible performance and speed to launch apps in a snap. The processor is paired with a memory and storage configuration that compares favorably to most laptops on the market today. The result: PC power in your pocket.
3. You Can Ditch the Laptop
With that much power, why not ditch the laptop entirely? In fact, nearly two-thirds of mobile workers say they're ready to part with their PCs if they could connect their phones to peripherals like a monitor, keyboard and mouse. That's exactly what Samsung's DeX platform enables, extending your Galaxy smartphone to power an intuitive desktop experience. Beyond the potential cost savings of consolidating computing devices, DeX also allows workers to transition more smoothly from mobile to desk and back again.
4. Smarter Battery Management
Nothing puts a damper on your mobile productivity like a dead battery. With the S10, Samsung has upped the ante on battery life by increasing the mAh capacities across the range, but just as importantly, it's introduced some smart new battery management features. In the past, users could choose to put their phone into power saving mode when they needed to prolong battery life, but now the device will do this for you. Opt in to this adaptive power saving feature, and your device will start learning you usage patterns and identifying opportunities to reduce battery usage throughout the day.
5. Get Your Routine Down
We are all creatures of habit, and that's particularly true of the interactions with our phones. Wouldn't it be nice if your phone could preempt your needs and launch your work apps when you walk into the office? With Samsung's new Bixby Routines feature, it can. Using "if this, then that" logic, you can easily set automated routines for all those daily repeats. Want to have your phone connect to in-vehicle Bluetooth, and launch your preferred navigation and music streaming apps whenever you get into your car? There's a routine for that. Need to switch to silent mode and launch your task management app when you arrive at the office? Create a Bixby Routine and you won't ever have to again.
Get the full specs and pricing on the next-gen Galaxy S10 range.