Caring for hospital patients is a team effort. Doctors, nurses and allied health professionals across departments must collaborate closely to ensure quality care and a positive patient experience. Yet, even in large hospitals with state-of-the-art medical equipment, clinical communications and collaboration are often restricted to landline phones and pager systems. Electronic health records (EHR) solutions can enable care teams to share and access information in real time — at least in theory. In practice, "real time" is whenever clinicians find time to log into the EHR.
This is beginning to change with the introduction of mobile solutions designed specifically to improve collaboration in healthcare. Equipped with smartphones and a secure clinical communications platform, care teams can collaborate seamlessly and finally share information in real time.
Collaboration Impacts Patient Outcomes
For hospitals, the ROI of improved collaboration is multifold. In a comprehensive research review, the University of Toronto stated: "Qualitatively, collaborative teams are reported to demonstrate improved sharing of evidence-based practices between professions, improved decision-making and increased innovation. Quantitatively, collaborative teamwork may lead to reduced length of hospital stay, improved compliance with standards of drug prescription, improved quality audit results and improved patient care."
Other studies have looked specifically at the importance of nurse-doctor collaboration, finding that ineffective communication was resulting in a chronic state of conflict between physicians and nurses, resulting in lower staff retention and other negative patient outcomes.
How Can Mobile Platforms Improve Collaboration?
Put simply, there's a lot riding on collaboration in healthcare, and mobile technology can help by connecting teams across disciplines, shifts, locations and even across channels.
One of the innovative companies focused on providing mobile solutions for hospital collaboration is TigerConnect. Like most clinical communications platforms, the company started off as a secure texting provider, but found that SMS was just the tip of the iceberg for mobile collaboration in healthcare. Rebranding from TigerText to TigerConnect, today the company provides the full range of communications options — including voice, texting and videoconferencing — and can also be integrated with EHR, nurse call systems, bedside telemetry and other key hospital systems.
How can hospitals use this sophisticated technology to improve collaboration in healthcare? Will O'Connor, chief medical information officer at TigerConnect, suggests the following best practices.
1. Use Role-Based Messaging to Streamline Communications
Coordinating care is a big job, one that usually falls on nurses. After admission, patients get bounced around the hospital — from surgery to the ICU, from the ICU to a standard patient room, from the bedside to radiology for testing, and then back to the bedside for treatment. "There's a whole cadre of people involved in the advancement of a patient through the care process," O'Connor explains. "The nurse typically ends up doing a lot of that coordination, but shifts change, and people have different days off, so they might not always know which individuals they need to communicate with across these various departments."
TigerConnect lets a hospital map its roster of scheduled staff to defined roles. So whether the nurse needs a housekeeper, a social worker or an on-call physician, they can simply text the role and get in touch with the right person. "If a patient needs a specialist at 2 a.m., there's likely not one at the hospital," O'Connor explains. "The unit manager has to look up the on-call schedule to see who's on duty, find the physician's phone number, call the doctor and hope the schedule is right. We've automated that schedule and tied it to roles that are set up by the IT admin so messages can be routed directly to the role owner, not the individual."
2. Intelligently Route Alerts to Nurses
Nurses aren't the only ones responsible for bedside care and service. They collaborate closely with nursing assistants, housekeeping and dietary services to ensure patients have everything they need for a safe and comfortable hospital stay. Nurses don't always need to be in the loop, but when patients only have one button to push for help, all patient requests get filtered through them. This slows nurse productivity and can create delays in care and service.
How to Create a Mobile-First Hospital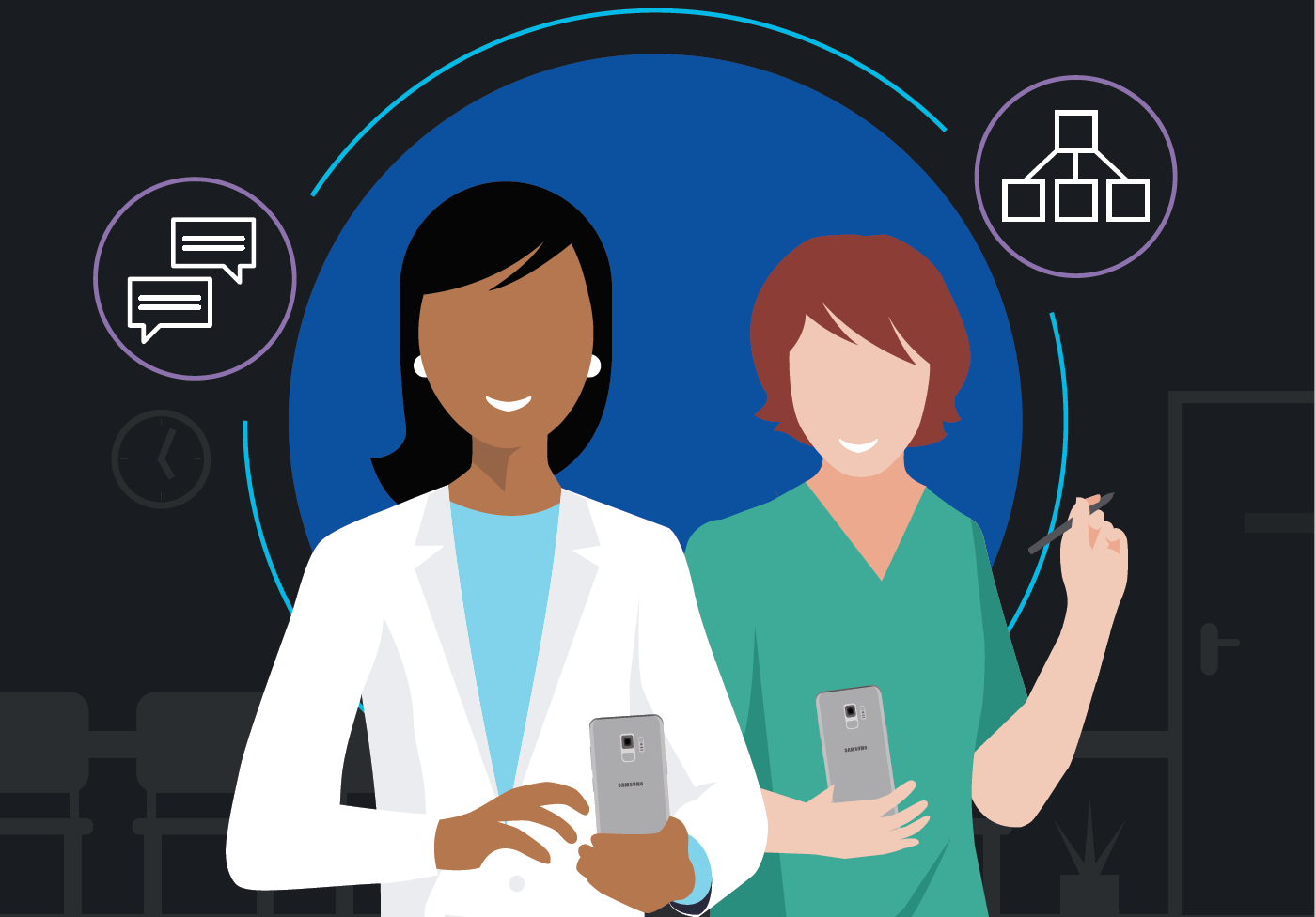 Get your free guide to modernizing clinical communications with smartphones. Download Now
The Joint Commission estimates that in a single day, tens of thousands of alarms signal throughout the average hospital. Somewhere between 85 and 99 percent of those alarms don't require medical intervention. "With traditional nurse call systems, there hasn't been a way to distinguish between something urgent and nonurgent," says O'Connor. "Nurses are caring for multiple patients in multiple rooms, and while one patient needs help going to the bathroom and has pushed the nurse call button, another patient might be in the early stages of sepsis with bedside alarms going off."
Integrating TigerConnect with bedside telemetry and nurse call systems helps to filter out false alarms, prioritize patient requests and send notifications about important alarms directly to nurses' smartphones. O'Connor adds, "If it's something that a nursing assistant or someone else can take care of, then that alert can be routed to the appropriate role."
3. Automate EHR Notifications
Clinicians rely heavily on EHR updates from other care team members. Nurses check the EHR again and again as they wait on doctors to put orders in the system; doctors check again and again as they wait on lab results for their patients.
O'Connor offers the following example: "A patient goes to the emergency department, waits to see a doctor, finally has blood drawn and then waits for the results to come back. Sometimes the lab will turn those results around in 20 minutes, but they can sit in the ER for hours, because unless the physician logs into the EHR and looks at that patient's records, they often have no idea when the results are available."
With mobile EHR alerts, clinicians know the instant that patient lab results are ready, so they can act faster for sick patients and discharge well patients more quickly. One University of Toronto study found that patients admitted into emergency rooms with chest pain were discharged 26 minutes earlier if their physician received a lab results notification on a smartphone. That faster discharge improves the experience both for the patient with chest pain and for the next patient in the waiting room.
4. Provide Secure Mobile Solutions for All Clinicians
According to O'Connor, one of the most common mistakes that hospitals make when implementing a mobile clinical communications platform is buying it for just the physicians or just the nurses.
"Usually it's just the physicians, but if physicians can't talk to the rest of the care team, they won't use it. Rather than implementing a solution like this for a single cohort, hospitals should think about implementing it holistically for all the physicians and allied health professionals."
5. Choose Vendors That Understand Your Unique Challenges
A robust and well implemented mobile platform can be a catalyst for improved doctor-nurse communications, greater teamwork and better patient care. But leveraging mobile devices to improve collaboration comes with its own unique challenges — from ensuring data security and HIPAA compliance, to making sure clinicians get the right training.
TigerConnect and Samsung partner closely to help hospitals take full advantage of a best-in-class clinical communications platform accessed via reliable, affordable and highly secure smartphones.
Samsung offers a range of unlocked phones, which can be used on hospital Wi-Fi without committing to monthly cellular service costs. All Galaxy smartphones are secured by Samsung Knox — a HIPAA-ready, defense-grade mobile security platform that provides protection from the chip up.
As for slowing productivity by implementing new technology, O'Connor says that's not a problem with TigerConnect, which proves its worth right out of the gate. "The market started off in the state of buying secure texting to check the compliance box. Today, more savvy hospitals are taking that technology and applying it to solve specific communication challenges. As a result, they are seeing dramatic improvements across the board, in terms of cost savings, in terms of patient throughput, in terms of patient satisfaction and lower burnout among clinicians. We're part of the solution and not part of the problem."
Use our online assessment tool to gauge the effectiveness of your clinical communications technology and get personalized recommendations.