Digital signage was originally touted in healthcare settings as a way to reduce perceived wait times in seating areas, but the technology has since asserted itself as critical to the day-to-day operations of hospitals and clinics.
Display screens and related technologies are now being used to guide, inform, educate and even calm patients and their loved ones. They're also being used to do everything from celebrating patient recovery to recognizing philanthropists.
Here's a look at some of the ways digital signage is being used in healthcare environments.
Navigation
Medical centers can be very large, bewildering and even intimidating for people entering their lobbies, already worried about an ailment or injury. The first thing they need to do is locate the physician or clinic, and that can mean sorting through dozens of names, rooms and even building numbers.
Optimize Healthcare With Digital Signage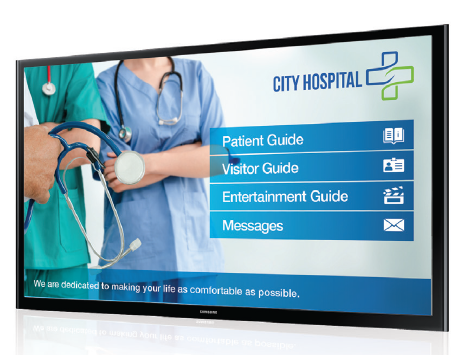 Learn how displays are easing pain points and transforming clinician and patient experiences. Download Now
Larger facilities are using interactive directories and mapping, on large, touch-enabled LCD screens fixed at major entry and decision points, to help guide more effectively and efficiently than possible at staffed visitor desks. Interactive maps can locate where the person is now, their destination and how to get there. Directories can function in multiple languages to better reflect and serve the surrounding community.
Someone with limited English language skills might struggle to find help and directions from medical center staff or volunteers, but could be fully guided on screen in their native language.
Operations
Checking in and taking a number may seem better suited to a DMV setting, but the technology is equally effective in busy clinics, labs and urgent care centers. With a touchscreen, patients can inform a management system that they've arrived and put their names on sorted patient lists that then show up on digital signage screens around the wait area. Called queue management technology, the screens let people know where they stand.
For example, someone who was assigned waiting number 115 can easily assess, based on what the screen is telling them, that there are 14 people ahead of them. That may not be ideal news, but at least they know and can relax, or go grab a snack without missing their turn.
The interesting aspect of these screens is that they are particularly "sticky" — meaning people will look at them over and over. Savvy clinicians are interspersing the wait numbers with important messaging, such as encouraging flu shots.
In treatment areas, screens are used at patient room doors and central care stations to show care status dashboards. Similar to digital meeting room signs, the screens are tied into data from patient management systems to indicate whether the room is occupied, the patient's name or initials, and key indicators that caregivers need — from restrictions and warnings to whether the patient has had breakfast delivered.
At the central station, indecipherable felt marker scribbles on patient assignment whiteboards are supplanted by real-time assignment and status screens, again tied into management systems.
Analysis
Large commercial digital signage and curved, extra-wide desktop monitors now offer the color depth and high-resolution 4K detail needed to be useful to caregivers, notably specialists, for reviewing medical imaging. Plus, their ergonomic design provides health benefits for users over standard rectangular monitors.
High dynamic range (HDR) technology in particular offers health practitioners vivid imaging, both for active patient care and in regular review meetings.
Education
Specialist media companies focused on the medical care industry have for more than 20 years been working with clinic operators to install and operate patient education systems in waiting rooms — recovering their costs through targeted advertising that blends with educational content.
Companies such as Chicago's Outcome Health focus on condition-specific clinics, using digital signage screens in waiting rooms to relay custom content targeting such audiences as people with diabetes. The content educates patients ahead of what may be first meetings with specialists, and are supported by pharmaceutical companies who use the waiting times to raise awareness of new or established medications.
Recognition
Donor recognition walls are fundamental to many larger medical facilities — areas set aside with engraved plaques or other tools that list the charitable contributions of corporations, families and individuals.
LCD video walls and interactive digital signage screens enable hospitals and medical centers to do much more — highlighting donors in images and videos, and also providing engaging information about the center's history, accomplishments and future plans.
Direct-view LED technology, particularly the super realistic microLED technology in Samsung's The Wall, makes it possible to fill entire lobby walls of medical centers with visuals about the institution and its patients, mission and accomplishments.
Comfort and Celebration
In Europe, some medical facilities have turned to LCD screens and narrow-bezel video wall technology as a patient relaxation tool. One Danish research team found that showcasing artwork, photography and music on digital screens effectively calms anxious patients in waiting areas, according to a press release.
In Boston, the Spaulding Rehabilitation Hospital used LCD screens and video walls around its facilities to celebrate the successful recoveries of past patients — using video and images to show uplifting stories of people who came in damaged and fought back to return to productive lives, Digital Signage Today reported.
Medical centers are need-to-know settings that benefit greatly from digital signage. Posting relevant information can direct, educate and calm patients while streamlining operations for caregivers.
Get your free white paper for a more in-depth look at implementing screens in healthcare environments. Still looking for digital signage's place in the future of your business? Samsung will help you find it.