You're working harder than ever before to help your business reach the next level, and you can't afford even a minor hit to your productivity during a busy day. If your mobile tech doesn't support the way you work, you'll be hard-pressed to make meaningful progress.
When you're checking back at the main office to log a timely report or dashing off quick action items to your team between meetings, both you and your device need to continuously operate at peak performance. With that in mind, here are five ways the Samsung Galaxy Note10 helps you do just that, overcoming business problems so you can move your company forward.
1. You Have Trouble Being Productive On-the-Go
When your schedule is packed and you're constantly traveling from one meeting space to the next, it's not easy to be as productive as you'd like. Still, your work is still there, awaiting your attention. You can respond to the demands of the moment with your Note10, never missing an opportunity to make the most of those precious free minutes between appointments.

If you've got an important presentation coming up later in the day and want to make some finishing touches to it, just open up PowerPoint on your Note10 and tweak a couple of details here and there, making full use of the Note10's Cinematic Infinity Display to view each slide with perfect clarity.
Need to mark up a PDF? Use your S Pen to make quick annotations, then email it on to your team for follow-up.
Want to share a particular snippet with a colleague or save it for later? Use the Smart Select feature to zero in on exactly what you want to save from your screen, using the lasso tool to export it as an image. Simply call up the document that has the content you want and tap Smart Select in the Air Command menu to get started. You can even extract text directly from your snippet, sharing it and repurposing it any way you like.
If you're a veteran multitasker, you'll also appreciate the App Pair feature that allows you to view two applications at once in split-screen mode on your Note10's Infinity Display. If you need to keep an eye out for an important email in Outlook while on a video conference with your team, you can have both right in front of you. Or, if you're starting the day and want to check on the latest news while reviewing your appointment calendar, you can do that too.
2. Hot Desking Takes Too Long to Set Up
The speed of business requires maximum flexibility, and this means you might need to grab any available workspace to get your work done. If you're a field technician coming into the office to log reports for 30 minutes after a full day of support calls, all you want to do is log in and check that final to-do item off your list. But if you're booting up an old laptop or desktop, it's going to take you that much longer to complete the task. If you're visiting a regional office and need to get set up in time for an important conference call at an unfamiliar desk, you'll wish you had a way to log on quickly and be productive.
What's the Best Phone for Your Business?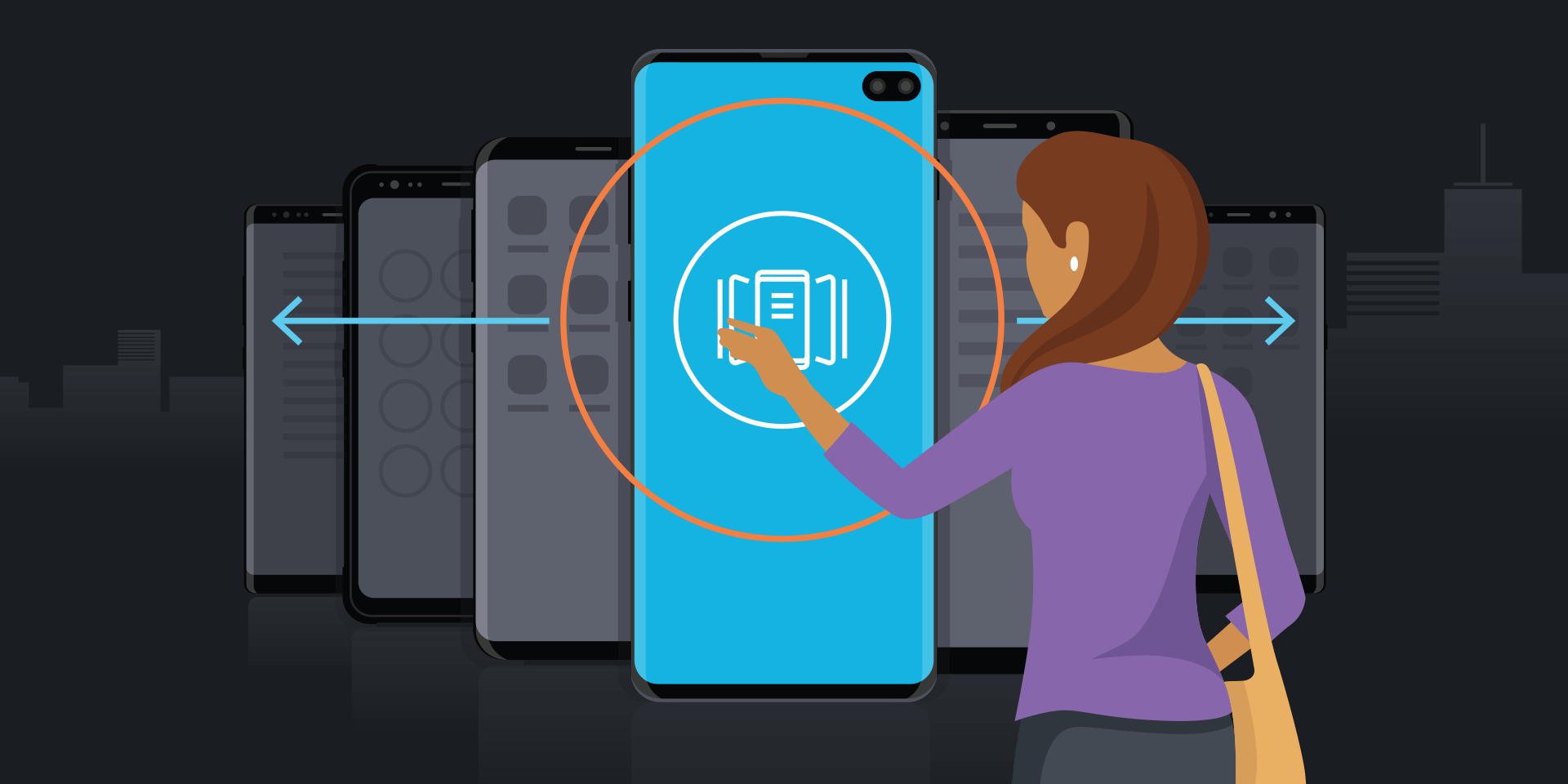 Discover the smartphone most tailored to your business needs. Download Now
Samsung DeX removes this barrier, extending the power of your Note10 to the desktop. DeX stands for "desktop experience," and gives you exactly that, letting you plug in and start working immediately. Just connect your Note10 to a monitor using an HDMI adapter and pair a keyboard and mouse, and you can polish off that report in no time. Even better, you can view all of your Note10's incoming text messages and calls from the same monitor where you're already working, eliminating the need to glance over at your device to see if an important notification came in. With DeX, you can enjoy desktop-level productivity wherever you go.
3. Your Presentation Is in Five Minutes — and You Don't Have Your Laptop
You want to land an important client, and you're confident that you have a winning pitch — but you just checked your bag to find that you left your laptop at the office. Not long ago, your only option would be to wing it without the deck, which is not exactly ideal. But with your Galaxy Note10 and Samsung DeX, you can still deliver the brilliant presentation you had ready to go, closing the deal in just the way you envisioned.
Just connect your Note10 to the display with an HDMI adapter, then launch the presentation in DeX. You can even use the S Pen to advance slides in Microsoft PowerPoint, keeping your presentation moving smoothly and fully engaging the room as you make your case.
Don't have an HDMI cable handy? Simply use Smart View to wirelessly mirror your screen to a Wi-Fi-capable display.
4. Security Tools Hamper Your Productivity
Safeguarding client data should be a top priority for your company, without question. However, it can be enormously frustrating when the security solutions you have in place actually prevent you from getting your work done and moving the business forward. Fortunately, you can now keep your company secure while staying fully productive, enjoying greater peace of mind as you dig into your action items for the day.
Biometrics allow you to unlock your device with the touch of a finger rather than struggling to remember a password, giving you full access to your productivity tools with the comfort of knowing that no one but you will be able to open your smartphone. In conjunction with Samsung Pass, you can log in to all your websites and apps with your fingerprint. No more keeping track of which username or password goes where — simply press your finger to the bottom of your Note10's screen and you're on your way.
Need to keep some extra-sensitive data locked away in a digital vault? Secure Folder lets you completely isolate it from everything else, tapping into defense-grade mobile security features that keep your mission-critical business information safe and secure.
5. You're Multitasking and Your Battery Runs Out
Your boss wants that report right away, but you're on the road and nowhere near the office. You're finishing the last touches on your mobile device when you get the dreaded message: Your battery is running out! Thankfully, you no longer have to worry about showstoppers like this while working on your Note10. Its intelligent, all-day battery not only lasts far longer than ever before, but it also leverages intelligent power-saving technology to make sure you can stay productive all day long. If you need a quick charge, you can get hours of productive use in just a few minutes of super-fast charging.
If you're working with a lot of files, particularly multimedia like videos or photos, then you might run into another frustrating obstacle: lack of storage space. The Note10 comes with laptop-level storage, making this a problem of the past as well. With up to 512GB capacity on board, you won't have to worry about running out of space when you need to be at your most productive.
Your business is moving faster than ever, which means you can't afford to lose precious time whenever one of these challenges pops up. With the Note10, you can be fully productive on-the-go, wherever the day takes you.
Explore how mobile workspace solutions can improve your teams' productivity and collaboration. Or, get a free guide to rolling out a mobile-only solution with Samsung DeX.