Sign up to download the full white paper as a PDF.
When the nation's security is threatened, whether by hostile action or natural disaster, the response from the air needs to be quick and effective. Military aircraft scramble or civilian aircraft bring firefighters, equipment and operational visibility to the scene of an earthquake. In each case, getting those aircraft where they need to be at just the right moment is essential to meeting those challenges.
But civilian and military air fleets are facing a critical challenge of their own: readiness — to the point where missions are at risk.
In 2018, mission capability of the Air Force (USAF) and Navy's F-22s and F-35s hovered at approximately 50 percent, leading then-Secretary of Defense Jim Mattis to order an increase to the readiness of those fighters, as well as F-16 and F-18 fighter aircraft, to above 80 percent by the end of 2019. While the Department of Defense (DoD) continues to make progress toward this goal, readiness levels, especially for the F-35, have not yet met the target numbers.
On the civilian side, the Government Accountability Office (GAO) reported that, of the 924 aircraft owned and operated by 11 federal agencies, 88 were completely nonoperational as of July 2016. That means that a number of planes, helicopters and unmanned aircraft systems (UASs) supporting a variety of critical functions, including law enforcement, scientific research, land and pest management, search and rescue, and firefighting could not be deployed when needed.
Enhance Aviation Mission Readiness With Mobile Technology
Sign up here to download the full white paper as a PDF. Download Now
The importance of government-owned aircraft cannot be understated. Neither can the need to improve mission readiness. Real-time access to high-fidelity data — accurate, comprehensive and expansive — can make the difference for maintenance teams, pilots, aircrew, decision makers and support organizations. But the key is putting mission data directly into the hands of the full range of personnel who ensure readiness and responsiveness, from back offices and flight lines to the front lines of operations.
Mobile devices — tablets, smartphones and wearables — are enablers in aviation. Organizations can deploy mobile devices in various ways in order to access information that drives a host of benefits, such as better enhanced workflows, greater productivity and overall lower operational costs. However, most importantly, integration of mobile tools allows technicians and supporting personnel to better maintain aircraft so the fleet can remain fully mission capable and ready for deployment at a moment's notice. In short, mobility can positively impact readiness.

Mobility in Aviation: A Culture of Transformation
Mobile-first strategies flip the model for how work is done on land and in the air, shifting workflows from a desktop-centric approach to untethered mobile access that extends to the mission edge. It's about more than putting smartphones and tablets in the hands of airmen or aircraft maintainers; it's a fundamental shift in how work will be done going forward, centered on a workforce that creates and consumes data not at a desk, but at the point of need.
There's an opportunity for front-end and back-end aviation applications and processes to be rethought and designed to support personnel that must operate in and around the cockpit, with touch-based interfaces optimized for smaller screens, apps and data that load fast yet still deliver extreme clarity and detail, and processes that make sense for personnel working one-handed in often difficult flight line conditions.
The USAF and a number of agencies with aircraft fleets are already well on their way to reimagining work as mobile-centric, and are seeing huge benefits as a result: reducing man hours needed to complete tasks; eliminating the weight, space and costs of paper; and enabling greater controls over assets and expenditures. By allowing decision makers to exchange information in real time with on-site personnel, mobility supports smarter, faster tactics and more effective use of budgets and resources. Mobile workers understand this. In fact, according to a study by Frost & Sullivan, workers estimate smartphones increase their productivity by 34 percent.
And each generation of technology pushes the possibilities further. Mobile-first architectures will open the door to emerging 5G network capabilities that are poised to unlock even more potential for connected communications and new applications aimed at supporting aviation missions. From streaming 4K video to increasing data processing speeds for artificial intelligence (AI) and data analytics, 5G networks will power a whole ecosystem of new mobile solutions that will enable smart airfields and further streamline aviation supply chains, reduce power needs and enhance security by linking everything from internet of things (IoT) devices to sensor arrays to blockchain-based applications.
The Power of Tablets in Aviation
Key to improving aviation mission execution is quicker access to data-driven insights about airfield, aircraft and airmen operations and performance. Today, the familiarity of smart devices means mobile solutions that can collect and manage information are intuitive and easy to adopt by aircrew and maintainers alike. Fast, lightweight, portable and secure tablets can replace not just bulky paper documents like charts and maintenance and procedure manuals, which quickly go out of date the instant they're printed, but laptops, which are heavy and slow, and take two hands and a stable surface to use, with substantial power demands. Tablets can be carried in one hand, mounted to equipment or even strapped to a pilot or technician's arm or leg for easy access so data can be collected and transmitted virtually anytime, anywhere.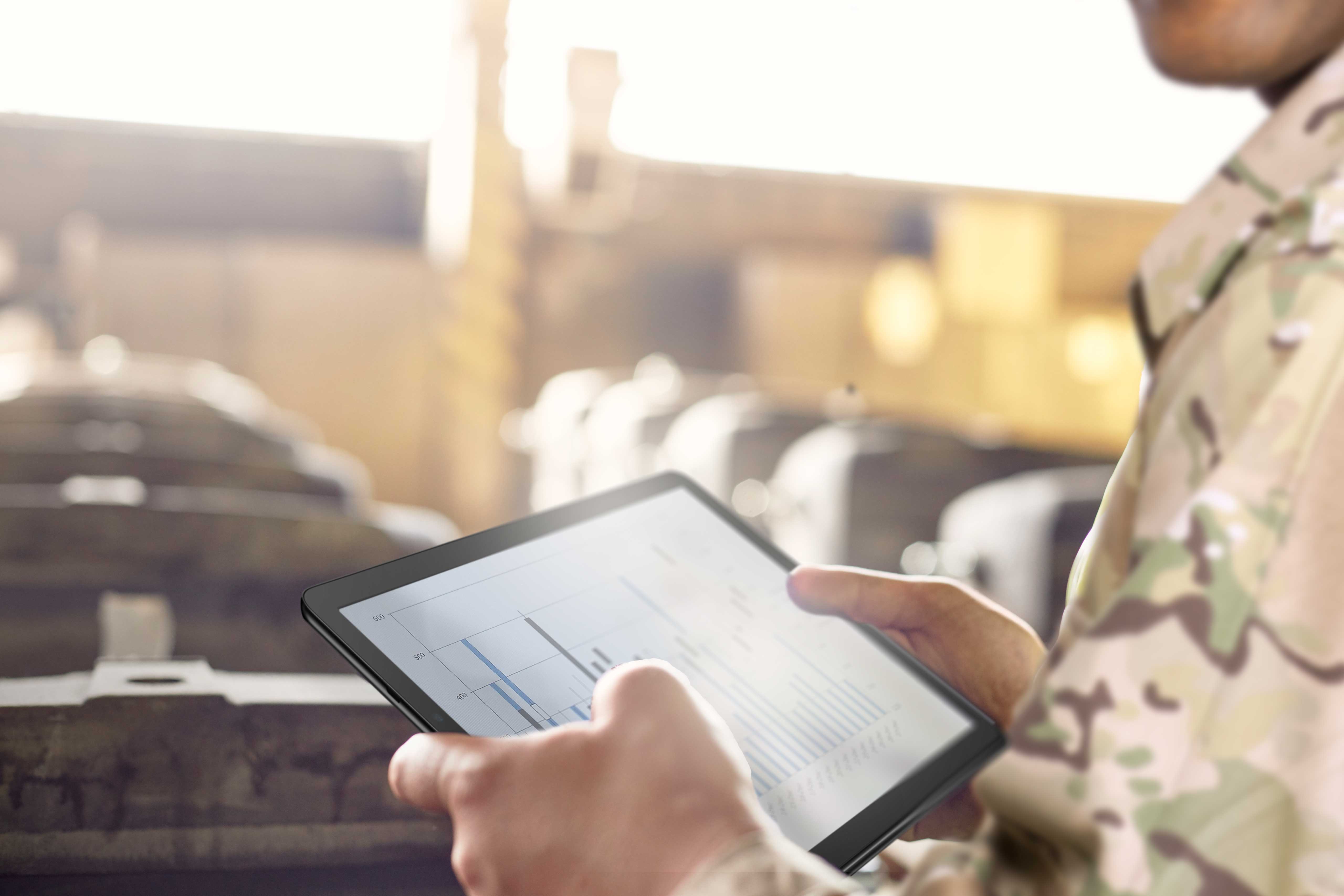 Across the DoD and civilian agencies, tablet-based solutions are proving themselves essential by providing advanced capabilities, from defense-grade mobile security to powerful processing for maintenance data collection and flight line productivity applications.
Reducing Load, Lowering Costs
Electronic flight bags (EFBs) and Electronic Kneeboards (EKBs) have reduced both the costs and the weight of paper manuals and handbooks, which quickly become out-of-date. Tablets also provide access to critical flight and aircraft information to ensure weather, images, navigational charts and flight calculations are current. By one USAF Air Mobility Command estimate, removing 120 pounds of paper from every sortie in large cargo and refueling aircraft can save approximately $780,000 per year in fuel costs, as well as $3.7 million in printing and paper distribution costs.
The benefits are similar for civilian agencies. The Agricultural Research Service, for instance, uses aircraft for both scientific research and pest control to protect natural rangeland, soil and water. Tablets can provide pilots and crew with easy access to information, including high-altitude photos and electronic imaging, to ensure resources are used accurately and effectively.
Optimizing Flight Line Maintenance
While the Air Force has stepped up its readiness efforts with additional maintenance personnel, mobile solutions are again able to provide greater data access to support more efficiencies and capabilities. The eTools format supported the move from paper documentation to digital, and roughly five years ago the USAF migrated from slow, heavy laptops to ruggedized tablets as a more portable flight line solution. Tablets were deployed to provide a versatile, lightweight, single point of access to work orders, manuals and inventories, with detailed information that is continually refreshed.
More recently, the DoD has taken some cues from commercial airlines, adopting the Condition Based Maintenance Plus (CMB+) approach to reduce life cycle costs and improve aircraft reliability and availability. Rather than wait for parts to fail or replace them according to manufacturers' estimates, the program looks at actual performance data to forecast parts replacement schedules.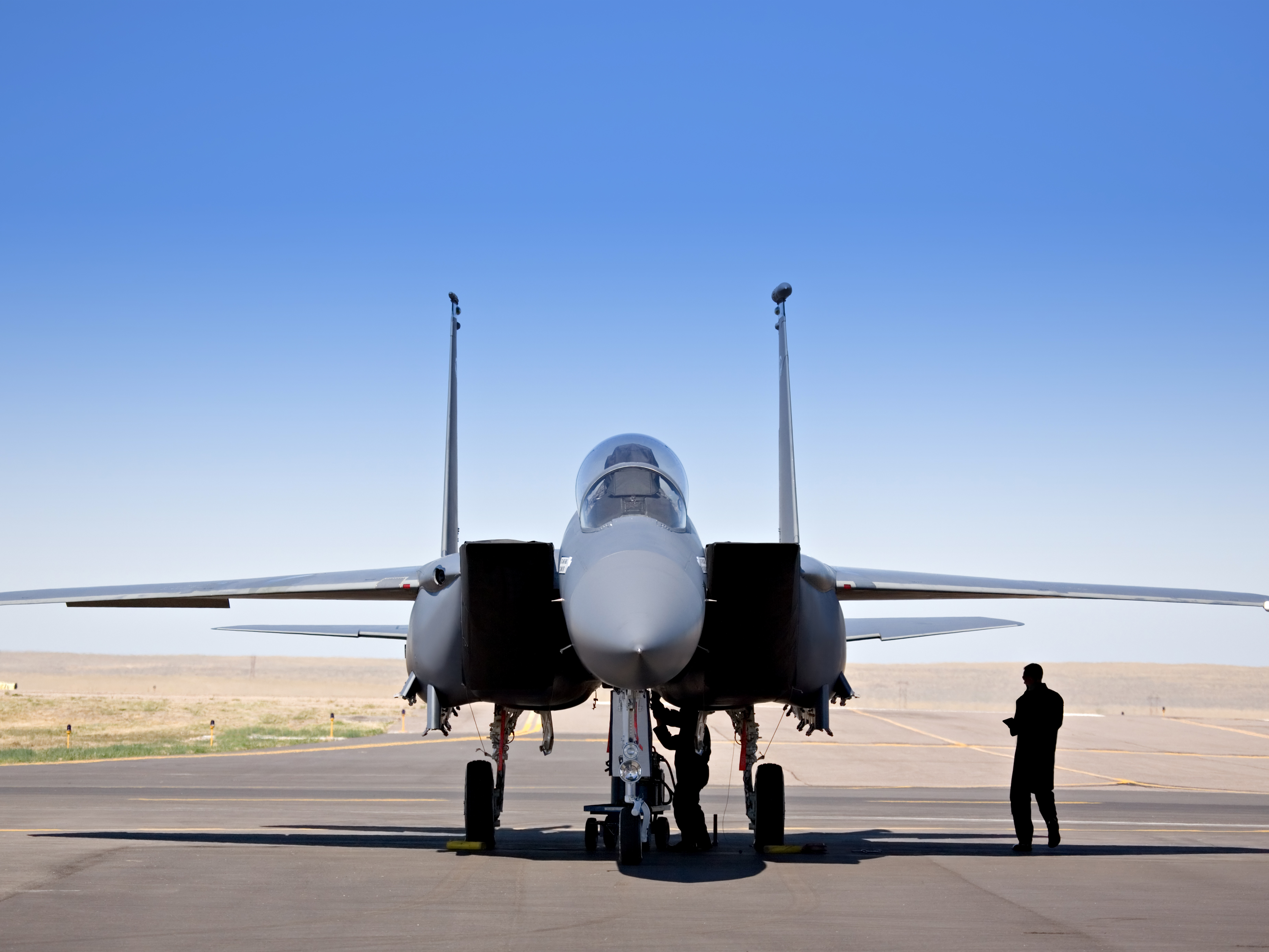 Tablets allow for on-site parts inspections, around and within aircraft. Crews can securely access applications, tactical operations data and portals, including the USAF Enhanced Technical Information Management System (ETIMS), and inspectors can pull up schematics and parts lists, along with high-resolution images for comparison with parts currently in use. Replacements can be ordered on the spot via the mobile device and linked to specific aircraft for better tracking. Using tablets on the flight line can deliver the up-to-the-minute insights needed to manage diagnostics, make repairs and reduce turnaround time, maximizing equipment lifespans and greatly improving mission capable rates.
Enhancing Situational Awareness
During in-theater operations, whether for defense or humanitarian missions, real-time awareness is crucial. Tablets, using applications designed to provide improved situational awareness, can deliver greater connectivity between airborne and ground personnel by feeding data into the network that can inform the mission, and then be accessed in the cockpit. For example, ground forward air controllers can convey data and voice communications. The data immediacy that mobile tools provide translates into the close air support (CAS) taking just seconds, instead of minutes.
On the civilian side, agencies like the Forest Service regularly need to quickly transport personnel and equipment to fight fires in remote areas. Tablets used in the air as EKBs or EFBs can provide access to maps and publications that support the pilot in mission operations. Tablets also allow ground controllers to mark areas of interest and feed that data into the network to aid coordination. Using secure communications and taking advantage of both LTE and Wi-Fi networks, tablets play a key role in coordinated response while enhancing responder safety.
Streamlining the Supply Chain
Mobile technologies have revolutionized logistics for aviation, providing unprecedented supply chain and asset visibility. These improvements are crucial for the DoD, which manages approximately $91.7 billion in secondary inventory items, totaling 4.9 million stock keeping units (SKUs). Logistics failures directly impact readiness; aircraft that are sidelined for want of a specific part can't support mission goals, and excess or outdated inventory affects the ability to put resources where they are needed.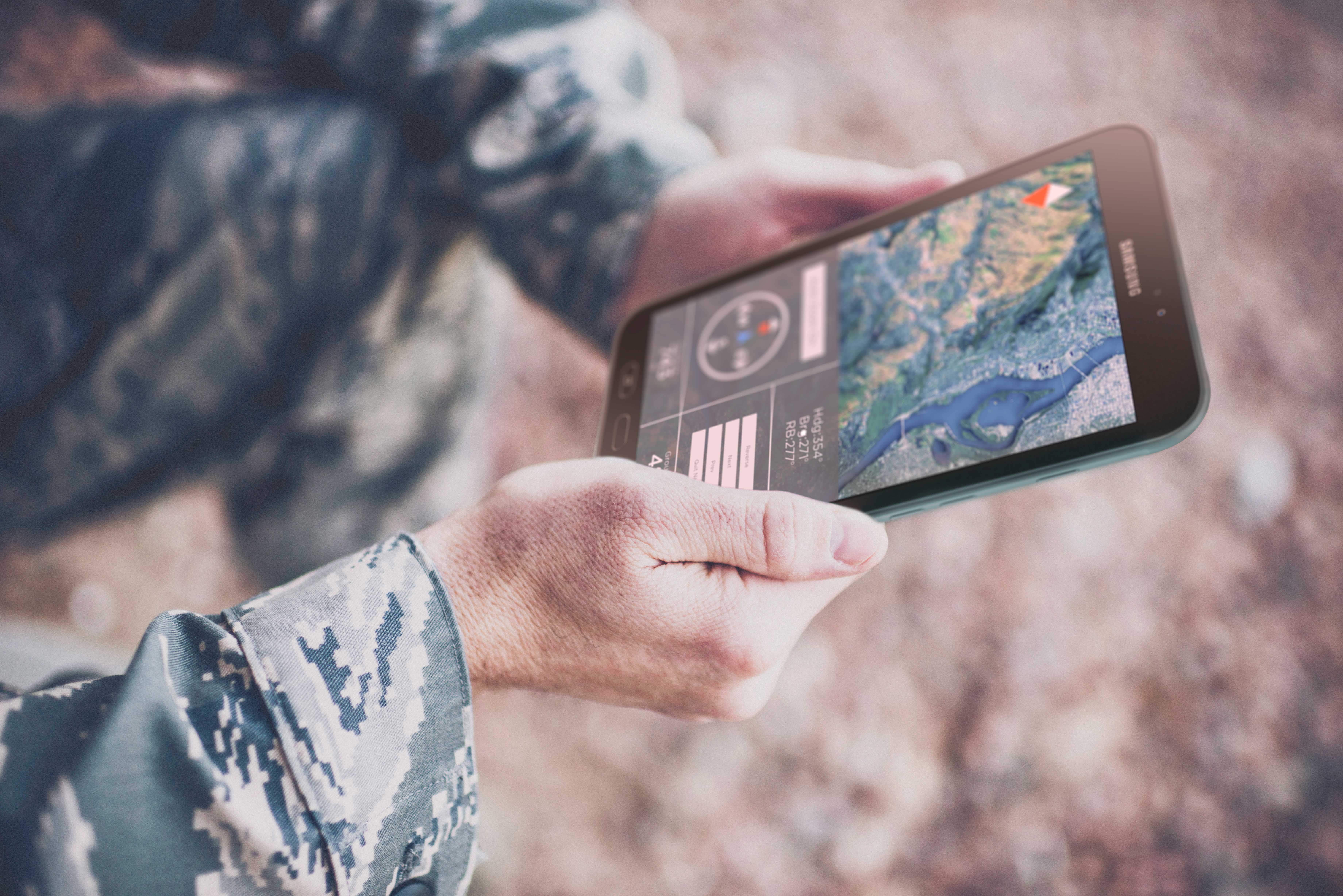 By using tablets integrated with peripherals such as barcode scanners and securely linked to back-end systems, maintenance and asset management are greatly improved. With enhanced access to supply chain data, inventories can be tracked more accurately, requirements can be anticipated and materials can be delivered precisely when needed, all of which can improve readiness.
Ruggedized tablets that meet stringent IP68 and MIL-STD-810G certifications, such as the Samsung Galaxy Tab Active2, can be taken into challenging environments where it could be exposed to harsh base, warehouse or flight line elements. Personnel can quickly manage inventories and operations, track assets globally and ensure aircraft are maintained and managed effectively — all in real time, all at the point of need.
Mobilize Recruiting to Augment Force Readiness
A career in military service can be an appealing option for young men and women. Yet, recruiting numbers are down, and recruiters can't wait for enlistees to come to them; the competition with the private sector is too great.
As one example, the Marine Corps Recruiting Information Support System II (MCRISS II) is a reimagining of how recruiting can address these issues. Designed from the ground up for mobile use, MCRISS II relies on commercial cloud technology and can also work offline as needed. Designed with significant input from the recruiters themselves, the system provides tools to identify prime candidates, compare applicants and track a recruit's progress from first contact all the way to the end of boot camp.
There's another key benefit of mobility to a USAF experiencing a shortage of recruiters. Mobile technology is a force multiplier, giving recruiters quick access to information and multiple channels for outreach, including via video chat, career fairs and campus visits. They can even manage social media from the road on their mobile device to build excitement, posting from remote sites and sharing photos and recruitment stories. Recruiters can easily yet securely access candidate management and lead capture tools, along with apps to match prospects to military careers.
Mobile outreach can be a crucial factor in hitting recruitment goals. And, to reach a demographic made up entirely of digital natives, actively using mobile technology sends a clear message that the military has an eye on the future.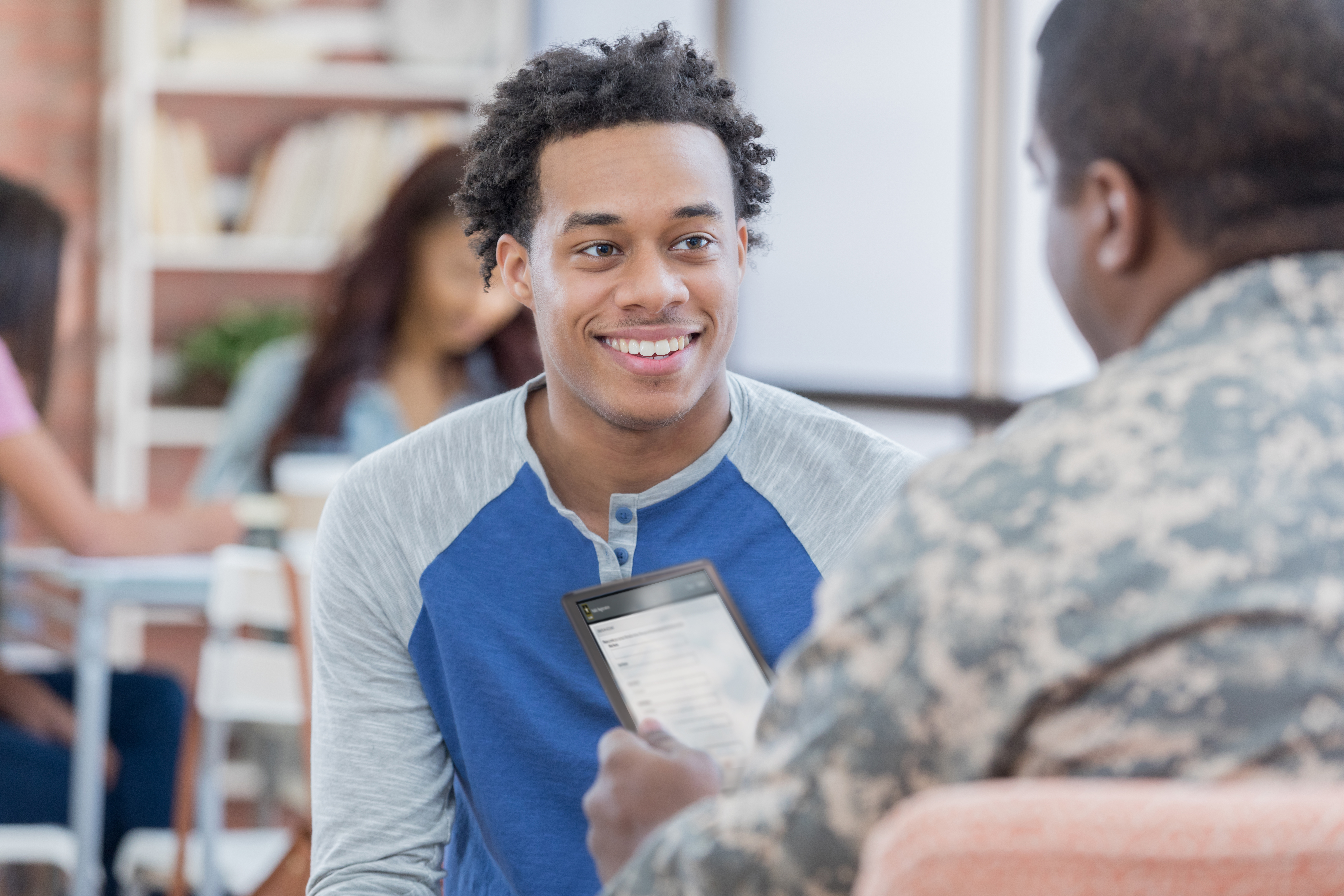 Samsung Tablets: Powering Intelligent Missions
Samsung's suite of mobile solutions are built from the ground up to support government demands in multiple scenarios, providing exceptional reliability, connectivity and ease of use. Mission-ready Samsung Galaxy tablets exceed DoD requirements by meeting the highest certification and security standards including Common Criteria, MIL-STD-810G, IP68 specifications and Federal Information Processing Standard Publication (FIPS) 140-2.
Most importantly, Samsung tablets can be provisioned and deployed to securely access, collect and manage mission data and applications so airmen, technicians and other aviation personnel can inform better decision making, increase productivity and optimize mission and aircraft performance. This would ultimately bolster mission capable rates for enhanced readiness.
Samsung delivers this differentiation via the Knox defense-grade mobile security platform, which is built-in from the chip up to protect sensitive data and networks. Multifactor authentication (MFA) techniques, including dynamic biometrics and behavioral analytics, can also be integrated with Knox to enhance security without slowing down authorized users. For continuous security and control, Samsung Knox solutions help ensure only the right people have access to data and resources, allowing IT to remotely lock down devices in just seconds in case of a threat or cyberattack.
Samsung's tablet ecosystem tailored to the needs of aviation is composed of:
Galaxy Tab Active2: A ruggedized, 8-in. tablet offering both LTE and Wi-Fi connectivity for uninterrupted service. IP68-rated for dust and water resistance, the Galaxy Tab Active2 is also MIL-STD-810G certified to protect against drops, shock and vibration; dust; high altitudes; and temperature and humidity extremes, on the ground or in the air. With its compact form factor, it can be enhanced with certified third-party tools and mounts for use in EFB/EKB solutions, and can be taken in and around aircraft and out to the front lines.
Galaxy Tab S4: Enterprise-ready and made for the mobile federal workforce, the 10.5-in. Super AMOLED display and S Pen gives decision makers the ability to create, visualize and share high-resolution graphics, video and complex data, supporting use cases such as logistics and supply chain visibility, operations and material readiness.
Galaxy Tab A 10.5: For day-to-day business and operations, the Galaxy Tab A 10.5-in. brings portability, high-resolution graphics and a broad range of applications to every mobile user, providing fast, reliable connectivity with data sources and multimedia via LTE.
With operational readiness out of the box, Samsung Galaxy tablets are also highly customizable and designed to interoperate seamlessly with existing networks. All models can be tailored with a broad array of third-party applications and hardware enhancements, including scanners, mounts and docking stations, to meet evolving mission needs.
A Data-Driven, Mobilized Workforce Drives Greater Readiness
A mobile-first strategy is essential to ensuring government air resources are equipped with the right tools that can deliver the intelligence needed to meet the next challenge. Mobile solutions that put more rich data into the hands of airmen, technicians and other personnel means faster, more effective maintenance, vastly improved situational awareness, greater supply chain visibility and lower costs. Mobile devices are also part of an effective recruiting strategy, helping keep the ranks of essential personnel full.
Samsung Galaxy tablets should be a core component to an agency's mobility strategy. The combination of defense-grade security, configurability and interoperability in a package that's both familiar to users and easy for IT organizations allows users to manage, quickly deploy and benefit from being able to get work done closer to the edge where it happens. Galaxy tablets deliver all the benefits of mobility, from the front line to the flight line, to support readiness and responsiveness whenever the mission calls.
Learn more about Samsung solutions for federal government and defense applications.