It may seem ironic that an industry built around mobility would be slow to adopt mobile technology, but this is exactly the case with aviation. According to Diane Ashby, Samsung's lead in developing mobile solutions for aviation, this is largely because airlines have too much at stake to take mobile adoption lightly.
"Aviation is a highly regulated industry with a lot of critical processes to consider, like ensuring the correct passengers are on board, planes are mechanically sound and ready to go, and passenger data is being kept secure," says Ashby. "When you think of it this way, you could say airlines have taken the appropriate amount of time to test, pilot, validate and implement new technology."
That's not to say Ashby doesn't see considerable untapped potential for mobile to bring greater efficiency and improved customer experience to airline and airport operations. In fact, she sees powerful phones such as the Samsung Galaxy Note10 combining with Samsung's DeX platform to power not just on-the-go access, but also stationary terminals at airport ticketing counters and gates.
"Samsung DeX is a strong fit for airlines because the seamless mobile-to-desktop workflow matches how they work," she says. "The idea that they can eliminate aging computer terminals and instead dock their smartphone and power a desktop experience is really compelling for airline staff."
Here's a deeper look at how Ashby is envisaging a "mobile-only" future for airlines and airports.
Customer support reps (CSRs) and ticketing agents need timely access to data
"As CSRs are floating throughout the airport to assist passengers, almost anyone they help is going to be in a stressful situation. Maybe they need help locating their new gate, or they've missed a connection and need to rebook a flight. As a CSR, the quicker I can access info and provide that passenger with what they need, the better the passenger's experience will be," Ashby explains.
Right now, CSRs don't have hands-on access to much of the data they need to assist passengers. Many are still reliant on two-way radios for communications. Meanwhile, the customer is only growing more frustrated, and potentially even less likely to reach their gate on time.
With a Galaxy Note10 in hand, CSRs can remain logged in to key systems as they move about the airport, giving them access to everything they need to help passengers at their fingertips. And speaking of fingertips, the biometrics on the device make secure sign-in instant and ensure passenger data remains safe.
Go Mobile-Only With DeX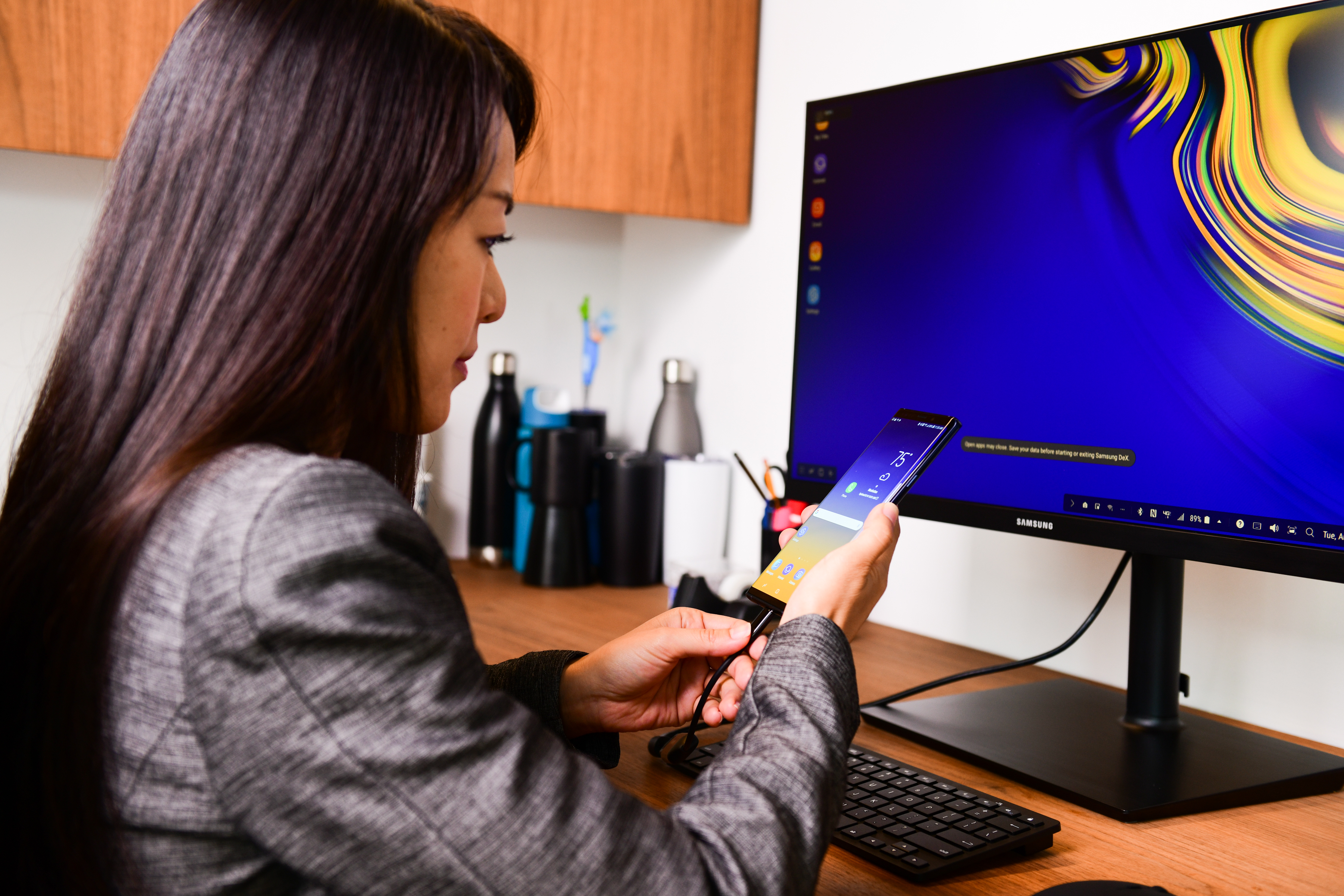 Your comprehensive guide to rolling out a mobile-only solution for your workers. Download Now
Gate agents face similar technology challenges, often taking five to ten minutes just to log in once they arrive at a gate.
"When a ticketing agent is assigned to a gate, carrying a Note10 means they can log in on their way to the gate, avoiding those delays," Ashby says.
Once at the gate, agents can simply connect their device to a monitor, keyboard and mouse to launch DeX (which is short for "desktop experience") via a single cable. Here they'll review the standby and upgrade lists, and help passengers with any other requests. Once the flight has boarded, the agent disconnects their smartphone and can transition quickly to the next gate, remaining connected and productive the whole way.
Flight attendants, ground operations and beyond
Mobile will become increasingly critical for flight attendants in the air too, according to Ashby.
Smartphones and tablets already serve as a POS terminal for in-flight catering purchases for many airlines. Frontier Airlines has found success moving to mobile POS, improving the customer service, increasing revenues and streamlining payment processing.
Interestingly, Frontier also said the mobile devices improved employee morale. Flight attendants loved getting company-issued devices that they could also use to stay connected in between flights.
Ashby sees similar potential with Galaxy smartphones and Samsung DeX, allowing flight crew to connect at their hotel or home after-hours to to view training sessions, check their schedule or for personal computing.
Mobile transformation is on the horizon for ground operation too. "Airlines are running cost-benefit analyses on moving to mobile devices for ground and baggage crew and other operational situations," Ashby said. "These are all highly mobile roles but managers would benefit from the desktop experience that DeX provides. Operations have the opportunity to go mobile-only too."
To help enterprises considering a mobile transformation initiative with DeX, Samsung has published an in-depth white paper covering key considerations such as device management and application migration strategies. The Samsung Business Services team also offers a range of consultative and support services to businesses undertaking large, complex mobility programs.
However it unfolds, Ashby predicts a mobile-only future is on the horizon for aviation. It's simply going to happen as change always does in this industry — with a hefty measure of research, testing and due diligence.
Discover how the Galaxy Note10 can bring a new level of productivity to your enterprise, or learn more about using Samsung DeX to go mobile-only in our free white paper.