How can mobile technology for seniors boost engagement and even improve cognitive health? That question prompted the Birdsong Initiative, a senior care study conducted in partnership with senior life care community Westminster Canterbury on Chesapeake Bay and the Eastern Virginia Medical School. The study aimed to determine if touchscreen tablets delivering targeted content, made available 24/7, could improve the quality of life for older adults and reduce stress for their caregivers.
The Centers for Medicaid and Medicare Services (CMS) encourages healthcare providers and caregivers to reduce the use of unnecessary antipsychotic medications, and instead try nonpharmacological ways to redirect residents and control challenging behaviors associated with dementia.
With that goal in mind, the Birdsong Initiative sought to deliver a curated collection of engaging content through tablets provided to each resident. At the conclusion of the 24-week study, investigators found a decrease in depression symptoms, reduced medication usage, fewer and less intense behavioral episodes, lower blood pressure, higher cognition scores and less stress among caregivers.
Program expanded due to positive study results
Encouraged by the positive outcomes from the initial study, the Birdsong team from Westminster Canterbury expanded the program to other senior care communities. "The statistical significance of the study and the program's ability to improve overall cognition drove us to get this technology to as many seniors as possible," says Aisha Azher, coordinator of special projects and the Birdsong Initiative for Westminster Canterbury.
Your Definitive Guide to EVV Compliance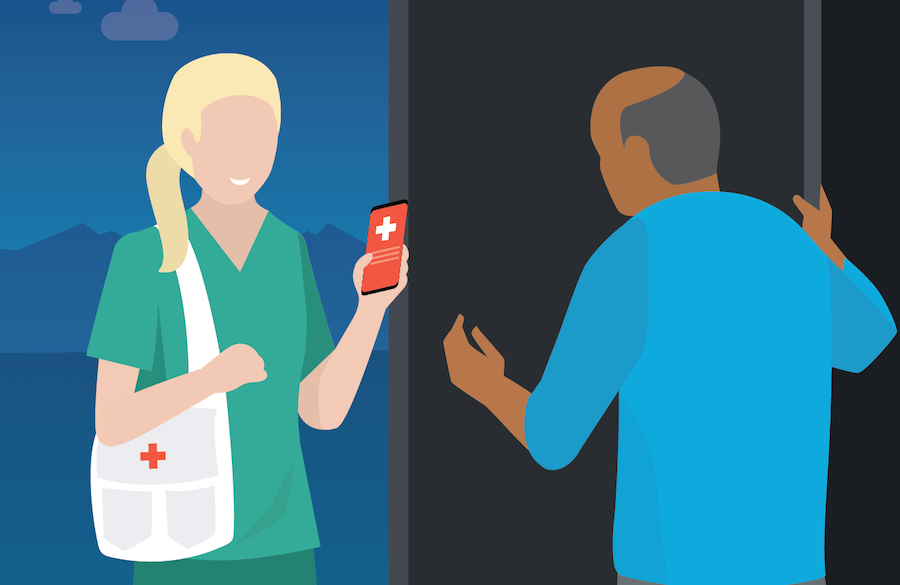 Discover how mobile solutions can can help your agency satisfy EVV requirements in your state. Download Now
The program utilizes a Samsung Galaxy Tab A that comes preconfigured with easy access to hundreds of hours of content including games, music, classic TV shows and videos, as well as travel-focused and therapeutic content. The tablet's touchscreen makes use simple, even for those with arthritis or other motor limitations. The devices are easy to hold and large screens make viewing comfortable for those with impaired vision.
User-friendly interface makes tablets simple to use
Though the initial study focused on care center residents with dementia, the Birdsong Initiative tablets are appropriate for a much broader audience, including seniors living independently at home or in senior care centers.
The tablets are customized to provide access to only the Birdsong Initiative application. The main screen shows six large, intuitive icons that direct users to specific content. A large red "home" icon is always present on screen. By pressing that, the user is returned to the main page.
In addition to educational and entertainment value, the customized tablets are also designed to simplify connecting with family and caregivers. A communication app loaded on the device makes it simple for users to reach loved ones over video chat or messaging by simply clicking the "connect" icon.
Safe, secure devices bring peace of mind
The ability to fully customize the tablets was key to ensuring seniors adopted the technology. "We were impressed by the Samsung Knox platform," says Azher. Samsung Knox Configure, a cloud-based device management tool, enabled the technical team to preload the Birdsong Initiative application and customize the overall experience, removing access to unneeded features or menus that could cause seniors to get lost or frustrated.
"Samsung Knox allows us to lock down the tablets and keep them user-friendly for the population we are targeting. It really helps us simplify the user experience for older adults who have never had much exposure to technology," Azher explains.
The Birdsong Initiative team has expanded the tablet offering beyond senior care centers. The organization now offers the tablets directly to consumers. "Samsung has a wide reach. Partnering with them made sense for us as we looked to scale the program," says Azher. She continues, "Making this technology affordable, accessible and easy to use means seniors can take engagement into their own hands. They can interact with meaningful content to improve their psychological well-being and their quality of life."
Learn more about how mobile healthcare technology improves the patient experience and quality of care in this free white paper. Explore more of the ways that technology helps seniors stay connected with their families.