In-home caregivers provide the vital link between physicians and their housebound patients. As they care for outpatient and at-home patients — most of whom are elderly, infirm or chronically ill — they also coordinate the patients' care plan after consulting with the patient and their other caregivers and physicians. They provide wellness checks, nursing services and even physical and occupational therapy, all of which helps keep patients out of hospitals and care facilities.
Like their colleagues in the healthcare sector, home caregivers have adapted to electronic health records (EHR) and other digital documentation requirements. Many caregivers traded in their clipboards for laptops years ago. Now, their heavy, battery-draining laptops are being replaced by tablets that are lighter and purpose-built for healthcare professionals. With robust computing power and extended battery life, Samsung Galaxy tablets make it easier than ever for nurses and caregivers to share, for example, educational videos with patients as the provider is on their way to their home.
Rugged tablets like the Galaxy Tab Active3 also provide the option of a mobile device built to withstand the rigors of home healthcare work. The Tab Active3 passed more than 20 MIL-STD-810 durability tests, including repeated drops, immersion underwater, extreme temperatures and constant vibration. Healthcare workers will appreciate the S Pen stylus, the barcode scanning capability and the enhanced touchscreen that allows them to use the device without taking their gloves off. The rugged tablets also offer the option of LTE connectivity, so caregivers no longer have to rely on Wi-Fi. For another option, the Galaxy Tab A8 offers an easy-to-see, 10.5" LCD screen, so patients will easily be able to input information, or digest forms they need to sign. It also boasts fast charging, and all-day batter life, so caretakers with several appointments to make won't have to worry about running out of charge during their shift.
Shop special offers
Find out about offers on the latest Samsung technology.
see deals
Speak to a solutions expert
Get expert advice from a solutions consultant.
Talk to an expert
These are just a few of the ways these healthcare tablets are improving home healthcare outcomes, improving the lives of caregivers, physicians, patients and the IT administrators who manage and service these mobile devices. Here are five examples of the advantages these tablets can bring:
1. Telehealth virtual visits
Galaxy tablets come equipped with high-quality cameras that enable telehealth sessions, and caregivers can take advantage of Samsung's partnerships to deliver cutting-edge remote care. With the HIPAA-compliant Caregility platform, clinicians can conduct virtual visits, clinical consultations and remote patient monitoring (RPM). The Swift Medical Wound Care solution allows for remote wound evaluation that can capture images, improve healing and reduce readmissions.
2. HIPAA-compliant devices for secure patient information
Samsung tablets come equipped with Samsung Knox security. The HIPAA-compliant, defense-grade security platform separates work data from personal data on the tablet, so employees can easily switch back and forth between work and personal apps. Knox also allows IT to monitor and secure enterprise data without infringing on workers' privacy. Your home caregivers stay connected, and patient data stays protected.
3. All the apps you need, right at your fingertips
In addition to security, the Knox Suite of device management solutions provides administrators and developers with a toolset they can use to customize and deploy a purpose-built device across a department or entire hospital. Your devices can be tailored specifically to provide whatever your caregivers need to do their jobs effectively — and nothing they don't. All those devices can then be bulk enrolled to conform to your settings, then updated regularly to ensure they remain operational and secure against the latest threats. This process makes the device more intuitive for the end user and circumvents the addition of insecure and unnecessary, memory-hogging apps.
4. IT administrators can configure many devices all at once
Building on Knox Suite, the cloud-based Knox Configure tool allows IT administrators to remotely provision and configure a whole fleet of Samsung mobile devices, quickly and conveniently. Knox Configure makes it easy to customize an off-the-shelf device for a specific business purpose. The streamlined setup process means you can skip tedious setup wizards and remove any preloaded apps that you don't need. You can even embed your facility's brand onto the device — not to mention maintain granular control of everything from connectivity settings and feature restrictions to bootup animations, home screen customization and more.
Get your ultimate guide to Knox Configure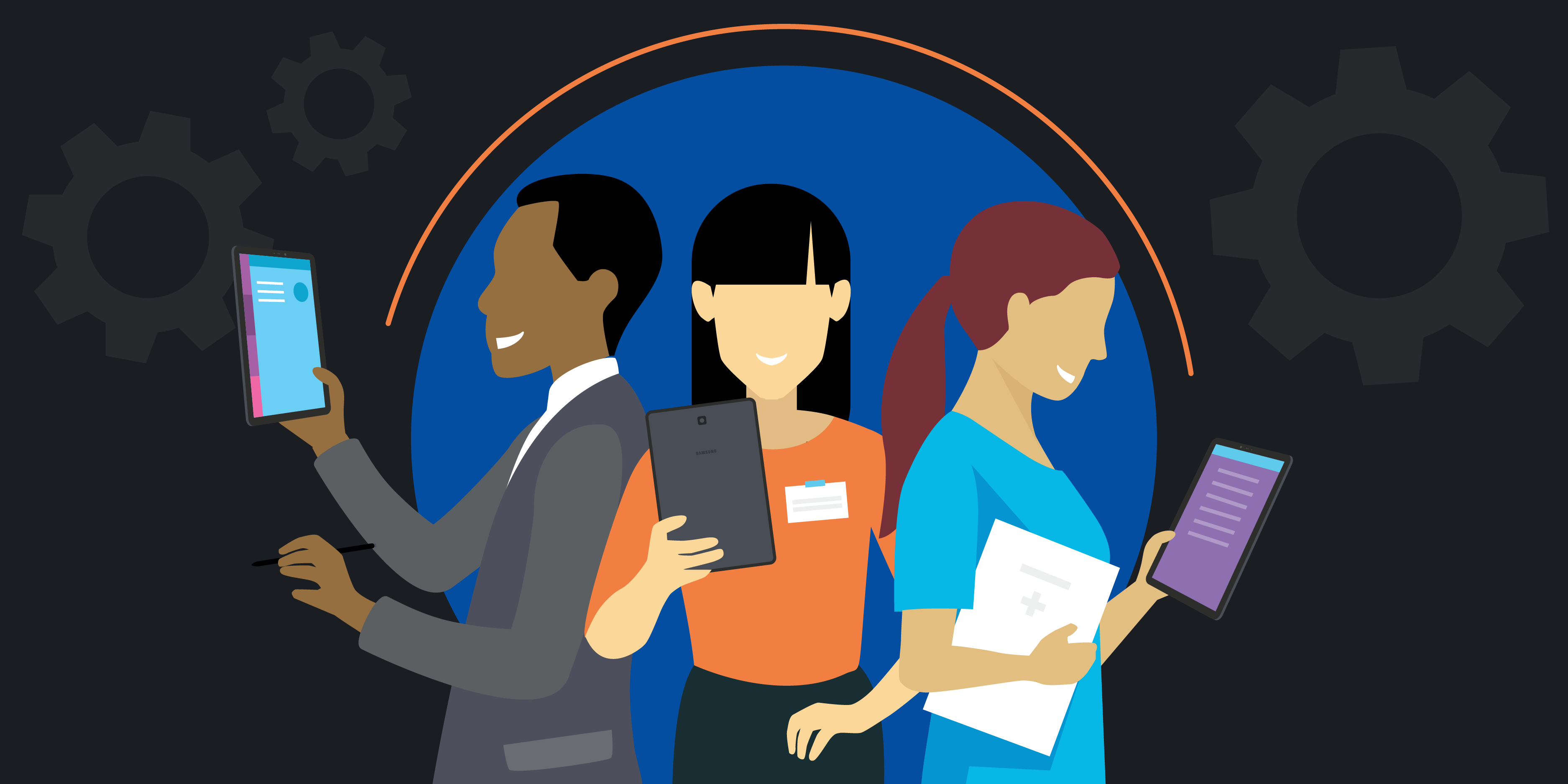 Learn how to optimize tablets for your unique business needs using Samsung Knox Configure. Download Now
5. A lost or stolen device can be wiped remotely
With mobile device management solutions (MDM) like Knox Manage and Knox Configure, IT administrators can set and change mobile security policies remotely. IT maintains control of each device and can prevent employees from installing or removing apps. Administrators can even remotely wipe company data if a device is ever lost or stolen.
Home health caregivers will continue to be a vital link in connected care. Secure, functional tablets can help them ensure the physician and patient link is even stronger.
If you haven't yet rolled out a remote patient monitoring solution, see how you can use RPM to transform your patient experience and improve health outcomes in this free guide. And discover the wide range of Samsung healthcare solutions, including rugged tabelts, that enable the full spectrum of care — from hospital to home.