Enterprise asset management (EAM) is a complex feat, requiring a coordinated effort of labor resources and inventory to keep assets in good working condition. Traditional paper work orders, spreadsheets and other manual processes don't always provide the best support: They can be time-consuming, error-prone and lead to incomplete information. Adopting a digital asset management strategy can lower equipment downtime, increase labor utilization and reduce inventory needs.
Because mobile devices can be used at the point of performance, they enable organizations to capture and access information in real-time. There are several benefits to this approach:
Mobile-friendly forms allow employees to enter information about the work performed while still on-site, reducing errors and better capturing information.
Real-time access to parts inventory and the ability to order parts directly from the device save time by reducing the need to sift through order forms at a desk later.
The ability to access internet of things (IoT) data from assets and to utilize that data for predictive maintenance and troubleshooting drives more efficient management and a greater level of organization.
So why haven't more organizations moved to digital asset management?
In the past, device reliability, durability, security and ongoing management concerns have made IT decision makers tepid about jumping into digital asset management. Additionally, because asset management is not customer-facing, many IT departments have put mobilizing asset management as a lower priority on their digital transformation to-do list.
However, given the potential of a digital asset management strategy to make significant improvements in labor utilization, lower equipment downtime and reduce inventory, it's time for organizations to consider making the shift sooner rather than later. Here's what to consider when planning a digital asset management implementation.
Device Selection
While some enterprises access their asset management tools only in a desktop environment, your organization won't get the full benefit from going digital if you don't also go mobile. Today, that likely means leveraging tablets and an EAM app to gather data at the point of performance.
The environment that asset management employees work in will determine whether a rugged tablet, such as the Samsung Galaxy Tab Active2 or Tab Active Pro, or standard device is best. Industrial environments often present harsh conditions. In these instances, a rugged device that can endure being dropped or exposed to extreme heat, cold, water, dust, dirt or humidity is the best choice for achieving the highest total cost of ownership value.
What's the Best Tablet for Your Business?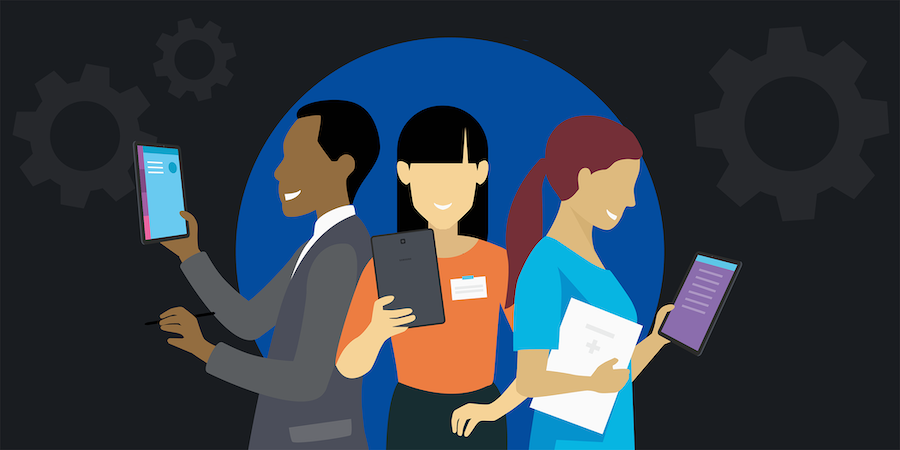 Take this quick assessment to see which Samsung tablet would best support your business needs. Download Now
Other features to look for in a mobile device that will help increase employee productivity while using the device include:
A long-lasting battery with pogo pin charging, as devices may be frequently used in the field or away from a charging station
A high-resolution camera to take photos in the field and attach to work orders for additional documentation
A stylus or glove mode that allows workers to write while wearing protection
Biometric authentication, including facial recognition, which makes it easier to log into the device hands-free
Device Management and Security
To ease device management and security concerns, IT admins should select devices built on a secure platform and pair them with enterprise mobility management (EMM) tools.
The Samsung Knox platform, which Samsung devices are built on, provides defense-grade security from the chip up, as well as a variety of mobile management solutions. This means that IT can have peace of mind that asset management data on the device is encrypted and protected from jailbreaks or rooting.
Being able to easily configure a large number of devices at once will help IT mobilize asset management with minimal resources or time. Knox Configure allows IT to remotely provision and configure a large fleet of mobile devices. Knox Configure can be used to create single-purpose devices such as kiosks, or to lock down other functionalities on the device so employees stay focused on using the devices for what they were intended for: asset management.
Another ongoing concern with a digital enterprise asset management program is the amount of time required by IT to manage devices. The Knox portfolio also includes Knox Mobile Enrollment, a free tool that makes it quick and easy to automatically enroll hundreds of devices into your EMM solution. This eliminates time spent manually enrolling devices and ensures they are managed from deployment on.
Similarly, Samsung also offers its own EMM solution, Knox Manage. This solution can be used to manage devices and provides IT admins with the ability to blocklist or whitelist apps and websites and to use device location tracking and remote wipe capabilities to manage lost or stolen devices.
Implementing the Mobile EAM
The final, and most important, consideration should be how the mobile devices, platform and management tools can support the EAM that you choose to use in managing your assets. Regardless of your EAM solution, make sure you have the support and integrations required for a seamless transition.
According to Ray Miciek, EVP of sales for Aquitas Solutions, a leading implementer of EAM and IoT solutions that optimize asset-intensive industries, using a mobile device is also critical for reaping benefits of the IoT. "The true value of IoT starts with a mobility play and ensuring you capture clean data. If you don't get the right information in the system, you're going to be analyzing bad data," said Miciek.
Assets are an important and expensive part of an enterprise's balance sheet. With mobilized asset management, businesses gain the real-time data and insights necessary to lower equipment downtime, increase labor utilization and reduce inventory needs. Ultimately, they ensure that their assets are managed properly to maximize their investments.
Learn more about how our paperless workflow solutions can can help you mobilize your asset management strategy, or sign up to get your free guide to increasing warehouse efficiencies and cutting costs with mobile processes.