Operating a commercial truck costs an average of $1.69 per mile, according to the American Transportation Research Institute, so cost-per-mile is a large and compelling budget target. Companies that can shave even a cent or two per mile can realize substantial savings.
The Electronic Logging Device (ELD) mandate has driven mobile devices into truck cabs, and this new fleet technology promises fresh opportunities to reduce those costs. While tracking hours of service to meet FCSMA regulations, ELDs double as powerful tools to reduce costs and improve service. Mobile devices such as the Galaxy Tab Active2 and Galaxy Tab Active Pro provide a platform for route optimization and vehicle monitoring apps that reduce transportation costs and boost fleet utilization.
ELDs automatically record driving times and monitor engine hours, vehicle movement, miles driven and location information. With in-cab mobile devices, fleet managers can take advantage of engine-connected telematics solutions to improve asset visibility, driver safety and fuel efficiency.
IT Solutions for Fleets
Trucking is an industry predominantly comprised of small businesses, with more than 97 percent of trucking companies operating 20 or fewer trucks, according to the American Trucking Associations. The ELD mandate required many small fleets to adopt telematics and other transportation IT solutions that they might otherwise have overlooked. In the past, these smaller fleets often relied on manual recording, but their new in-cab devices open the door to more effective strategies.


A package of a tablet-based ELD and fleet telematics software is one of the more popular IT solutions for smaller fleet operators. Small fleets may see the investment in ELD as an unavoidable cost without much benefit, but the right mobile solution builds on the capabilities of the ELD. Deployment costs and risks can be minimized with the Samsung Knox platform, which provides defense-grade security and easy-to-use tools for mobility management.
By investing in fleet technologies and mobile devices such as Galaxy tablets, small operators gain the capability to monitor asset locations, engine performance, fuel usage, hours of operation, maintenance problems, cargo temperature and tampering. These transportation IT solutions help large and small fleets make better use of the available driving time each day.
Fleet Technology Drives Fuel Efficiency
Fuel costs represent 24 percent of fleet expenses, according to the 2019 ATRI survey. With an ELD solution, fleets can provide quantitative driver feedback to improve performance. The system will track driving parameters such as time spent idling, rapid acceleration and hard braking. Tracking maintenance data such as tire pressure, engine temperature and oil changes can contribute to improving fuel economy as well. Managers can work with drivers to highlight best practices that result in reduced driving risks and improved fuel efficiency.
Go Beyond ELD Compliance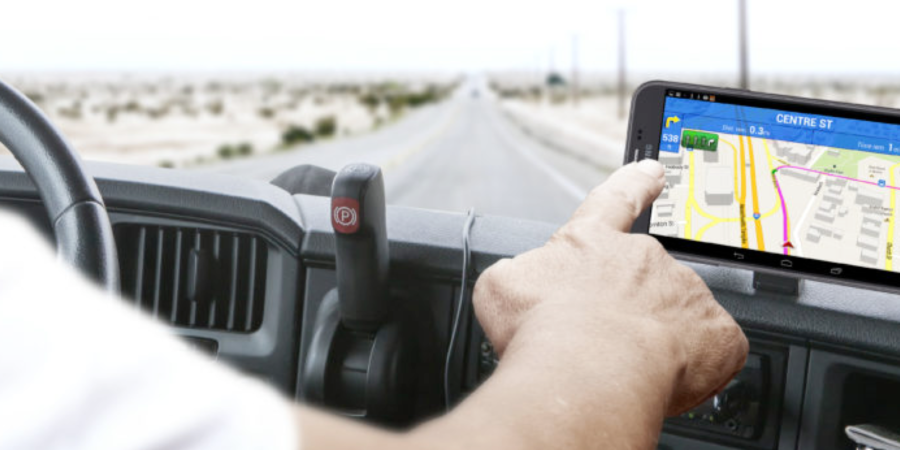 Watch this free webinar for tips on achieving ELD compliance — and how it can benefit your fleet. Download Now
Some fleets have found that fuel savings alone have basically covered the cost of ELD implementation, Transport Topics reported. In one test, a fleet telematics provider reported that using ELDs improved fuel efficiency by nine miles or more per gallon, compared to the national average savings of 4.51 to 6.37 mpg.
Some trucking companies share drivers' performance data to incentivize fuel efficiency through driver rankings and foster a culture of friendly competition.
Transportation IT Solutions Improve Fleet Maintenance
Using operational data, fleet operators can develop preventive maintenance programs that reduce the time that trucks are unavailable due to unscheduled maintenance. Drivers conduct their pre-trip and post-trip inspections and use their mobile device to send any items they write up to the maintenance department. The system can automatically send reminders when maintenance is coming due. All the maintenance data is visible to anyone using the system rather than being locked away in a spreadsheet or a notebook.
Using data to improve driver behavior can also lead to lower maintenance costs from reduced wear and tear.
Fleet Technology Drives Better Load Visibility
ELDs give fleets more information about the location of a truck, trailer and the load, with real-time updates into the driver's hours of service status. With this information, operators gain better visibility into their capacity, allowing them to accept loads from customers or brokers that need capacity for short lead-time runs. Operators can also monitor driver movements at customer docks and bill detention time when needed. With this visibility, fleets can better manage driving time and build customer relationships.
Trucking fleets of any size can reduce their operating costs with end-to-end IT solutions that use in-cab mobile devices to go beyond ELD compliance and embrace the full power of fleet telematics data.
Summary: Possible cost savings achieved with in-cab technology include:
Increasing average mpg from 4.51 to 6.37
Reducing transportation costs and boost fleet utilization through route optimization and vehicle monitoring
Reducing operating costs by monitoring driver behavior and vehicle conditions
Covering the cost of ELD implementation through fuel savings
See what connected fleet solutions are available to help you meet company and driver needs, and learn more about how a mobile ELD platform reduces operating costs and improves driver retention in this free webinar.